10 Fearless Predictions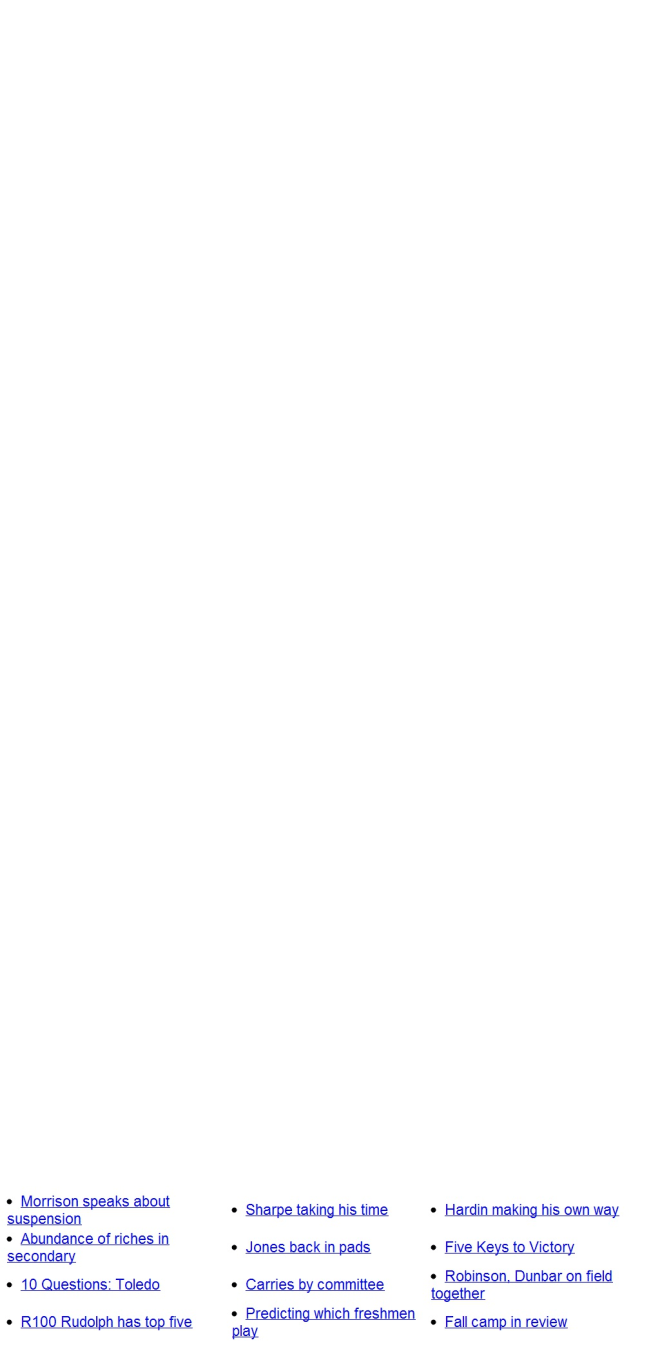 Click
Here
to view this Link.
With the Florida Gators just two days away from the start of the 2013 season, here are 10 fearless predictions:
Why:
The last time you saw Powell, he led the Gators in sacks even though he totaled a paltry 6.0 by the conclusion of the 2011 campaign. That was in head coach
Will Muschamp
's first season, and Powell was still learning the BUCK position. Though he is expected to spend most of his time at Sam this year, he will have plenty of opportunities to affect the quarterback. Muschamp believed Powell had First Team All-SEC potential in 2012 before he went down with his first torn ACL during the Orange & Blue Debut. Combine his newfound health with improved maturity and 20 months of motivation and you have a player who could break out in a major way this season.
Kyle Koehne will start at least four games this season.
Why:
This is actually a prediction I made two weeks ago during my first draft of these predictions. Now that redshirt senior right guard
Jon Halapio
(torn pectoral) has been ruled out for the first two games, it is already looking like one that is on its way to coming true. Though neither Halapio nor redshirt junior left guard
Max Garcia
has missed a game he has been eligible to start in the last two seasons (Garcia sat out 2012 due to NCAA transfer rules), both are dealing with nagging injuries heading into the 2013 campaign. Halapio has the pectoral, which is an injury that can take an indefinite amount of time to heal, and Garcia has nagging back pain that could flare up at any moment. Couple their issues with the possibility that anyone else on the offensive line can go down at any given time, Koehne - in his final year with the Gators - should see even more action than he did last season.
Why: So much attention is being paid to Purifoy at cornerback that Roberson's contributions to Florida's defense last season have been significantly overlooked. Roberson registered two interceptions and 12 pass defenses a year ago, finishing second in the SEC (and sixth in school history) in the latter category. The No. 2 cornerback in the country coming out of high school in 2011, Roberson's combination of size and speed, coupled with his man cover ability, has offensive coordinators throwing at Purifoy more often, which is why Purifoy's tackle totals (and pass interference penalties) are higher. Roberson is a first-round draft prospect this season, so expect him to play like it.
Why: Do you know what happens to players who come back from suspension after missing significant time away from the playing field? They get hurt. Do you know what happens to hard-hitters who need to take out some aggression on the gridiron? They draw personal fouls. Combining Morrison's lack of early play time with his penchant for rocking offensive players, chances are he will either be forced to miss a game due to a minor injury (such as a groin or hamstring pull) or be suspended for at least the first part of a game following a helmet-to-helmet hit as a result of the NCAA's new contact penalties. There is also the possibility that he gets into trouble again, which can never be discounted.
Florida will beat Georgia.
Why: It has been nearly a quarter of a century since the Gators last lost three-straight games to the Bulldogs, and UF is 18-5 against UGA since 1990. Something has to give for Florida in this series, which has been decided by three, four and eight points, respectively, in the last three meetings. It took an absurd number of turnovers by both teams, but the Gators especially, for the Bulldogs to pull of their win last year, and Georgia will be without the lone defensive player that dominated Florida in 2012. (Jarvis Jones had 13 tackles including 4.5 for loss and three sacks to go along with two forced fumbles, both of which were recovered.) Plus, let's face it, Muschamp has to beat his alma mater.
Jeff Driskel will throw for more than 2,400 yards, net more than 500 yards on the ground and combine to score 25 touchdowns.
Why: If Driskel has actually improved his decision-making and is legitimately more comfortable in Pease's offense, these numbers should not be tough for him to eclipse this season as he registered 1,646 yards through the air, 408 yards on the ground and 16 total touchdowns as a first-year starter in 2012. He did all of that with the Gators calling plays at nearly a 2-to-1 rush-to-pass ratio per game (538 runs to 288 attempted passes). Florida wants to throw the ball downfield a bit more and now has some receivers that may very well allow that plan to become a reality. Whether or not Driskel is capable of taking the Gators to the Promised Land remains to be seen, but he should at the very least be much more productive in his second season as the starter.
Muschamp will break a blood vessel in his eye from yelling at officials.
Why: From "overcome the adversity on the field" to "what is this guy, from the [bleeping] Pac-12," Muschamp has produced some memorable, referee-directed, on-field explosions during his first two years at Florida. The next logical step would be for a blood vessel in his eye to break from pure anger at a call, though according to some quick medical research, stress does not actually cause this phenomenon. All that does is makes this prediction even more fearless.
Why: Though they have never played a down of collegiate football, Hargreaves and Neal are exceedingly talented and should be in the mix to earn major playing time as the season progresses. Hargreaves is already one of the best cornerbacks on Florida's roster - high praise considering the caliber of talent at the position - and both Neal and Harris (once the latter fully recovers from his knee injury) will push for more and more action. On the other hand, Gorman had the first crack at a starting safety job, failed to impress Muschamp and could fall further down the depth chart as the freshmen stop swimming and become better in-tune with what their head coach wants on a play-to-play basis.
Solomon Patton will return two kickoffs for touchdowns - and block a punt.
Why:
There is no question that redshirt senior
Andre Debose
was a talented returner, but fans thinking the Gators will lack electricity at the position now that he is sidelined with a torn ACL are mistaken. While Debose, tied for the SEC career lead in kickoff return touchdowns, did plenty of work for his scores, the blocking schemes often opened up seams just large enough for him to use his explosive speed to break through. Patton steps into Debose's role (at least) matching him in speed but vastly exceeding him in work ethic. Combine a fresh face at the position with a new coordinator in
Jeff Choate
, and I see some explosive plays coming out of the special teams unit from Patton, who has also blocked two punts in his career and returned a third blocked punt for a touchdown.
Why:
It's not a put-on. Muschamp and offensive coordinator
Brent Pease
really like Herndon. And Brown, who has been understandably frustrated with his lack of opportunities thus far in his career, is obviously not completely trusted by the coaching staff. Otherwise he would be the primary running back with
Matt Jones
out of action, and Florida would neither be rushing the ball by committee nor giving extra carries to the "hot hand" on Saturday against Toledo. I expect Herndon to get those extra carries on Saturday and be used throughout the season when giving Jones a breather, while Brown will operate more as a change-of-pace player. This is not necessarily a slight to Brown but rather an overall belief that Herndon will be a bigger contributor this season than most realize.