20/17 for 2017: Perine important in providing Scarlett relief in backfield

With Florida's 2017 campaign fast approaching, Inside the Gators will preview this season's Gators football team with our 20/17 series. Throughout the new few weeks, we will take a look at the 20 most important returning players with considerable game experience, as well as the 17 most important players who have not stepped on the field or contributed significantly yet for Florida.
ITG will count down two returning players and 1-2 upcoming talents in each part of this 10-part series, finishing with the most important players for Florida in the 2017 season. Today, we begin with a look at players 19-20 in our top 20 and No. 17 in our top 17.

Position: Running back
Class: Sophomore
Size: 5-11, 221
High School/Hometown: Theodore (Ala.) High School
2016 season stats: 421 rushing yards, TD on 91 carries (4.6 YPC); 161 receiving yards, TD on 9 catches in 13 appearances (no starts)
Why he makes the list: While Jordan Scarlett emerged as the unquestioned leader of the pack in the running back room last season, Perine pieced together a solid campaign of his own as a true freshman. He eventually worked his way into a No. 2 role in the pecking order, seeing a good amount of playing time in the first half of the season and then providing relief to Scarlett down the stretch in 2016. He logged two 100-yard performances on the 2016 year against Kentucky and Missouri, while also proving to be a threat in the passing game. The job stays the same for Perine, who should find himself frequently involved in Florida's offensive game plan this upcoming season.
Questions to be answered: Perine erupted for strong rushing performances against mostly subpar defenses last year, but can he post those types of outings against quality opponents as a sophomore? Outside of his 100-yard outings and the LSU (38 yards on seven carries, thanks to a 22-yard run) and UNT (57 yards, TD on 11 carries) games, Perine ran for 3.0 YPG or worse in seven contests where he received at least three carries - with six of those outings coming in Florida's final seven contests. Also, will Perine's overall conditioning improve as a sophomore? Jim McElwain once hinted that he's looking for Perine to grow in that area, after he looked winded against Georgia last year in a 33-yard, 15-carry performance.
Projected role: Perine will aim to hold off Mark Thompson and freshmen tailback Adarius Lemons and Malik Davis for the No. 2 spot in the running back rotation this fall, but all expectations point to Perine serving as the primary No. 2 back once again behind Scarlett. Anywhere from 5-10 carries per game would be a fair expectation for Perine, if Scarlett does indeed earn the featured back role rather than Florida opting for a committee approach.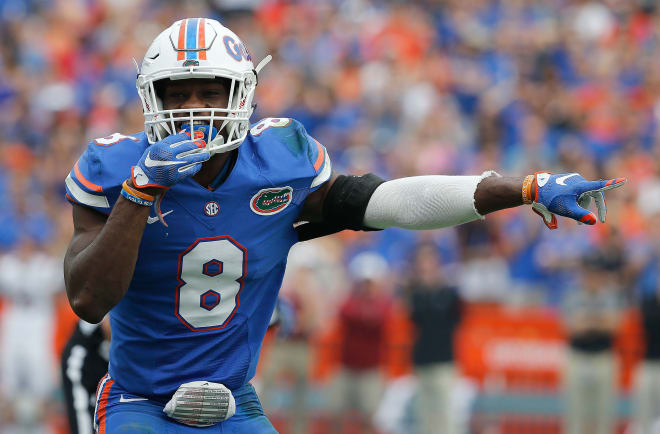 Position: Safety

Class: Redshirt senior
Size: 6-0, 197
High School/Hometown: Jacksonville (Fla.) Trinity Christian High School
2016 season stats: 45 tackles, 1 interception, 1 pass breakup, 1 quarterback hurry, 1 fumble recovery in 10 appearances (six starts)
Why he makes the list: A veteran with plenty of experience on the backend and on special teams, Washington brings plenty of consistency and stability to a Florida secondary that'll see many young faces in the mix in 2017. Known for his intelligence off the field - Washington can solve a Rubik's Cube in less than a minute - he's a smart player in coverage as well and doesn't make very many egregious errors. While he isn't necessarily a consistent game-changer, Washington has made some crucial plays for the Gators over the years, including a heads-up fumble recovery touchdown on special teams in 2015 against Georgia and then a victory-sealing INT at Vanderbilt last year.
Questions to be answered: How much of an impact will Washington make as a redshirt senior? He's been a solid and somewhat underrated contributor for Florida throughout the years, but the former Rivals250 recruit hasn't been a consistently flashy or headline-grabbing player at safety. (Washington has just one career interception to his name, after logging a forced fumble and recovering two fumbles in 2015). Will we see more dynamic playmaking ability from him, especially with his role at safety increasing?
Projected role: Last season, Washington earned six starts as a member of Florida's regular rotation at safety, which also featured the likes of Marcus Maye, Harris and at times Gardner. Now, it wouldn't be surprising to see Washington step into a full-time starting role alongside Harris as both players enter their redshirt senior season, after the duo worked with the 1's this spring. If he can avoid the injury bug, Washington should be due for another solid season in his final year as a Gator where he'll fill up the stat sheet a little bit more.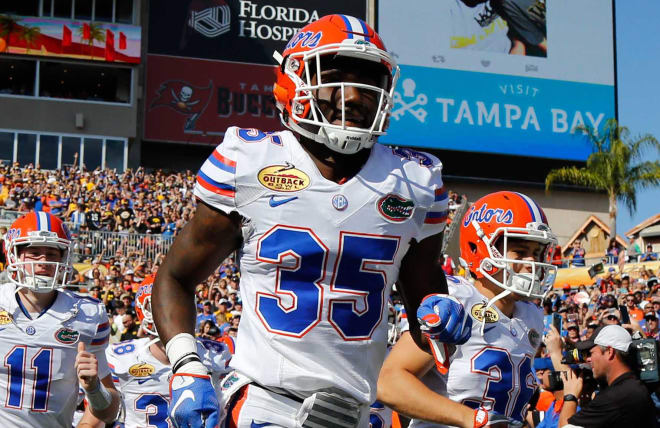 Position: Cornerback
Class: Senior
Size: 6-2, 195
High School/Hometown: Providence (R.I.) Mount Pleasant High School
2016 season stats: Four tackles in 10 appearances (no starts)
Why he makes the list: A two-star JUCO signee out of North Dakota State College of Science who was a late addition in Florida's 2016 recruiting class, Putu now enters the 2017 season as one of the older returning players at the cornerback position. As Jalen Tabor and Quincy Wilson earned the lion's share of the snaps at both outside cornerback spots, while Duke Dawson and Chauncey Gardner received work at nickel, Putu served in a reserve role in 2016 while seeing action on special teams. When he did receive his limited opportunities on defense, Putu performed relatively well and helped make some key stops.
Questions to be answered: How much of a role will Putu play as a senior for the Gators? He saw plenty of action this spring as a second-teamer on defense, backing up both Dawson and Garnder at the outside cornerback spots as UF's defense ran primarily a 4-3 look under Randy Shannon. However, six defensive backs from the 2017 recruiting class now join the fold, and many of them are expected to compete for reps at cornerback right away. Can Putu hold them off and finally earn considerable playing time?
Projected role: We should see more of Putu on defense than we did last year, but with all of the new competition coming in at the cornerback position, it may be tough for him to earn a significant role in the rotation as a senior. Expect Putu to see some playing time as a backup and perhaps make a few surprise impact plays throughout the season, thanks to his length and disruptiveness.
------
Thank you for reading this Inside the Gators article. To discuss it, please visit the Alligator Alley Forum.