2015 Signing Class RoundTable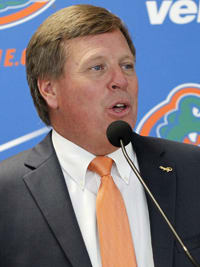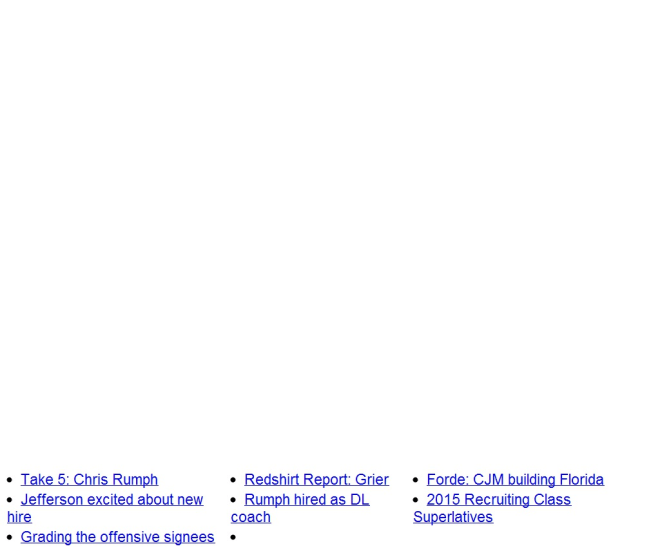 Welcome to the Inside the Gators Roundtable. From time-to-time, we gather up the ITG staff along with special guests to talk about the important topics facing Gator athletics.
Of course, the question on every one's mind this time of the year is recruiting and this edition of the Roundtable features five burning questions surrounding the class of 2015. Blake Alderman is joined by Gainesville Sun recruiting writer Zach Abolverdi (
The Gator Prospectus
) and Rivals.com analysts Mike Farrell and Woody Wommack for this in-depth discussion of Gator football recruiting.
1) Who in your opinion is the most important prospect the Gators signed? Not necessarily the most highly-rated, but the one whose commitment is the most important to future Gator success?
Abolverdi:
"Florida's inconsistent offensive line play, particularly in pass protection, has been at the root of its offensive struggles.
D.J. Humphries
, the No. 1 offensive tackle in the 2012 class, never realized his potential at UF. Fortunately the Gators, they've once again landed the nation's top tackle in
Martez Ivey
. Not only is the U.S. Army All-American a huge addition at Florida's biggest position of need, but if he lives up to his five-star billing,
Will Grier
or
Treon Harris
won't have to worry about their blind side in the coming years."
Alderman: "I don't know how this one couldn't be offensive tackle Martez Ivey when you take into account how baldy Florida needed help at the offensive tackle position. The Gators already are going to be young at the position and it definitely helps to land the number one overall player in the nation along the offensive line. The Gators likely will want to throw Ivey into the mix early in fall camp in order to throw him into the rotation when the season rolls around."
Farrell: "In this case it happens to be the highest rated guy as Martez Ivey is a franchise left tackle if he stays healthy and a special talent who will keep a quarterbacks blindside clean. He's also at a position of need for the Gators so that adds to his value and he was a must-get in-state recruit. I can't overstate the importance of a player like Ivey sticking with the Gators in the end despite every school in the country making overtures."
Wommack: "I think Martez Ivey is by far the most important. Not only did it give the staff its first major recruiting win, but it also comes at a position that will be vital to the team's success. If all goes according to plan Ivey could be a three or four year starter and be an anchor on the offensive line."
2) Which Florida signee in your opinion is the most underrated and overrated?
Abolverdi:
"
Jabari Zuniga
is a three-star defensive lineman with a five-star tape. Few Florida signees have senior highlights more impressive than his. The concern with Zuniga is how his 265-pound frame will respond to a college weight room. He said Florida recruited him as an edge rusher, but defensive tackle could be his future position. If Zuniga adds 20-30 pounds and can maintain his athleticism and agility, he could be a special player. Although
Tyler Jordan
is an Under Armour All-American, don't expect him to have an Ivey-like impact on Florida's offensive line. He has little experience playing center and needs to spend a year or two gaining weight before he can hold his own as an interior lineman in the SEC."
Alderman:
"If you take a look at the film defensive lineman Jabari Zuniga is making plays all over the field. If you also take into account the fact that he's grown a few inches and added some weight over the last few months - that only increases his value. Due to lack of camp exposure this is a guy that was able to fly under the radar to most schools around the country. As far as overrated I am going with running back
Jordan Cronkrite
. Coming from a small high school it may take time for him to adjust to the speed of the SEC, and with a crowded backfield there may not be a ton of things expected out of him."
Farrell: "I like Tyler Jordan at center because I think he's a nasty kid who plays with an edge on the field and he's smart. He'll be able to make all the calls after a few years and has a good frame to fill out. Worst case scenario for him is that he becomes a very solid guard. At defensive tackle Jabari Zuniga is a kid who is very far from his ceiling and could develop into a very, very good player. He's got a good frame to fill out, he is coachable and after a couple years if he's not thrown into the fire too quickly he could be a guy we look at as a 3-star talent coming out of high school playing at a 4-star level in college."
Wommack: "None. I ranked them all."
3) Which player did the Gators lose out on that you think hurts them the most?
Abolverdi:
"UF needed linebackers for 2015 after not landing any in the 2014 class. The Gators only signed two-star prospect
Rayshad Jackson
and missed on top target
Jeffery Holland
, an Under Armour All-American and lifelong Gator fan who signed with Auburn. He's the type of player and personality who would have been a leader for Florida's defense and racked up 100-plus tackles as an upperclassman."
Alderman:
"The Gators really were looking for a quick wide out to help make an impact in the slot. Though he is only ranked a three-star
Derrick Dillon
is a guy that UF made a priority under both
Will Muschamp
and
Jim McElwain
. When you take into account that Dillon was the first prospect McElwain visited as the head coach of the Florida Gators, it shows how highly he was coveted by the new staff."
Farrell:
"The easy choice is
Byron Cowart
for most but I think it's
Ryan Davis
the projected wide receiver out of St. Pete. He's small but he's dynamic with the ball in his hands and we know how much help the Gators need on offense, especially guys who can make big plays from close to the line of scrimmage. Heck they could have put in some QB packages for him as well because he's so good from the backfield. He was all Florida for a while but losing him to Auburn hurt."
Wommack: "Obviously missing on Byron Cowart is the one that is going to sting the most but I think missing on Ryan Davis hurts as well. Florida is in need of playmakers at the wide receiver position and David would have been an immediate help."
4) Which of the signees surprised you the most when they ended up inking with Florida?
Abolverdi:
"South Florida running backs Jordan Cronkrite and
Jordan Scarlett
have a good relationship, but Cronkrite decommitted from Miami two months after Scarlett pledged to the Hurricanes at The Opening. So when Scarlett flipped from UM to UF, some thought Cronkrite would opt to go to West Virginia. But, he decided to stay in the Sunshine State and gives the Gators another weapon for their ground game."
Alderman:
"Miami was the odds on favorite for offensive tackle
Fred Johnson
heading into his official visit to UF. It was a surprise that he even made it to Gainesville after telling reporters that if likely was going to pull the trigger on his trip to Coral Gables. It was an even bigger surprise the Gators landed the South Florida native while he was on his visit, especially when you consider it was his first ever time on campus, or even in town."
Farrell:
"I'd say
Chris Williamson
the four-star cornerback out of Georgia. It's not that he didn't like Florida but he was hard to read and had so many schools all over him late in the process. Florida is loaded at cornerback but some guys could leave early and he will learn from the best so he's a smart kid who didn't get tempted into the "play right away" promises of others and chose the school best for his long term development."
Wommack: "I was surprised to see the Gators land Chris Williamson, especially after late pushes from both Georgia and Michigan. Williamson had a great senior year and even though he joined the party late, he was a terrific addition."
5) Florida hired Jim McElain in early December and the class, which was already ranked in the 50-70 range for several months, nose dived into sub 100 territory. The Gators were able to rebound for a top 25 class. All things considered, overall, how would you grade the Gators' recruiting efforts this recruiting cycle? What do you expect of this staff moving forward?
Abolverdi: "This is a B+ class that had an A+ finish. Not signing multiple linebackers or a quarterback keeps this class from being an A, but McElwain and his assistants had one of the most impressive closes we've seen from a transitional staff at Florida. They tripled the number of class members they started with (7). Their efforts certainly set the bar high for 2016, and it will be interesting to see what these coaches can do in a full recruiting cycle."
Alderman:
"Overall I give the staff a B- on their efforts. It was impressive to see the class ride up from where it was ranked but in the end there were a few needs that just weren't addressed. The Gators had a chance to add a quarterback (
Deondre Francois
or
Lamar Jackson
) but were unable to do so. It hurts to also come up short at linebacker after not signing as single one in the 2014 cycle. If those two needs were met that would make the overall class an A."
Farrell:
"I'd give it a solid B, right in the middle, but I'm a tough grader. I think they did well landing Ivey, the two running backs and Williamson and I think some of the others were layups but much needed layups.
CeCe Jefferson
hasn't signed at this point and when/if his LOI gets in to Florida it moves up to a B+.
Chris Rumph
is a good addition and
Randy Shannon
knows Florida as well as anyone and
Doug Nussmeier
is a guy I respect a lot, but it will be interesting to see how this staff competes with some of the superstar recruiting groups put together on the coaching staffs elsewhere in the SEC. I, for one, think they have a long road to travel."
Wommack: "I think it was a great job, especially over the last couple of weeks leading up to Signing Day. After nabbing some big names the Gators finish with a very respectable class and given a full year to recruit I think the staff could get the the school into the top 15 next year."