BEHIND ENEMY LINES: An insider's take on Kentucky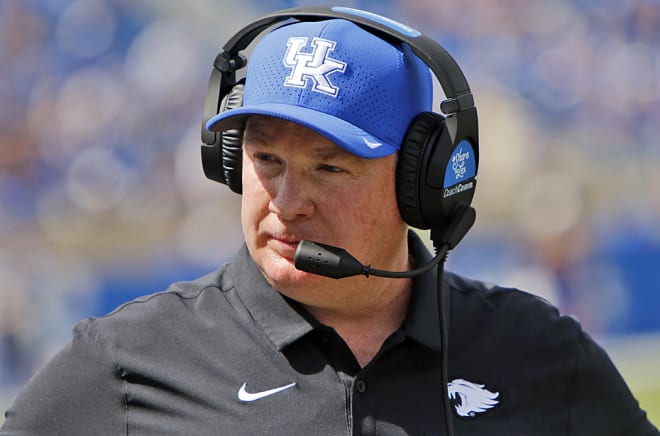 What's the confidence level of Kentucky right now coming off the loss at Alabama? 
Rowland: I would say the fan base does not have much confidence at the moment. When you lose by 60 points it tends to put a damper on things. What's more, this was a team that was a slight favorite against Ole Miss and Missouri, yet they lost both of those games. A lot of people had been looking forward to this season as perhaps an opportunity to become a darkhorse in the East, but that obviously has not happened.
The Wildcats have the best pass defense in the SEC. How have they played so well in the secondary?
Rowland: Well, "best" probably depends on what numbers you are looking at. They might be doing well in terms of yards per game, but the real picture is a bit different. They picked off nine passes in two weeks against MSU and Tennessee but there have been some teams that have thrown the ball well against UK this year. Bo Nix and Seth Williams were the deciding factors in that game against Auburn. Matt Corral threw all over them. Missouri and Vanderbilt were both efficient.
In a general sense the secondary has become something of a strength under Mark Stoops, and they do have a lot of depth back there. LSU transfer Kelvin Joseph is one of the best players on the team and is becoming a really good cornerback with NFL potential.
Where do things stand with Kentucky's quarterback situation? 
Rowland: Terry Wilson is the starter as a senior who has won a lot of games for the 'Cats. He may very well be the team's best option to win now because he's an explosive runner and when the passing game seems broken that's not a small thing.
But what has happened in reality is that three quarterbacks are getting time. Wilson is the starter until the game gets out of hand or he struggles, and then Mark Stoops is giving Joey Gatewood and Beau Allen an opportunity to get a couple of series in the second half. He seems to be balancing playing to win now with looking ahead to the future of the program.
What's been the most surprising aspect of UK's play this season? 
Rowland: We knew the passing game wasn't going to be this team's strength, but I think everyone was thinking that with UK moving back to a conventional offense after the Lynn Bowden experience, there would be some kind of balance. But Kentucky's passing game is just not doing much of anything well. They're not getting much more passing production than they were when Bowden was at quarterback last year. Even when you think they're throwing well it's for maybe 120 yards on the game. It's wild to see. The receivers aren't getting open and the quarterback play has been shaky.
What's your take on Saturday? How do you see the game playing out?
Rowland: Before the season I thought Kentucky had a chance to win this game. These teams have played close games in recent years. But now, it's hard to predict anything other than a sizeable Florida victory. Kentucky's offense is just not playing well enough for the 'Cats to keep up with an outstanding Gator offense. I'm not sure what my final pick will be, but right now I'm thinking something like 42-17 UF.