Blakely names Florida his leader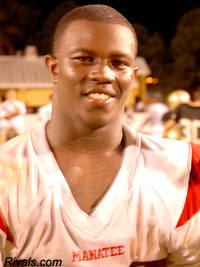 One day after telling FlaVarsity.com he didn't have a leader, Bradenton Manatee running back
Mike Blakely
said that no longer was the case.
And, for now, the Florida Gators hold the pole position.
"Florida is my No. 1, no doubt," Blakely said moments after Friday Night Lights ended Friday at Florida Field.
Based on his own recent history, it's hard to say if that will stick.
In recent months, Blakely has named both Auburn and Florida his leader. First, it was Auburn; then it was Florida. A third program, South Carolina, also is in the mix for Blakely, who rushed for 1,401 yards and 18 touchdowns as a junior.
While Auburn, which he recently visited, and South Carolina remain schools he plans to take officials to this fall, Blakely made it clear both have their work cut out.
"If (the Gators) run the ball and win games, I'm here," Blakely said.
Florida has something else working in its favor.
"Coach (Urban) Meyer is a great guy," Blakely said.
Blakely would be quite a get for the Gators. A 5-foot-9, 194-pound speedster, he checks in at No. 22 in the latest Rivals100.
On Friday night, Blakely enjoyed the atmosphere, the energy and the competition inside Ben Hill Griffin Stadium.
"I had a lot of fun running routes against some of the best (linebackers) in the country," Blakely said. "I didn't have to come out here. I chose to come."
The reason?
Blakely wanted a challenge.
"It was about me going out and seeing where I'm at," Blakely.
Apparently, he was "at" a place he could see himself going to college someday.