Breaking down Florida's late-first half TD drive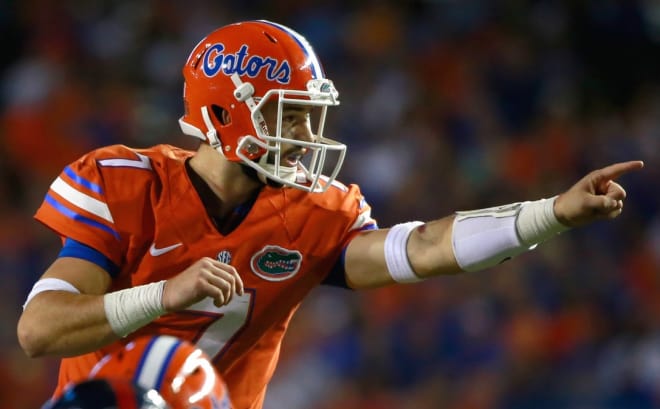 It doesn't even take a second viewing to come to the conclusion that Florida's 13-play, 91-yard touchdown drive over 4:30 to close the first half and give the Gators a 25-0 lead over Ole Miss was pure clockwork.
But after watching it again, I'll reiterate that the drive was beautifully executed in all phases -- from the play calls, to Will Grier's progressions, to the blocking up front in both the run game and in pass protection.
Grier was hit only once on the drive, during Antonio Callaway's 15-yard touchdown catch. The redshirt freshman quarterback wasn't hurried at all as he led his team down the field to score.
Interestingly enough, Ole Miss' defense blitzed on only one passing play on the drive, sending only four rushers on Grier's other seven throws.
Jim McElwain said the team has worked on this drill, known as the "Mayday Alert," often in practice and that the goal was to go two-minute after the team reached the "Mendoza line." Here, that was four plays into the drive after sophomore tight end DeAndre Goolsby's 5-yard catch on 3rd and 4.
Florida executed a similarly successful touchdown drive late in the first half against Kentucky a few weeks ago to increase its lead to 14-0 after 10 plays and 57 yards over 5:31.
"Once we get past that after a made first down, we go two-minute," McElwain said. "Just like we did at Kentucky, I believe it was. So what I'm getting at here is, we practice it. It's something that's part of the plan. Our guys knew immediately this is what we need to do."
Florida wasn't faced with a 3rd-and-long on the drive and converted on both of its 3rd-and-short plays. Overall, the drive consisted of five rushes and eight passes, with Grier going a perfect 8-for-8 for 68 yards and a touchdown and completing passes to five different Florida players. The Gators didn't have an individual play go for more than 16 yards on the drive but dissected the Rebels with a host of quick throws in the flat to the sideline. On four of those grabs, Florida pass-catchers went out of bounds to stop the clock.
"I thought in Will's case, he did the best job of the night because he took a couple check-downs, which tells me he's starting to understand action, reaction, No. 3," McElwain said. "Sometimes in young quarterbacks, they get the action. Maybe the reaction. But they don't have a clue what No. 3 is. In this case, he took advantage of exactly what he was supposed to do. So way to go, Will. Nice job. You did your job."
Due to an illegal block by David Sharpe on 1st and 10 after a 3-yard Kelvin Taylor rush, Florida was backed up to its own 6 -- making it that much more remarkable that UF would then gain 94 yards on 12 plays. After an 8-yard Taylor rush on 2nd and 12 that saw Grier corral a high snap -- and then Mason Halter, Antonio Riles and Cameron Dillard make a few good blocks with Goolsby making an excellent pull motioning inside -- Grier connected with Goolsby motioning out in the right flat for 5 yards and the first down.
Once Florida reached the so-called "Mendoza line" at its own 20, the offense began moving after a 13-yard rush from Taylor for the 1st down and then some.
Here's an instance of how the offensive line came up big this drive. Moving downfield, both Dillard and Trip Thurman executed a perfect combo block on Ole Miss linebacker Denzel Nkemdiche and safety Trae Elston in the box. Both linemen converge on the elder Nkemdiche and then split at the second level, giving Taylor the lane to operate.
Then, we saw Grier put on a clinic. He showcased excellent field vision when he connected with Demarcus Robinson down the left side of the field as the junior wide receiver ran his route well on a backdoor cut behind cornerback Tee Shepard for the 16-yard gain as he was tackled out of bounds.
After that came some of the most impressive decision-making by Grier. Three of his next four throws were check-downs in the flat down the left side for short gains out of bounds against zone coverage. Grier connected with Callaway on a quick throw for 5 yards, then to Robinson to 8 yards on another quick pass.
Still working with all three timeouts and 42 seconds left on the clock on 1st and 10, Grier had plenty of time thanks to his offensive line to throw it to Taylor down the middle, as he evaded two tackles to scramble for a 12-yard gain.
You could tell Ole Miss linebackers Terry Caldwell and Denzel Nkemdiche missed those tackles due to fatigue. With Florida running play after play driving down the field with no timeouts called yet up to that point, the Rebels were gassed.
"We have all three timeouts, which is a good thing," McElwain said. "We were able to pack it away."
Florida then burned its first timeout of the half -- a luxury it had thanks to Grier's savvy running the drill. Working with great pass protection, Grier then went through his progression nicely on 1st and 10 and connected on a swing pass to Taylor in the flat for a 3-yard gain down the left sideline out of bounds.
To take some time to design the next play, Florida used its second timeout despite the clock stopping at 31 seconds. Then on 2nd and 7, Grier made an excellent throw over the middle to Callaway, who motioned to the outside between Brandon Powell and Robinson in trips. As Grier faced pressure from the right side in a four-man rush and took a hit from defensive end Fadol Brown, who beat out Halter, he completed his pass to Callaway, who planted his foot into the ground to fake out and defender and then use a final block from Taylor to take it 15 yards for the score.
With Goolsby running a post route, Ole Miss' defenders dropped back but failed to cover Callaway at the second level.
Despite Halter getting beat, that play had some good protection up front by Dillard and Florida's guards handling the inside twist.
This 91-yard drive spanning over 13 plays and four and a half minutes had to have been one of the best-executed offensive drives by Gators players and from a coaching standpoint in maybe the past five years.
"Here's the other great thing about that drive, if you think about it: We overcame a little bit of a penalty," McElwain said. "We were backed up. To be able to go and steal points at half, that's what you're trying to do. You're trying to steal points at half and yet not give them an opportunity to reverse it. What I think it showed is why we practiced that.
"Here's the comforting thing is, there wasn't any panic. It's what we do."
All video is courtesy of ESPN.