Copeland catching on, ignoring naysayers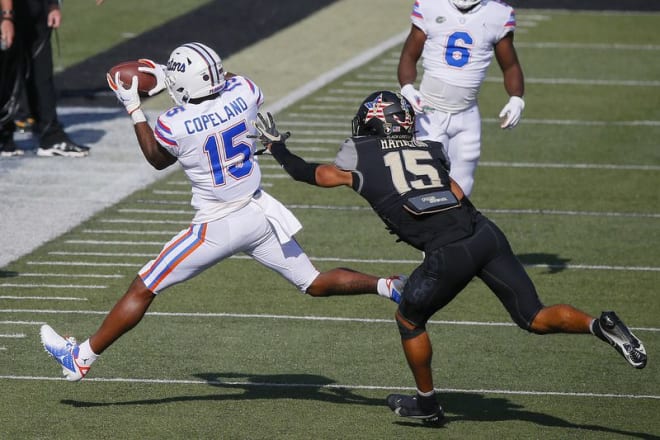 "If you're busy rowing your boat, you seldom have time to see who's rocking it."
Words of wisdom this week former Florida receiver Reidel Anthony, who tweeted that message to current UF wideout Jacob Copeland in response to one of his Twitter posts.
Anthony said the Gators will need more big plays from Copeland this season to win the SEC. Coming off his career-high five catches at Vanderbilt, he hauled in a career long of 42 yards last Saturday against Kentucky.
Copeland has recorded a reception of 30-plus yards in three of the last four games.
"I just feel like staying focused is the main key for me," he said Monday.
Copeland's mentions have been filled with positive tweets like the one from Anthony in recent weeks, but that hasn't always been the case. He's had his share of naysayers during his UF career.
Copeland admits that he's active on social media, so he sees everything.
"Some people still say, 'Jacob ain't good,' 'Jacob ain't this,' 'Why they got him playing,' this and that," Copeland said. "When I see certain stuff I just, I laugh at all of it, period. No matter what everybody says.
"People gonna say this and that on social media, but if they see you in person they won't budge or say anything, you know? So I just go with the flow. I really don't care too much about it."
Former UF receiver Van Jefferson, now a rookie with the Rams, helped instill that mindset in Copeland during the 2018 and 2019 seasons. Copeland said injuries knocked his confidence down, but Jefferson kept him motivated "at all times."
"Every time we spoke at practice, he always told me to stay focused, don't worry about nothing on the outside," said Copeland, who still communicates with Jefferson daily. "And now that he's gone, that's always been up in my thoughts, sticking to what he said to me.
"As I elevated and matured, I knew what I wanted and what I could do."
Copeland has also struggled with drops during his career, but is now catching on with the Gators. After dropping a pass at Vandy, quarterback Kyle Trask came right back to him on the next play and he moved the chains with a third-down reception.
Copeland has 249 yards receiving and a touchdown on 13 catches this season.
"When I used to go out on the field and drop passes I was like, 'Is it really coming to an end for me?' ... I just stay focused and worked with the rest of my teammates and they just kept me confident," Copeland said. "So now when I be hearing outside noise, I don't mind. I just play my game. I know best for me."