Cox makes impact in UF debut, Miller records Reese-like numbers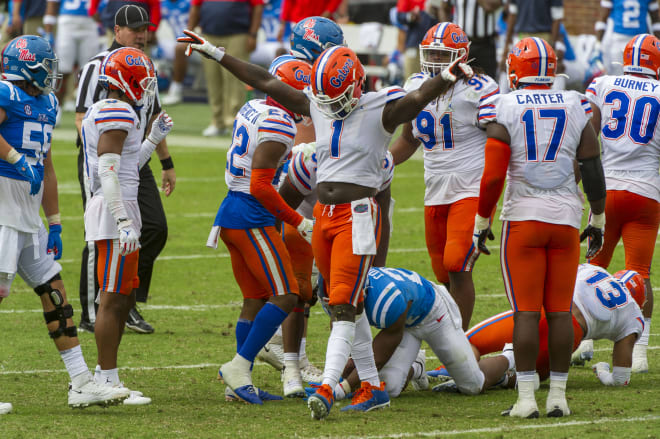 Florida's defense struggled mightily Saturday in the season opener at Ole Miss, but the unit did have a couple bright spots.
Former five-star recruit Brenton Cox Jr. made an impact in his UF debut, while Ventrell Miller had the most productive game of his career.
Cox registered eight tackles, one sack, 2.5 tackles for loss and a pass breakup, which was intercepted by Gervon Dexter and led to Trevon Grimes' touchdown. The Georgia transfer also had a key third-down stop with two minutes left in the first half, giving the Gators time to score before the break.
"I thought Brenton had a couple good tackles for loss," Mullen said. "I think one of the things he's going to want to see is his consistency of performance. I think he made some big plays, missed some, and I think he's going to want to be better than that."
It was Miller's first game starting at middle linebacker and making all the defensive calls in place of Minnesota Vikings rookie David Reese II. He registered double-digit tackles 15 times as a Gator, including 16 tackles last season at Kentucky.
Miller posted Reese-like numbers against the Rebels, nearly doubling his previous career high for tackles (eight) with 15 stops. He also had a sack and a pair of tackles for loss.
"Ventrell, that's what we expect out of him," Mullen said. "I think last year, he got the experience. He was kind of a newer guy playing, but now I think he knows he's the leader of the defense.
"You saw that from him. I talk to him all the time about that. We need that steady performance from him week-in and week-out because he's the guy that everybody looks to."
During the game, former Florida linebacker Brandon Spikes tweeted that he thinks Miller can be better than him.