Current staff helps former player prep for NFL dream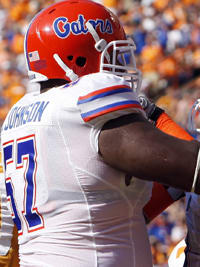 The big news around the NFL on Monday was that former Florida quarterback Tim Tebow was signed by the New England Patriots.
He however isn't the only former Florida player looking for a chance at NFL glory.
Six years after he came to Florida a five-star prospect and the No. 3 offensive guard in the country, Carl Johnson had to try to convince an agent to sign him.
It had been nearly two years since he played a down of football. One year earlier, he was an undrafted free agent for the New Orleans Saints until he failed a training camp physical and was promptly released. He took the next year off, making a living by working as a counselor for at-risk children at Jacksonville's Mental Health Resource Center.
Now he ate barbecue and played basketball at the Gainesville home of Ryan Earls, a young agent he had known on a personal level since college, and asked him to sign what would be his only client who played college ball at the FBS level.
"We sat down and I interviewed him twice before I even told him I would sign him," Earls said. "I wanted him to match my effort. That's really what it came down to."
Talent and size had been Johnson's strong suit for years. He left high school in North Carolina a monstrous 6-foot-5, 348 pounds and played in 50 games at Florida, starting 33. But Johnson will admit focus and effort didn't always come as natural. By the 2011 National Football League Combine, his weight ballooned north of 370 pounds. Legal steroids, which he had to take to battle Crohn's disease, didn't help.
Still, when he read draft projections he saw his name listed anywhere between rounds three and six. He would certainly be picked, until he wasn't.
The Saints swooped in and signed him on potential, but Johnson was still dealing with shock. He had always been the sought-after big man and now he watched players who once sat behind him in all-star games get drafted while he waited for phone calls.
"I feel like the last time I worked through this whole process, I was expecting things," Johnson said. "As an athlete you feel like you shouldn't be going through this process. Not getting drafted humbled me beyond words."
It took more than a year to muster up the motivation to return to the career Johnson doesn't want to end. Last October, he dropped everything and moved back to Gainesville. He lived with a college friend to save expenses and says he had done a decent job of saving the money he earned in Jacksonville. He wanted to treat football like a job and that meant full days that started at 5 a.m.
"They said, 'Yeah, you can train here. This is your facility. You helped build this place, so you can always come here to train,'" Johnson said.
It didn't hurt there was one person on staff with which he was familiar. Strength and conditioning coach Jeff Dillman trained Johnson at IMG Academy during the lead-up to the 2011 draft. He preached of a second chance and told Johnson to use all the people that blew him off as motivation to succeed. Johnson was out of shape, but for the next sixth months he worked toward Florida's Pro Day.
December was when he sat down with Earls and laid out a plan. There were goals for strength and weight. Earls and Dillman called everyone they knew and let them know Johnson was getting back in shape and would work out at Florida's Pro Day. Johnson filmed the entire process hoping to one day put together a documentary that can show people what he went through.
Without looking too far ahead, his goal was simple: When NFL teams asked him what he had been doing, he wanted to be able to look coaches in the eyes and say he had worked his butt off.
Pro Days can be equal parts promising and depressing. Scouts flock to the current year's prospects while players two years or more removed from college football beg for attention elsewhere. It didn't bother Johnson. Unlike his last pro day, there were no expectations. Most had ignored the fact he would even be there.
After pro day came an NFL Regional Combine in front of the Tampa Bay Buccaneers, then the Dallas Super Regional Combine in front of 31 teams. Johnson was down to the 360-range in weight but wanted to cut more.
It was the Bucs who gave him a chance during the fallout of the 2013 Draft, inviting him to rookie mini-camp in a desperate search for offensive linemen. He didn't receive a contract, but Earls and Johnson both feel confident the Bucs or another team will call him back in time for training camp.
Until then, he'll continue training like he is currently in organized team activities with an NFL squad. He's now at 350 - 10 pounds lighter than at his Bucs tryout and is determined to get one more shot.
"If the NFL doesn't work out, then hey, it doesn't work out," Johnson said. "I can't control those factors. All I can do is go into camp, be at my physical best, go as hard as I can and ask God for a favor."
Offers for the Canadian Football League and Arena Football are there, but a CFL contract means a player can't sign an NFL deal for a year and arena ball "barely pays the light bills." Earls said they will look to the CFL if there isn't a substantial NFL invitation by late July.
He's hoping that's not the case.
"There aren't any NFL teams that are going to give a guy who hasn't played football in three or four years a shot. He knows that. His back's against the wall," Earls said. "Once the actual pads go on in practices and they start hitting each other, I have a good feeling that Carl is going to get another shot with another team. That's what we're banking on."