Duke Lemmens Parting Shots Part I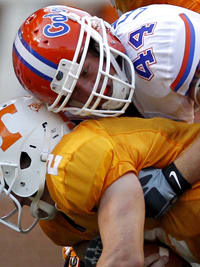 Parting Shots is a series in which Inside the Gators interviews departing seniors and NFL early entrants for a detailed look back on their time at Florida as well as what they're up to now and plans for the future.
Today, in part one, former defensive lineman Duke Lemmens shares his thoughts on why he signed with Florida in the first place, his time with the Gators, the Urban Meyer rollercoaster ride, Charlie Strong, D.J. Durkin, the strength and conditioning staff and lots more...
Inside the Gators: What was it about Florida that made you decide to travel across the country and choose the Gators coming out of high school?
Lemmens: "It was just the passion of the SEC - it was something I had never been exposed to before - and the overall enthusiasm of the South for football. My official visit, my first game in The Swamp, was Jarvis Moss blocking the kick to win it against South Carolina. I committed the next day and never even thought twice about it."
Inside the Gators:
When you first came in as a freshman, what were you initial impressions of
Urban Meyer
and
Charlie Strong
?
Lemmens: "Through the recruiting process, I of course talked to them both a little bit, but I was mainly with Coach [Greg] Mattison. Those two I didn't really know what to expect. They're both real good coaches and really helped me out throughout my career. I have nothing bad to say about either of them. [Coach Strong] has a way of relating to his players. He's a very good coach, he knows his stuff obviously, but he's still like a little kid - really personable and just a fun, energetic guy to play for."
Inside the Gators: Talk a little bit about all of the changes the team went through defensively last year, transitioning from a long-time defensive coordinator in Strong to Teryl Austin, who held the position for the first time.
Lemmens: "T.A., I have nothing bad to say about Coach Austin. I learned so much from him this past year, and I'm so thankful for the opportunity he gave me to play all over the place on defense this past year. Coach Austin also kind of has that little kid in him, always ready to joke around. He'll throw a joke on you, and you'll just throw one back on him and he takes no offense. He's just a great guy to be around and made practice very enjoyable."
Inside the Gators: Was the transition smooth overall?
Lemmens: "No doubt. It was very smooth. Coach Austin didn't really come in and change that much. He threw his own twist on a lot of stuff, but for the most part a lot of the same principles were the same. We still had [a lot of assistants] around, so it was a smooth transition and very easy."
Inside the Gators:
Meyer and now
Will Muschamp
rave about what strength and conditioning coordinator
Mickey Marotti
does for you guys in the offseason and of course during the season, too. How important has he been to the team's overall success while you've been there?
Lemmens: "Coach Mick is Florida football. He's what it's all about. Of course Coach Meyer is the face and has done so much for the program, but Coach Mick is the guy with the players year-in and year-out, 24/7. He instills toughness and makes the guys become a team just because of all the crap you have to go through with each other. That's the way a team is made, going through the hard summer workouts together, doing our mat drills, our massacre list. That was how we grew together as a team and were able to be so successful.
"It's his intensity and passion. The common theme that I keep saying with these coaches is that they can relate to the players. They can treat them on an individual basis; you can just go talk to them about life. I'll always be appreciative of Coach Mick and his whole family. Me being away from home, he was always a father-like figure for me while I was at the University of Florida."
Inside the Gators: You were very much under the radar to the casual fan up until your senior season when you were named a starter. What did it feel like to finally have your opportunity to play the majority of each game?
Lemmens: "It was something that I've always dreamed of. I unfortunately decided to go to a school with a lot of talent, but I still do not regret my decision coming there. Backing up Jermaine Cunningham and Carlos Dunlap, there's only so much you can do. It was hard taking advantage of the little opportunities I had when they were there. Senior year, I just took it upon myself to try and out-work everybody. It paid off. My teammates noticed, the coaches noticed, I got voted captain. I had a chip on my shoulder. Throughout the season I know lots of people still doubted me; I see the crap people write about me a lot. I always kind of have an edge, and I know no one can take away my work ethic and I'm going to be out there until I collapse. That was kind of my motto this past year."
Inside the Gators: When the coaches talked to you about playing some linebacker, was that mostly a depth issue or did they think you may be able to contribute better from that position in certain formations?
Lemmens: "I think they thought I could contribute better [as a linebacker]. My best games were the games I got to play linebacker. Coach [D.J.] Durkin was one of the huge reasons for that. I kind of got thrown into it last minute, getting ready to play Tennessee for the first time as a linebacker. [I] ended up getting the defensive MVP that week just from one week of work with Coach Durkin. I'm just very appreciative that I got that chance and almost kind of wish I would have started trying to play linebacker earlier in my career."
Inside the Gators: You also had your career-high eight tackles against Alabama playing mostly linebacker…
Lemmens: "The Alabama game was my best game as a Gator. When it was all said and done, we lost, winning is the most important thing. But it was my best game, and it kind of gave me the confidence and that extra step to pursue what I'm pursuing now, trying to go to the NFL. Alabama is one of the best teams in the country year-in and year-out, and I was able to excel at a position that I hadn't ever really practice at against one of the best teams."
Inside the Gators:
Coach
D.J. Durkin
is one of the two position coaches on the staff who were retained by
Will Muschamp
. Talk a little bit about him in particular and what you think is special about him.

Click
Here
to view this Link.
Lemmens:
"Coach Durkin is as good of a technician as anyone I've ever seen. You can definitely tell that he was, back in the day, a [graduate assistant] for Coach Mattison. He kind of has that same emphasis on technique. He's just kind of almost a guru on special teams. I'd sit in on those meetings and see some of that stuff…you have to be pretty on your game to blow Coach Meyer out of the water with special teams. He kind of surprised everybody with the amount he knew. Coach Durkin became one of my real good friends while I was there. He was my coach, but he's someone I still talk to. Playing for him is fun. It's all about toughness and stuff, but you still have fun doing it. It's not a chore. He has a bright future ahead of him."
Inside the Gators: Have you spoken with him at all about the new staff or had a chance to meet them on your own?
Lemmens: "I've met pretty much all the new coaches, going back and forth and being there for the Pro Day. It's definitely a good situation they have. There's a lot of new energy. The players are responding well to it."
Inside the Gators: What would you say is the high point of your career at Florida?
Lemmens: "I'd say just the fact that I was able to earn my teammates' respect enough that they voted me a captain. That was kind of the most significant thing that happened to me. I'm a guy who kind of always did the right thing but never really got a chance and that was my one chance for that to happen. That meant the world to me, and it is something no one can take away from me."
Inside the Gators: Did you have a low point? Maybe a moment you regret or questioned what you were doing in Gainesville?
Lemmens: "My junior year, it was a rough…our team was so good, but by your junior year you expect to be playing a lot more. I kind of really second-guess[ed] my decision to play at Florida, so far away from home and seeing guys I had grown up with in high school doing so well at schools closer to their home out on the West Coast. I just kind of used that…it almost made me sick some games when I barely got to play. I kind of just used that feeling to catapult me into the next year. On top of that, I know a lot of the fans doubted me through my whole career as a player, didn't think I deserved to be there. I kind of used that as fuel going into my senior season to try to make the most of it."
Inside the Gators: Was there a point where you seriously considered transferring?
Lemmens: "There was a low point my junior year where I maybe considered it. From what I've seen throughout my career, guys who have left and transferred it usually just pays off to see something through. I made a commitment to the university and, when it came down to it, I didn't want to back out on that. It was just something I wanted to finish doing and prove to myself. It took me four years to get to where I wanted to be…that I could get there. There's special situations for everyone, but I feel like [transferring] is a character flaw. The grass is always going to look greener somewhere else. If you just grind down and work hard, it should pay off no matter where you're at."
Inside the Gators: Team discipline was a hot topic throughout your time at Florida. Do you feel too much blame has been placed on Meyer specifically for the indiscretions of others? What was going on with the team in general in that regard?
Lemmens: "A lot of it looks bad on paper, and then you hear the actual story [and you realize] a lot of it can happen to a lot of people. Some of them, there's no denying are just ridiculous. There's only so much a coach can do. Coach Meyer tries recruiting kids and getting a feel for them during the whole recruiting process, but you don't really know what you're getting until it comes. College, being away from home and not having too many responsibilities besides football and school, can take its toll on a young teenager. People make mistakes. I don't think that's any knock on Coach Meyer or any of the staff that brought them in. You try your best. It happens throughout the country; players get in trouble. That's the way it is. You just got to do your best in the recruiting process to judge the character of a kid, and I think Coach Meyer really did try to do that."
On Tuesday, in part-two, Lemmens discusses Meyer's decision to step down a second time, the attitude of the team during the 2010 season, the love-hate relationship with the Class of 2010, Steve Addazio being in charge and more.