Eight Gators are eager to make a major splash at the NFL Combine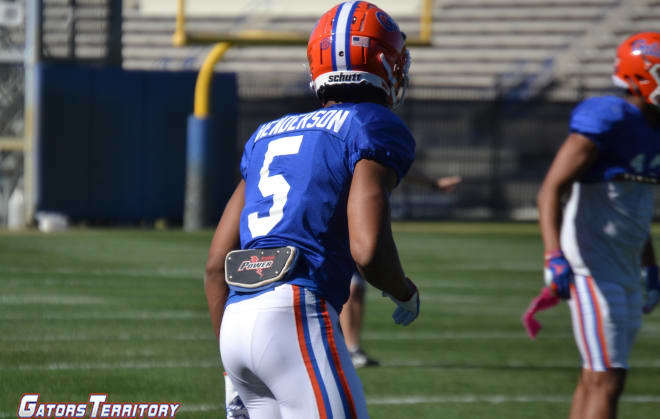 OFFER: SIGN UP for an annual subscription and you will also receive a FREE $49.50 gift code to the Rivals Fan Shop!
With the NFL Combine just days away, GatorsTerritory decided to take a look at the 8 former Florida Gators that were invited to participate in the event.

We will start with the player who is projected to go highest in the draft, and that's CJ Henderson. Henderson is projected to go in the mid-to-late first round by nearly all draft experts, but could up his stock even more with a solid combine performance.
Florida's roster had Henderson listed at 6-foot-1, 202 pounds before the start of his junior season, which is excellent size for an NFL cornerback; couple that with a very good 40 (I expect him to run in the mid-to-high 4.3s) and showing off how fluid he is in his drops, I think you could see him elevate his stock after an event like this.
Another Gator who I think can improve their draft stock quite a bit is Jabari Zuniga. Zuniga produced a solid season for the Gators, but missed a lot of time due to injury and I think his draft stock took a hit because of it. He is currently projected to come off the board in the fifth round, but I think he has the opportunity to really change that in Indianapolis.
If Zuniga has a really good showing, I think you could see him shoot up into the mid-to-late third round. His tape from both his junior and senior seasons, especially when he was healthy, shows you flashes of a high-level defensive lineman.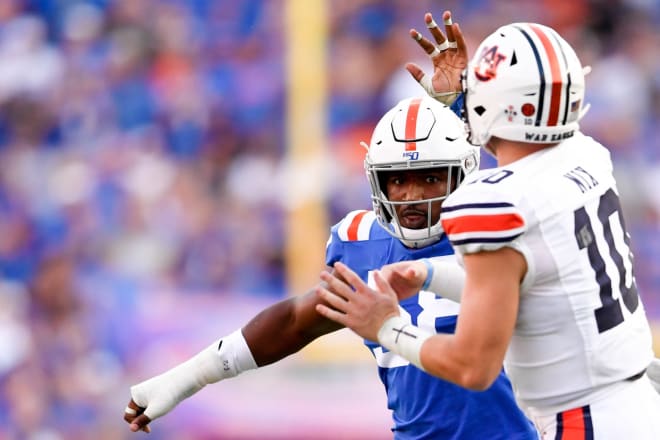 Keep an eye on Jonathan Grennard.
Grennard constructed an outstanding season when healthy, but in the games where he could have proved the most to NFL scouts, like LSU and Georgia, the Peach State native was unfortunately limited due to injuries. However, he still produced excellent numbers with 50 tackles, 9.5 sacks, three forced fumbles, one fumble recovery and an interception to show for it.
Greenard's overall impact on the game was much more than even his numbers would suggest. He is projected to be a late day-two (third round) guy right now, but with a solid 40 and by showing the ability to move fluently in bag drills, I believe he can work his way toward being an early-to-mid second round selection. Teams are always looking for players who can get after the quarterback and control the line of scrimmage, and Greenard does exactly that.
Two additional Gators who have increased their stock since the season are Lamical Perine and Van Jefferson. Both were viewed as day-three selections before turning heads in the week-long event.
Jefferson probably upped his stock more than anyone at the event, with scouts raving about his technique, route running and ability to consistently get open. They are now saying he could be drafted in the early-to-mid third round.
Perine also improved his stock, going from a likely fifth round selection to a guy who scouts are saying could go in the late third or early fourth round due to being an every-down back. Both should still be able to improve their draft grade with solid performances, but I think it will be their results from the Senior Bowl that end resonating with the NFL decision-makers.
There are also three players who will probably go in the later rounds, or even undrafted, that I think could still have very successful NFL careers and boost their stock with solid combine performances.
Tyrie Cleveland, Freddie Swain and Tommy Townsend, all of which had very successful and impactful careers at Florida.
I think Cleveland will have the second-fastest 40-time of all the Gators invited. With the way NFL scouts and general managers tend to hold these workouts in such high regard, I think Cleveland could boost his stock by flashing his speed.
Swain was Mr. Reliable with the Gators, catching just about every pass that came his way and making crucial third down conversions. He will show off his hands in the gauntlet, as well during the routes on air drills.
And then Townsend.
I'm honestly not sure how the combine helps punters all that much, but his body of work from his time in the orange and blue should speak for itself.
Stay tuned to GatorsTerritory.