Ex-UF safeties Ahmad Black, Lawrence Wright disagree on "Gator Bait" ban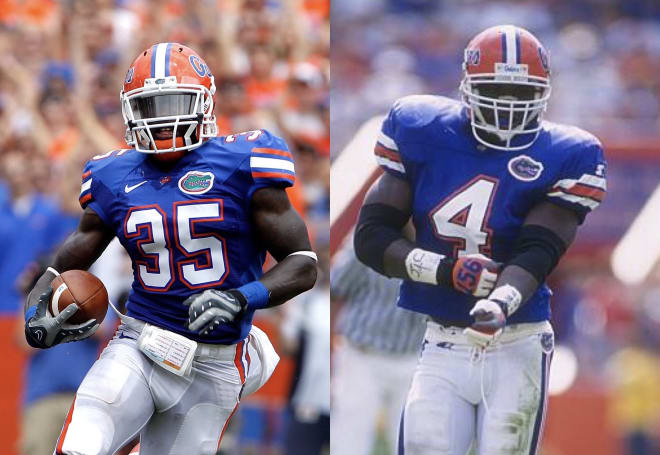 Florida president Kent Fuchs announced Thursday that the "Gator Bait" cheer will be discontinued at sporting events as part of the school's detailed plan to address and combat racism.
Under the section relating to history and symbolism, Fuchs explained the reasoning for the decision.
"While I know of no evidence of racism associated with our 'Gator Bait' cheer at UF sporting events, there is horrific historic racist imagery associated with the phrase. Accordingly University Athletics and the Gator Band will discontinue the use of the cheer."
The chant was popularized by former Florida safety Lawrence Wright (1993-96) and dates back further than that, with "Gator Bait" magazine beginning in 1980. Outside of the sports realm, there is racist history behind the phrase.
A 2017 article from the fact-checking website Snopes investigated claims from the 19th and early 20th centuries of profit-seeking white hunters in the deep South using black slave babies to lure alligators so their skins could be harvested.
While Snopes' research did not uncover a single report to verify that one such incident actually took place, it did conclude that the epithet evolved into a demeaning stereotype and folklore. The Jim Crow Museum at Ferris State University houses artifacts (postcards, pencils, knickknacks, etc.) depicting black children as "alligator bait".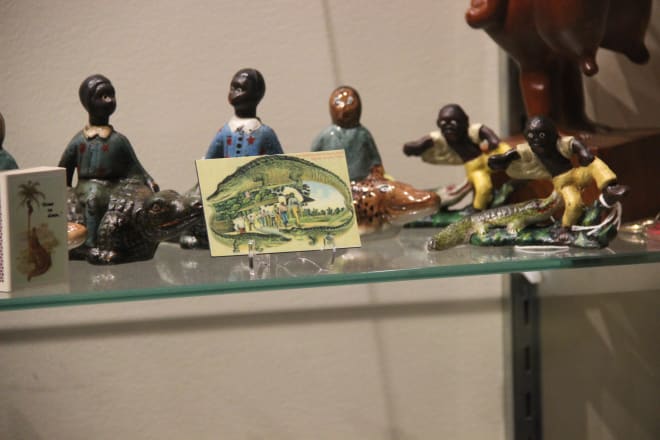 UF's banning of the cheer Thursday was met with both support and criticism. Wright was among those who disagreed with the move.
"That's not a good decision, especially when you don't talk to the person who coined the phrase," said Wright, who was contacted by the UAA but has not spoken with Fuchs. "It had nothing to do with babies being fed to alligators. That's somebody who didn't go to the University of Florida. We wouldn't do that.
"When I said it, I didn't call out for babies. I called out other schools that were Gator Bait. We were specifically talking about them. Anything that's not a Gator, is Gator Bait. Doesn't matter the sport. Even there's a debate. If you ain't on our debate team, you Gator Bait."
At Florida's 1996 national championship celebration, the Jim Thorpe Award winner had the entire stadium cheering the phrase as he listed off teams the Gators beat that season. Wright said he nor his teammates had any knowledge of the history behind it.
"No, none of us heard about it until today. It never affected me or my parents, and I'm Black. Why would I make up a chant that has to do with alligators and babies," Wright said. "It had everything to do with the University of Florida and the Gator Nation. We are a nation within itself. This is our culture and tradition, and now they've turned it into something it's not."
Former UF safety Ahmad Black (2007-10) differs with Wright, supporting the ban and thanking Fuchs on Twitter. Black wasn't aware of any racist imagery prior to Thursday, but believes many African-American players would be uncomfortable with the phrase after learning about its past.
"It's weird because we all know the Gator Bait chant as something to get us going. But that was before we saw the history," Black said. "Now that we know and we're educated on the phrase Gator Bait, we have a different stance. I know Lawrence Wright didn't mean it like that, obviously.
"But nowadays somebody can hear that chant at a game and take it the wrong way. If I'm a future recruit and I see these images on social media, the Gator Bait chant would bother me. Even though it's not affiliated with UF and the chant didn't come from that, I wouldn't want to go there if the fans kept doing it."
Black, a first-team All-American, had a similar experience as a high school prospect. The Rebels were one of the top teams in his recruitment, but he eliminated them from consideration after a trip to Oxford.
"I'm telling you right now, I didn't go to Ole Miss because of what I saw there," Black said. "I went on a visit with Coach Ed Orgeron and the school was cool, but I didn't like the town. They had a bunch of Confederate flags and monuments all over Oxford. It gave me bad vibes, like the people there would only like me on Saturdays."
Fuchs also committed Thursday to removing any monuments or namings controlled by UF that celebrate the Confederacy or its leaders. Black thinks the president is taking the right steps to combat racism.
"It's a great and bold decision. It takes a lot to make that stance when nobody has complained, at least to my knowledge," Black said. "Now, you're doing the right thing just to do it. The school is trying to err on the side of caution. We would rather it be cancelled right now, then not cancel it and let it become an issue later."
Wright wants to take up his issue with Fuchs and plans to reach out to him about reconsidering the chant. He understands the needs for removing racist statues and symbols, but feels that "Gator Bait" doesn't apply.
"I know we as a society are trying to abolish all these things, but we gotta keep the good things," Wright said. "You don't abolish things that are good. You keep those things and let those traditions get passed down through history. You don't ruin them. How can you do that?"