Foley on Gator Hotline: 10 tidbits
[rl]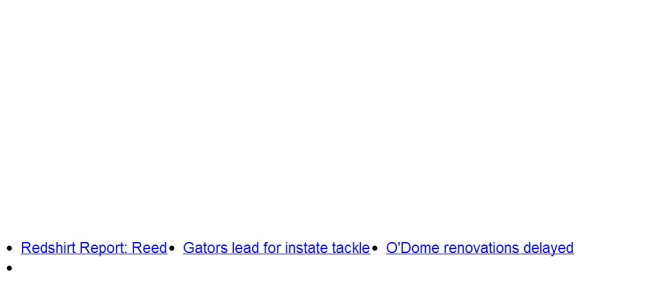 About 90 minutes after UF's announcement was released regarding the O'Connell Center renovations being pushed back a year, Florida athletic director Jeremy Foley made an appearance on the Gator Hotline at 7 p.m. Wednesday.
During his hour on the show, he discussed a range of topics. Here are 10 tidbits from his radio appearance.
1. Foley said the Florida football team hopes to have its $15 million indoor practice facility completed by Sept. 4, 2015, a day before its season-opener against New Mexico State. He admitted that when
Jim McElwain
took a look at the project, he wanted it bigger. "We're working full-speed ahead. It's a lot to do in a short period of time. The goal is to have it ready by Sept. 4 - that's always been the timetable. We're confident that can happen. When you hear the tractors going, you see a lot of earth being moved, you know there's a lot of work happening."
2. Foley also touched on what the new IPF will contain. "No offices. There will be a training room down there, some restrooms, a place to store some equipment. Obviously a place where a player goes if unfortunately they get hurt or something. That's a football practice facility. With that being said, there's going to be times where football's not in it and baseball will want to go in there on a bad day in the spring, maybe a place to throw and do some infield, they'll be able to do that. Soccer, the same thing. We're very tight for space down there. We're going to move the practice fields we have - we're going to shift them a little bit to create as much as we have between the building and the fields. But again, we're kind of landlocked. We're going to take advantage of every bit of space we have down there."
3. Foley expressed that he's confident that
Billy Donovan
and the Gators basketball team will eventually get things back on track. "When it's all said and done, he's going to go down in history as one of the best of all time. Hopefully, Billy Donovan is coaching Florida for many, many, many years."
4. Foley furthered discussed the reasoning behind why the O'Dome renovations were postponed a year. He said the project was expected to cost $50 million but now will be at $60 million. Construction will begin March 2016, and Foley said he will feel more comfortable now about the schedule. "To try to ram that down in a fashion that we felt was too quick, it would not have been a good business decision. It's an iconic building. You only have one chance to do this, and we need to do it right the first time. … In essence, we're building a new facility. We're not building new surrounding walls, we're not building a new roof, but when you walk in it's going to be brand new."
5. Florida plans on begin its $25-26 million renovation of the Office of Student Life in March 2015 for a project that should take about 18 months to complete. The money for it is already in place. Foley stressed the importance of the center from a recruiting standpoint. "We think that's a very significant program and a project for the future of our program. Obviously academics are a huge part of what we do, what we try to sell, what we're trying to show individuals our commitment to their academic success. I know this is an athletic program and certainly people think, oh, these athletes want to come here and all they want to do is go play professional sports. That's not true. The majority of them don't play. We've had an office of student life that's served us well since the early 90s, but it's too small. Our program has grown. As far as trying to tutor people and trying to have computer labs, trying to provide them resources where we talk about their career and development, nutrition, all the parts of a student athlete's life that are not on the field or on the court or in a pool. That project is huge."
6. Foley praised McElwain for how good of a recruiting class he was able to put together with only two months to work with. "In that two-month time, he put together an unbelievable staff, he came to Gainesville, he got on the road. Because of the NCAA rules and dead periods and Christmas vacation, there's not a lot of time. He was on the road for three weeks, his staff two weeks, and you see the class they put together. I think that forebodes well for the future."
7. Foley touched on where he expects his teams to play during Fall 2016 when the O'Dome is being renovated. "At some point, volleyball will play one season at Santa Fe (College). It's our anticipation that basketball will miss some games (at home) in November and December. We would play those around the road or in the state of Florida. Mike Hill, who handles our basketball scheduling, has a tremendous relationship with the cities of Jacksonville, Tampa, Orlando. We're prepared to do that next fall (2016) - play some home games around the state."
8. Freshman ineligibility has been a hot topic lately in college sports, and Foley gave his take on the idea. He thinks that ship has sailed and doesn't see it happening. "Ineligibility, you take the sport of football. You're having a freshman team, that's more costs. You're going to have to recruit more people, because your football team will now have only 60 people playing, so there's a depth issue. I think it's going to be really, really difficult. I think the conversation has come up because nobody likes what's happening in college basketball with one-and-done players. People don't like that. We understand why it exists."
9. Foley asserted that he wouldn't try to make the Florida football team's schedule more difficult annually, although he said he would cherry-pick a couple of neutral-site games here and there - starting in 2017 against Michigan at Cowboys Stadium. "Not many schools in America have a non-conference opponent like FSU every single year. So you've got to protect your team."
10. Later on in the show Foley touched on some of UF's other projects, such as improving the athletic dorms over the summer, expanding the basketball weight room this summer, improving the football locker room and training room, and adding seating to the softball stadium. "You've got to try to piece it all together. There's not an unlimited pocket of resources here. We want to keep our debt manageable, which is a little less under $100 million in debt."