Four-star linebacker visiting UF in July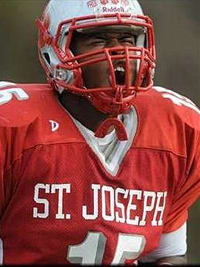 With a big need at linebacker in the Class of 2012, Florida has been trying to get four-star Hammonton (N.J.) St. Josephs linebacker
Kaiwan Lewis
on campus this summer. It appears as though they have succeeded.
"I will be visiting Florida on July 19th-20th," Lewis responded via message.
Leaving nothing to chance, Florida's coaching staff has left no doubt in his mind that the 6-foot-2, 227-pound Lewis is a big priority for the Gators in this year's class.
"Florida has been telling me that they want me to be a part of the family," explained Lewis. "And that I'm a need for them at Mike linebacker. Coach Muschamp wants me to be his Mike linebacker in this class and he tells me that I have a chance to play early if I learn the playbook."
Florida is hardly the only program in pursuit of the nation's No. 28 rated outside linebacker.
"Florida, FSU, Tennessee, South Carolina, Auburn, Georgia Tech, and Georgia are recruiting me real hard right now and are after me for visits."
The New Jersey product says that he has a busy summer and will try to get to as many of those schools as possible but he isn't sure as to how many he will get too.
"I know I will [visit] Florida, FSU, Tennessee and South Carolina. And I might visit Auburn, Georgia Tech, and Georgia, but I'm not sure about those yet."
Lewis spoke a little more in depth as to what he is looking forward to when visiting the University of Florida.
"I want to see everything about the athletic department and the academic side as well. I want to the social life and just how the college life would be there. But most of all I want to see how the people are and how they treat me."
According to Lewis, at this time he has no leader. However, he indicated that could very well change after his summer visits take place. He said he plans on making his final decision sometime in July if possible, if not, he will do it after his senior season.