Gameday Central: How to watch Florida-Kentucky, Vegas spread, more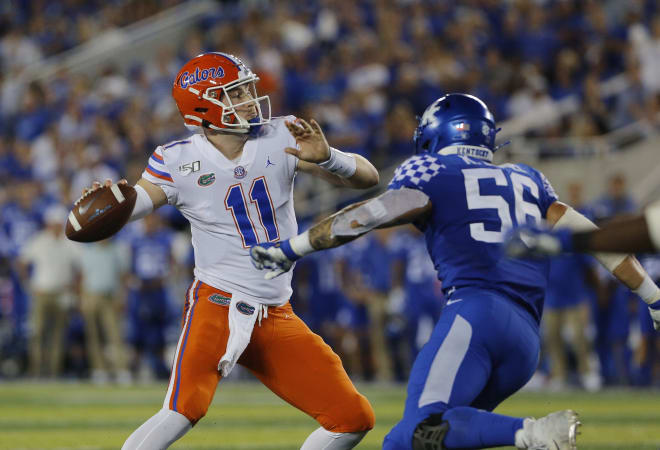 Florida (6-1) will play host to Kentucky (3-5) Saturday in its second to last home game of the season.
Just two years ago, the Wildcats ended a 31-game losing streak to UF and will be looking to upset the No. 6 team in the country again.
UK will be without 18 players and 10 staff members on Saturday due to COVID-19 concerns.
Here's everything you need to know before Florida's matchup with Kentucky on Saturday.
How to Watch/Listen
Kickoff: 12 p.m.
TV: ESPN
Stream: ESPN Watch
Radio: Gators Sports Network
XM Radio: Channel 191
Kentucky Players to Watch
No. 24 – RB Chris Rodriguez Jr. – So. 5'11 244
Stats: 88 carries, 562 yards, 6 TD
Notable: Leads team in rushing yards; No. 6 in the SEC in rushing yards
*Was out last week against Alabama*
No. 44 – LB Jamin Davis – Jr. 6'4 234
Stats: 73 tot. tackles, 37 solo, 1 sack, 2 defended passes, 2 interceptions, 1 pick six, 1 forced fumble
Notable: Leads team in tackles; No. 5 in the SEC in total tackles
*Was out last week against Alabama*
What They're Saying
"They're a really good football team. I think they had a tough game last week, but that was out of the norm of how that game played out for them. But you look at them, very good defensive team, stout up front. One of the best pass defenses in the conference. Then they complement playing ball control football. Their physicality and how they're able to run to the ball. For us, you're always going to get their best when they come play the Gators. We've got to continue to take strides moving forward and come out and perform at a high level again on Saturday." — Head Coach Dan Mullen
"I think first and foremost they are very well coached. Give a ton of credit to their coaching staff. Their scheme is really, really sound and they have really good players. The unique challenge that Kentucky presents is that they have a ton of length. They have the ability to be versatile and be multiple in what they present to offenses. Ultimately what it's going to come down to is our execution, particularly in situations. If you get enough first downs you get in the red-zone and that's when you have to execute and score touchdowns. I'm confident we'll put a great plan together and give our guys a chance to go execute." — Offensive coordinator Brian Johnson
"They're a run-dominant team, so just staying in your gap and playing your technique first, I would say would be the biggest thing, playing against a team like Kentucky. I would say we've been playing the run pretty well, but I guess it will test our run defense. For the defensive line, we just got to stay in our gap more. Not try to get out of gaps, give no open gaps to him because [Terry Wilson] can run it. So, I would say just say staying in the gap, and staying where you're supposed to be, and everybody's saying gap is probably the big thing." — Defensive tackle Gervon Dexter
Projections
Odds Shark: Florida – 25.5, O/U 61
ESPN: Florida – 25, O/U 61, Florida with a 90.2% chance to win