Gators bigger, badder, will they be better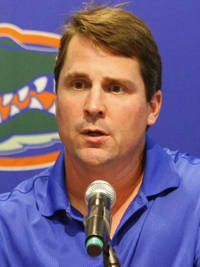 Thursday was about change.
Fall camp starts Friday, and Muschamp spoke at Florida's Media Day about how he plans to change the issues that plagued his team to a 7-6 record last fall.
"Their way didn't work," Muschamp said. "They understand where we are headed with this program. … The attitude of our team is much improved over a year ago."
It was a sentiment that seemed well received from Florida's players Thursday. It's commonplace for football players to say each season that chemistry is better than the previous season, but this year the talk is toughness for Florida.
That toughness begins in the weight room where new strength coach Jeff Dillman has instituted Olympic power lifting as daily routine. The differences are present across the board.
"I feel the best I've ever felt in my life," Nixon said.
Dillman's influence seems to have players more confident for the 2012 campaign. Nixon admitted it wasn't always easy to line up last season knowing he wasn't physically up to par. He said as hard as it is, a football player can't make excuses if he tells his coach he's healthy enough to play.
"We're predators. We're looking to knock heads off or making people scared to run across the middle or do a post or run a sideline and see us coming," Elam said. "We want to be the rude nation. People come in and we want them to be like, 'Oh gosh, we might have a long night in The Swamp.' Just being rude and making people afraid of us."
The toughness goes past the big hit or improved blocking up front or a pass rush better than last season's 28 sacks. It is an attitude that will transcend every day in practice, starting with the August camp that starts Friday morning for the veterans and Friday evening for the underclassmen.
Muschamp partially blamed last season on a fall camp that wasn't physical enough. This fall he plans on running more contact drills and taking advantage of some extended depth along both lines of scrimmage.
"It's hard to simulate game day situations when you are only working with one line of scrimmage on both sides of the ball, which was the case last year," he said.
"That's not going to be the case this year. We are going to be able to do more things."