Gators dip into familiar territory to reel in 2020 ATH Fenley Graham
Another Lakeland (Fla.) Dreadnaught has joined forces with Dan Mullen and the University of Florida following a return visit to the Swamp on Monday.
Do-it-all playmaker, Fenley Graham, who had also been considering Miami, recently noted that a decision was coming "real soon" and then decided to take himself off the market following a recent trip to Gainesville.
"It kind of reminds me of what my high school was this year before we won state," Graham recently told Rivals' Rob Cassidy when asked about UF. "They are on the rise and everyone is expecting a big season from them. Now they have to play up top those expectations.
"They are on the right track. It's close to home, too. They treat me like I'm already there. Plus, I know a lot of the players."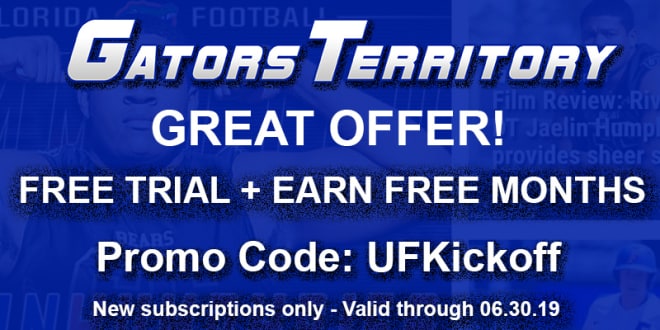 According to his coach, Graham, who is labeled as the 38th-ranked athlete on Rivals, is being recruited by the Gators as a boundary cornerback and returner on special teams.
In addition to the pair of in-state schools, the 5-foot-11, 165-pound Graham possesses offers from Kentucky, Nebraska, North Carolina, West Virginia, Indiana and Iowa State among others.
The Polk County native also recently added that proximity would play a significant role in his recruitment, so the aforementioned top two didn't come by much of a surprise.
"I'm not trying to go too far from home," Graham said. "I mean, I would go out of state, but I'm not trying to go too far. Like, I would go to West Virginia but I'm not going to go all the way across the country or something like that. Not too, too far."
Another recruiting class, another future Florida Gator hailing from powerhouse Lakeland High School.
Dan Mullen's staff is fresh off signing the 2019 trio of Keon Zipperer, Deyavie Hammond and Lloyd Summerall, while the likes of Ahmad Black and Maurkice and Mike Pouncey followed the exact path in previous years.
As a junior, Graham rushed for 174 yards and three touchdowns on 17 carries, while reeling in three catches for 56 yards and a touchdown. The three-star prospect also accounted for 31 tackles, one interception and four pass deflections on defense.
While taking on the role of kickoff and punt returner, Graham combined for 874 yards and two touchdowns on 26 returns, with a long of 99 yards on a kickoff return touchdown.
Below are 2019 spring highlights of Graham from Lakeland's matchup against Venice.
Stay tuned to GatorsTerritory.