Gators moving in on 2014 Forward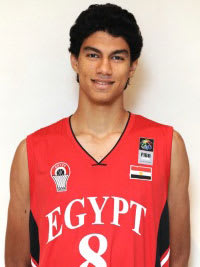 With a three man recruiting class already signed, Billy Donovan continues to look for the best available front court prospect to bring into the fold to finish out the Class of 2014. One such player may be in Central Florida.
Egyptian import
Anas Osama Mahmoud
, a 7-foot-1, 210 pound forward at West Oaks Academy in Orlando currently holds offers from schools such as Louisville, Georgia Tech, North Carolina State, Texas A&M and Auburn. However, Florida hasn't pulled the trigger -- yet.
Florida's interest in Osama Mahmoud, which began in the fall, appears to have picked up of late.
Inside the Gators spoke with West Oaks Academy head coach Shaun Wiseman to discuss the 7-foot-1 prospect who missed six weeks of playing time due to a knee injury.
"He's doing fine he had a very deep knee bruise around his meniscus," Wiseman said. "Doctors initially thought it might have been a tear but it wasn't he's back now and doing well."
Wiseman estimated that Osama Mahmoud is averaging 11.5 points, eight or nine rebounds and 3 blocks per game since returning from injury.
"Anas does a lot of things well. He knows how to play. His adjustment to American basketball has been to play hard every possession. His skill set is off the charts. He is, no question, the most skilled 7-footer I've ever coached. We draw up things for him that you'd draw up for guards. I've had to learn how to use him some, we want to play thru him versus zones," said Wiseman.
According to Wiseman Osama Mahmoud's talent and NCAA qualification status are both solid.
"He's already taken (the SAT) and qualified, he wants to be an Engineering major. He's on top of his academics and one of our better students at West Oaks."
The West Oaks senior has already taken an official visit to Louisville and one to Georgia Tech has been scheduled as well. Wiseman indicated that an official visit to Auburn is in the works but hasn't been scheduled yet. Additionally, Osama Mahmoud has taken unofficial visits to Auburn, Kentucky, Cincinnati, Louisville and UCF.
So where does Florida fit in?
"He has not been to Florida," Wiseman said. 'They've called, they called Anas the other day. John (Gators assistant coach
John Pelphrey
) has been down a couple of times and called a few times. Anas will be one of the best available and he won't make a decision until the spring."
Scouting Report
Inside The Gators has seen Osama Mahmoud play twice and the 18 year old definitely has the skills to be an immediate impact player on the next level. He can score at all three levels, rebound, run the break and set up teammates. His timing and instincts are superb. He'll need to put on weight and get stronger but the skill set is there.