Gators ready to end streak against FSU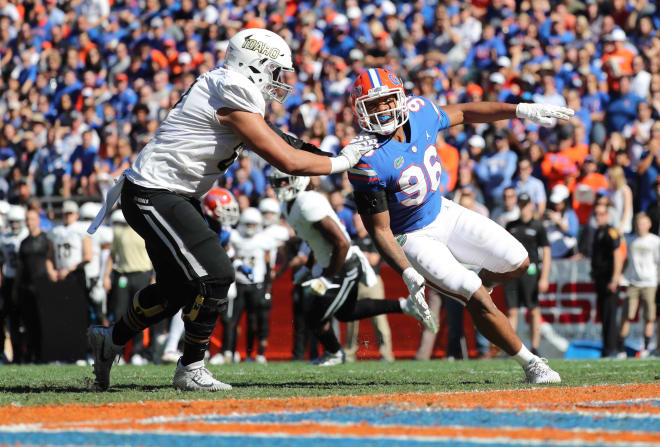 GAINESVILLE, Fla. – After dismantling Idaho on Senior Day, there is only one thing left on the minds of the seniors, beating Florida State.
"I haven't beat them yet," fifth-year senior tight end R.J. Raymond said. "If that doesn't say anything… that's been circled on my calendar for a long time."
Over the last half-decade FSU has won a national championship, competed in New Years Six bowls, had great success on the recruiting trail, and dominated their in-state rivals.
The Gators are sick of it.
Florida sent off its senior class in style Saturday in a 63-10 victory, but what would make them happiest is ending the streak.
"I feel like this is a big game, especially for our seniors, but especially for our pride," defensive end Zach Carter said.
Although Florida State has dominated this rivalry, the last two seasons have been less than ideal. A 7-6 record last season and the departure of their head coach Jimbo Fisher dropped this program to a low point in recent memory.
The Noles had only finished with single digits in the win column once since 2010, when they went 9-4 in 2011.
Then 2018 hit. Willie Taggart took over as the new head coach and the expectations were high for the program. Fans were confident this was going to be a solid bounce back year and one to build off for a first-year head coach.
Unfortunately, things took a turn for the worst and the Noles are fighting for bowl eligibility at 5-6. The last time they finished with only six wins was in 1981.
Despite the misfortune, Florida State still has a very talented team, and the Gators are not taking them lightly.
"I mean who doesn't like Florida State week but at the same time they're a really good opponent," Feleipe Franks said. "I don't think their record shows how good of a team they are but we have a really good team."
Anything can happen in rivalry games. As much as you can see from what these teams have done this season, you can't guarantee anything. Florida has been the better team this year. There is no debating that. But if they show up flat, and assume they will just walk out with a victory, they could be in for a big surprise.
"We're gonna prepare, we know we're gonna prepare throughout the week," Franks said. "The coaches are gonna do a great job of getting us prepared. But we just gotta go out there and play, play our game, not get too high, not get too low.
"No matter what the score is, you can't look at the score, go out there and just play your game and it will be fun."
Nothing would cap off an impressive first season for Dan Mullen better than to end the losing streak against Florida State, but it won't be given to them. They have to take it, and there is not question they are ready to do just that.