James hangs up his cleats for good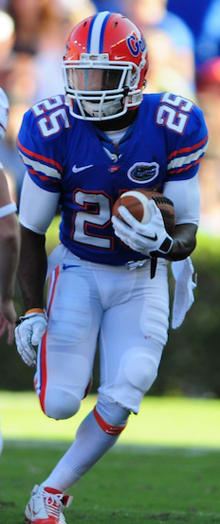 Finding himself at a crossroads in his professional life, former Florida Gators running back Brandon James went with his heart a few months ago when he decided to turn in his helmet for a whistle.
Choosing to be an assistant coach at a small Catholic high school in his hometown of St. Augustine, FL was a tough decision for James but one that paid great dividends shortly after he made it when he was promoted to head coach at St. Joseph's High School last Thursday.
"It was a very difficult process, of course," James said of hanging up his cleats. "You know how my playing career went and the success I had at the University of Florida playing around the athletes and competition that was there. Coming out of school after having a very successful career and getting the chance to play in the NFL for a little bit and not having the success I wanted to have there [certainly hurt].
"At the same time, I competed at the level that I always wanted to compete at and got the chance to be active for three or four weeks. Ultimately it came down to a personal decision, a family decision I had to make just because of different reasons in my life and different things that were changing."
Never one to give up, James had to pull himself away from the game of football after others seemingly gave up on his long-term prospects.
After spending a few weeks on the Indianapolis Colts' active roster when he was signed out of Florida as an undrafted free agent in 2010, James was let go by the franchise and could not find another job in the league. He then bounced around the CFL but never landed anywhere permanently and was still attending tryouts and pro days up until a few months ago when he decided to stop as he was not getting callbacks from teams.
"I had agents and stuff that came and went, different things like that you need in the profession to move on in football - people representing you and that type of deal. When things are changing and different situations weren't coming back in my favor, [coaching] was something I always wanted to lean towards," he said.
James got the chance to coach thanks to an old friend and long-time local baseball coach, Bernie Packo. Himself deciding to change courses in life - step off of the diamond and onto the gridiron - Packo was hired by St. Joseph's on April 4 to fill their vacant coaching position and brought James, who played baseball under him up until high school when he decided to concentrate on football, along for the ride as an assistant.
"Coach Packo presented the opportunity to me. We talked when I got done playing and he heard I was back in town. He asked if I had any passion in coaching and if it was something I was interested in. He wanted to know about my playing career continuing. I just told him, 'Straight up coach, it's not looking on the up-and-up towards me playing right now because of representation and stuff like that with teams reluctant to call back,'" James explained.
"When he presented the opportunity, I just jumped on it because I'm all for giving back to these kids and this town. Growing up in St. Augustine, one thing that I'm all about is just giving back to these kids and helping them in any opportunity that I get."
Then uncertainty struck as just 22 days after being hired, Packo was let go by the school for undisclosed reasons. James and the rest of the staff remained on the job and coached St. Joseph's in their spring game but were unsure of what might materialize in the future. Luckily things turned out well for everyone else involved.
"With what happened to [Coach Packo] in the spring, I kept working with the team through the spring and the administration was happy with the job that I did - me and a few other coaches on the staff," James said. "They kind of presented the opportunity [to be head coach] to me, and I just jumped for joy and am ready to start the process."
James gets to start that process in his hometown, where he is well-known as a success story both on the local and national stage. St. Joseph's is not a rival of St. Augustine High School, where James attended as a youngster, but may present him a greater opportunity from a coaching standpoint.
"I love the fact that I can be a part of the building process and help a school from my hometown become successful," he said. "Coaching has always been a passion of mine. Growing up my father always had me around sports. One thing he always said to me was that I would always be a good coach because I was a student of the game, always trying to perfect my craft. It just kind of rubbed off on me."
He also picked up plenty from the immensely talented coaches he played under both with the Gators and Colts. But rather than model himself after any of them, James is going to coach in his own style while using bits and pieces of what he learned from guys like former Florida head coach Urban Meyer and defensive coordinator Charlie Strong.
"I'm kind of just going to be myself in all honesty. At the same time, we did a lot at Florida and I learned a lot from being in the pros that I'm definitely going to use and instill into these kids," he explained. "Coach Meyer held the team accountable, so I'll use some of those tactics that helped prepare us mentally for playing football. I'll definitely use some of the stuff that I learned from him.
"At the same time, I also don't have a lot of the coaches' numbers and most of them aren't at Florida anymore so it's going to be kind of hard for me to contact different guys. At the same time, I'm open for it if I can ever find them. Me and Coach Strong had a great relationship in college; he would definitely be a coach I would like to talk to back-and-forth."
So what is Coach Brandon James going to be like?
"I'm definitely going to be a player's coach - hands-on, involved with the kids day-to-day. I just got done playing, so I want to help them through that process as much as possible," he said.
"I'm going to hold the team accountable, hold players accountable. The goal is for each player to do their part to help make the team as a whole play better while being model students and citizens when they leave St. Joe's. If I can help them with that process, it will be a blessing for me."