Jaye Howard Parting Shots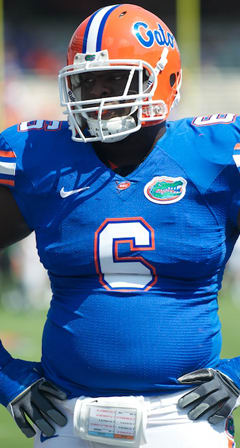 Please feel free to share this Inside the Gators feature with your friends
Parting Shots is a series in which Inside the Gators interviews departing seniors and NFL early entrants for a detailed look back on their time at Florida as well as what they're up to now and plans for the future.
Jaye Howard didn't get the most attention at Florida's Pro Day. He wasn't the Gator with publicized storylines at the National Football League Combine.
Yet on draft day, he was the first UF player taken.
The Seattle Seahawks took Howard with the 19th pick of the fourth round (114th overall). At 6-foot-3 and 303 pounds, Howard became an option at defensive tackle for Seahawks head coach Pete Carroll. A few months after playing for Florida defensive coordinator
Dan Quinn
, Howard was picked up by the team Quinn served as defensive line coach for from 2009 to 2010.
Howard's potential was notable, but some draft analysts questioned the kind of motor he played with in Gainesville. There were flashes during Howard's college career that kept him mid-range on draft boards despite some distant criticism.
During his senior season, he was second on the team with 10 tackles for loss, including 5.5 sacks. In Florida's bowl game against Ohio State, he was dominant - recording five tackles and 1.5 sacks.
He became a Gator in 2007 when he signed as a four-star defensive end out of Orlando (Fla.) Jones. Howard was rated the No. 9 overall weakside defensive end in the country.
With five years at Florida now behind him, Inside the Gators caught up with Howard as he prepares to leave for his first NFL rookie mini camp on Thursday. He is currently one of only two Seahawks draft picks who have not reached a contract agreement.
ITG: What went into your initial decision to go to Florida, and what were your overall thoughts on your time there?
Howard: "I was recruited by Coach (Urban) Meyer. Ultimately, it was closer to home. It was close enough so my family could see me. It ended up being the right place for me."
Howard: "He's a good coach. He's a family guy, so that played a big part of it and was very comforting. It worked out."
ITG:
What was the transition from Meyer to
Will Muschamp
like for you?
Howard:
"Man, I love Coach Muschamp. He's a fireball on the sidelines. He would do whatever it took to motivate me. He brought in the 3-4 system that moved me around a little bit and also used the traditional 4-3. Now I feel like I can go play in the NFL wherever, in a 3-4 or a 4-3. It really helped me. Between him, Dan Quinn and
Bryant Young
, they've got me pointed in the right direction."
ITG: How is Muschamp different from Meyer?
Howard: "They're two entirely different coaches, so you can't compare them in a lot of ways. The only thing I can say that they're different is Coach Muschamp is a defensive guy, and Coach Meyer is an offensive guy. That's really the only thing. They both have high intensity levels, and they're both great coaches."
ITG: As a defensive guy, having a coach like Muschamp has to get you a little more excited, right?
Howard: "Oh yeah, you have to love it. You finally get one up on some of the offensive players. You get some perks having a defensive coach."
ITG: After the Gator Bowl victory against Ohio State, you said, "I had a lot of frustration. ... Urban brought it out in me today." What were your initial thoughts when he did take the Ohio State job?
Howard: "It was a shocker, but he did what's best for him and ultimately that's what it's about. He has to provide for himself and his family."
ITG: You also said the win was more special because of Meyer's new job. Did you use the situation as motivation en route to a big performance?
Howard: "Naw, it was just my last game as a senior. I wanted to go out there and play hard and get a win."
ITG: There's been a lot of talk about team discipline at Florida under both Meyer and Muschamp. What's your opinion of how each coach handles disciplinary issues?
Howard: "Honestly, I don't even want to comment on that."
ITG: What was your best moment as a Gator?
Howard: "The SEC Championship when we beat 'Bama. That was a big moment for me and my family. That was my first time playing in a big-time atmosphere."
ITG: Was not playing much early a low point?
Howard: "I came into the game green. I started playing football late (ninth grade), and I had to catch up with everyone until I got the hang of it. I had to prove that I deserved it with my play on the field. With the help of Coach Muschamp and Dan Quinn -- they're great coaches -- and they helped get me to the point where I needed to be."
ITG: Bryant Young came in as the defensive line coach last season. What is your relationship with Young like?
Howard: "I have a great relationship with Coach Young. He's a great guy. It's one thing to like a coach, but to have a guy who's walked in the path you want to take and gotten to where you want to get - you really listen to what he has to say. I listened to everything he gave me."
ITG:
Could you talk a little bit about the defensive linemen Florida is returning. Obviously the guys who jump off the page are
Sharrif Floyd
and
Dominique Easley
. What do they bring to the Gators' defense?
Howard:
"They're great players. They both have good size and they're both very fast. We're all very good friends. Easley is a great penetrator, and Sharrif Floyd is a great run stopper. There's so much you can say about the line.
Omar Hunter
is going to be a great player also. This defensive line is going to be a focal point of our team this fall, and I can't wait to watch them."
ITG: The defensive front is very important in Quinn's defense. How did you feel about where the line was last year in comparison to where you wanted to be?
Howard: "Last year was a building year for our program. It was the first year of a new coaching staff. All we could do was help them out. It was different, but I was happy we got the bowl win. It was a building year for the future, so they're going to be something to watch this year."

Click
Here
to view this Link.
ITG:
Is it tough knowing that your senior year is a rebuilding year?
Howard: "It's not. You really don't think about it. As a football player, all you're looking to do is win and compete. I felt like we were close, and we're on our way."
ITG: You had a pretty unique draft day experience. Walk me through it.
Howard: "I had gathered with my family. We were at the house. But then I had to pick up the call in the mall. I was walking through the mall and my phone was dying. I ended up having to plug into a charger at one of the Apple stores. I got the call in the Apple store in the mall. It was crazy."
ITG: How do you react to getting drafted in the fourth round by the Seattle Seahawks in the middle of an Apple store?
Howard: "I was with a group of friends. I got the call, and the next thing you know, everyone is just going wild in the Apple store. It was crazy, that's all I could think."
ITG: Was Seattle a team you had looked at much during the draft process?
Howard: "It definitely was. That was one of a few teams that I wanted to go to. I want to thank God for putting me in that situation. I've had Dan Quinn as my defensive coordinator, and he was the defensive line coach with the Seahawks. I think it's a good opportunity to be successful.
ITG: How much did Quinn help sell you to the Seahawks?
Howard: "He was huge. I would talk to him about it probably twice a week. Now he's preparing me for what to expect when I get up there."
ITG: What have the Seahawks told you about how they plan to use you?
Howard: "Right now, they haven't really said anything. I guess I'll find all that out in camp."
ITG: Did you see Muschamp become more comfortable as a head coach as last season went forward?
Howard: "Oh yeah, definitely. Muschamp is a great coach. It's just a matter of time until he gets this team where he wants it. They're going to be a force to be reckoned with."
ITG: What are the people in Seattle getting with you as their defensive tackle?
Howard: "They're getting a guy who's going to go out there and compete. Coming from Florida, all I know is to compete. I've been in championship games all my life. That's what I live for: big atmospheres."