Know Your Foe: Texas Tech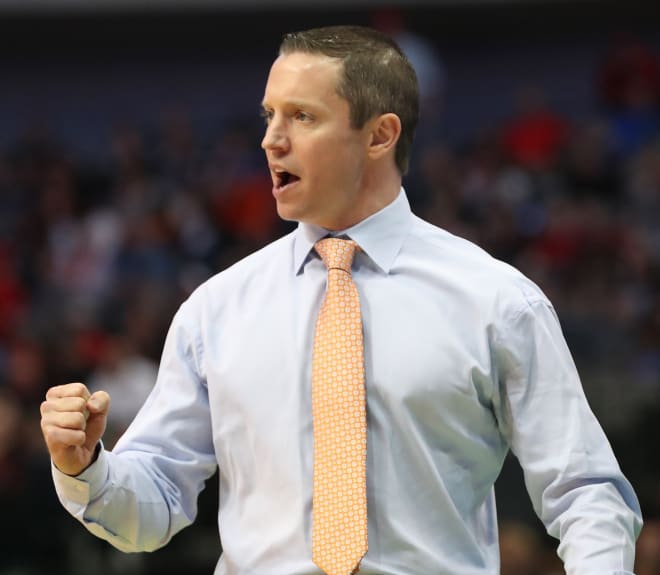 Unless you're over the age of 60, you've more than likely never seen the Florida Gators take on the Texas Tech Red Raiders. The only time these two teams have played each other was the 1960-1961 and 1962-1963 seasons. The Gators won both of those games, including a spectacular 71-69 overtime victory in Lubbock. Florida radio analyst Bill Koss was a freshman the last time Florida and Texas Tech squared off. UF is 10-3 all-time in the Round of 32 and 4-0 when facing No. 3 seeds.
ABOUT THE RED RAIDERS
Established: 1923
Location: Lubbock, Texas
Enrollment: 30,759 (undergraduate)
NCAA Tournament Appearances: 16
Final Four Appearances: None
National Championships: None
All-Time vs. Florida: 0-2
Best Wins: Kansas, Kansas State (twice), West Virginia, TCU (twice), Texas (twice), Nevada
Worst Loss: Iowa State
ONE TO WATCH
If there's just one player Gator fans should know coming into Saturday night's Round of 32 showdown, its Keenan Evans. The senior combo guard from Richardson, Texas was named a Second-Team All-American and leads the Red Raiders in scoring (17.7 PPG), assists (3.2 APG), steals (1.2 SPG) and free-throw percentage among qualified players (81.7%). Evans has scored at least 20 points in 13 of Texas Tech's 34 games this season and has reached the 30-point mark three times. The senior was crucial in TTU's first round victory over Stephen F. Austin, notching 23 points, 6 rebounds and 5 assists. Of all the great things Evans did on Thursday night, his most impressive feat was his second half performance. Evans went 6-for-6 from the field, 1-for-1 from deep and 6-for-6 at the free throw line, while scoring 19 of his 23 points in the final twenty minutes.
"He's another great point guard and a great player, so any time you get to go up against a great player, it helps you elevate your game," Chris Chiozza said. "But you know, I'm not going to make too much out of that, play like any other game, just go out there, run the team, do what coaches ask me to do, and just make sure that everybody is focused and doing what they've got to do."
THIS & THAT
It All Starts With Defense
Texas Tech's defense propelled them to a 25-9 record and a No. 3 seed in the 2018 NCAA Tournament. The team ranks 4th in the NCAA in defensive efficiency, 14th in opponent effective field goal percentage and 12th in opponent two-point percentage. The Red Raiders are also in the top 55 nationally in opponent three-point percentage and force turnovers on 21.9% of their defensive possessions, which ranks 16th in the country. TTU has held opponents to 60 points or less in 15 of their 34 games this season.
While the Red Raiders are a defensive-oriented team, their offense can be potent at times as well. Texas Tech ranks 46th in the NCAA in offensive efficiency and have hit 36.3% of their three-pointers this season. TTU also loves to send players to the glass on offense. The Red Raiders are in the top 45 nationally in offensive rebounding percentage and have garnered 81 offensive rebounds over their last 10 games.
"I think their team speed is as good as we've played all year, which helps them in transition offense and defense," Florida's Mike White said. "The way they changed ends of the floor is top-notch. And then overall, as I mentioned, figuring out a way to score against these guys could be our biggest test…They don't have any deficiencies defensively. They're good offensively. They're going to be hard to guard. But man, do they lock you up. Chris has got these guys really defending and playing really, really hard."
Tempo Battle
In similar fashion to the Round of 64, Florida's second round opponent loves to slow down the speed of the game. Texas Tech's adjusted pace ranks in the bottom 100 nationally according to KenPom, averaging only 66.6 possessions in a 40 minute game against the average Division I opponent. The Red Raiders' average offensive possession length is 17.9 seconds, while their average defensive possession length is 17.5 seconds. As we saw vs. Stephen F. Austin, Texas Tech's style is to wear you out throughout the course of the game and finish strong in the final 5 minutes. Three of TTU's last four games have been decided by four points or less.
"If we can get stops, hopefully we can get out in transition," White said. "And if we've got something early, we'd like to take it, but again, we've been there before. Loyola Chicago did it to us to start, and it seemed like a bunch of people figured that out. We don't want to play defense for 80 percent of the game. We'd like early quick ones, but we've got to be choosey. We've got to make good decisions in transition offense, as well."
Homecourt Advantage
As evidenced by Texas Tech's game on Thursday night, the Red Raiders will have a decisive fan advantage on Saturday night. The Red Raiders drew about 15,000 more fans than Stephen F. Austin, despite being about two and a half hours further than Dallas. White spoke about dealing with road environments on Friday afternoon.
"I don't think any team in the country is more battle-tested than we are over the last two years, considering what we had to go through last year with the renovations to Exactech Arena. We've played a ton of games away from home. We've played a ton of neutral site games, of course, and in this one I thought Chris Chiozza made a good point last night, this will be comparable to the Gonzaga game, which we didn't get any computer favorability for, unfortunately, but that was a road game, and tomorrow will be a road game, as well."
Beard Bites
Chris Beard spoke at length about the Florida Gators on Friday afternoon. He called Mike White "one of the best coaches in college basketball" and said that the Round of 32 matchup will require them to "play the best game of the season." Below are more of Beard's quotes on Florida.
Beard on Florida's identity:
"This is one of the best offensive teams in college basketball. They're [also] a really good defensive team that gets a lot of steals and turns you over…They don't beat themselves."
Beard on Egor Koulechov
"We played against their power forward [Egor Koulechov] who played at Rice last year…We know how good he is. He's actually one of my favorite players watching play and stuff. Yeah, we still talk about his shot fake today. We call it the Rice shot fake. Now we'll call it the Florida shot fake."
------
Thank you for reading this Inside the Gators article. To discuss it, please visit the Alligator Alley Forum.