Maye shoots up the rankings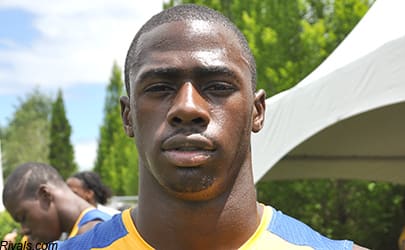 Florida safety commit
Marcus Maye
said he hears the detractors constantly. Yes, they may come nationally, but they also typically begin in his own backyard.
"It starts in the hometown," he said. "I hear a lot of guys at Palm Bay High and Cocoa High School. They all tell me I'm only doing all this stuff because I'm not playing against anybody. But I show them that they're at a big school, but I could still get in there and play with those guys. I can always say that I'm one of the top recruits in the area even though I'm at a small school."
Maye's ongoing battle to prove that he belongs on a national stage despite playing football at Holy Trinity Episcopal, a small private school in Melbourne, got an added bump on Monday.
When Rivals released its latest Rivals100 rankings, Maye had jumped an impressive 66 spots from the No. 128 to No. 62 overall player in the country.
"I thought I had a pretty good summer," he said. "I went to a lot of camps. I played in front of a lot of people. It's definitely something I've been working toward."
The 6-foot-1, 195-pound safety hit the camp circuit heavily this summer in hopes of raising his national stock and getting his name out for all-star game invites.
So far, only the former has come true.
While he has received plenty of publicity both before and after his July commitment to Florida, Maye has yet to be invited to any major all-star games.
"I feel like I definitely deserve one of those games," he said. "I'm still waiting to hear from one of those. ... Just so that I can always say that before my career is over with that I played against the top high school kids in the country. Just so I can go out there before I get into college and see how I add up to those guys. Just the experience to always say that I was an All-American is something I've always wanted to see myself as. I definitely want to be in one of those games."
If the start to his senior season is any sign, it might not be long before Maye sees his wish come true. In a game Wednesday against Palm bay Heritage -- a 6A public school -- Maye led his team to a 21-13 victory. He had 145 yards rushing and scored all three of his team's touchdowns, one on the ground and two off of halfback passes. He capped off his performance by recording 15 tackles on defense and making the game-sealing interception.
As for his commitment to Florida, Maye said he maintains a healthy relationship with the Gators and could not see going anywhere else.
"I still talk to them at least two times per week," he said. "I call [head coach Will] Muschamp and [defensive backs coach Travaris] Robinson and let them know how everything is going. I tell them about my game and everything like that. I still have good communication with them."
While he has yet to pick as specific date, Maye would like to take his official visit to UF alongside a group of his future teammates. And while other schools might keep trying, the four-star standout assures everyone he already knows where is will be come 2012.
"I'm not going anywhere else," he said. "I don't feel like I need to see anything else. I've been to numerous places numerous times, and I feel like none of them add up to Gainesville."