Four-star OT Michael Tarquin flips commitment to Gators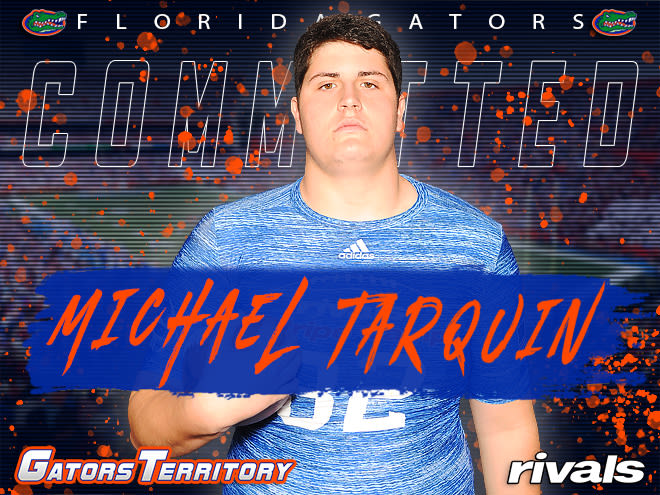 Dan Mullen's staff has been on the hunt for another blue-chip offensive lineman to strengthen up their 2019 class, and that bell was just answered when Michael Tarquin flipped his commitment to UF.
Tarquin, a 6-foot-5, 290-pound senior from Citra (Fla.) North Marion, had been committed to Miami since April and opted for a change while officially visiting the Swamp this weekend.
However, this is not a situation that just developed over the past couple of days.
The Gators welcomed Tarquin to campus for a handful of games this fall, and Dan Mullen and offensive line coach John Hevesy recently made a strong impression during an in-home visit as well.
Tarquin previously attended a number of Florida practices as well, so those relationships have been strengthening over the past few months.
"I love the intensity from coach Mullen and the whole coaching staff," Tarquin previously told GatorsTerritory. "Just that competitive nature. You hear it coach Mullen's interviews and stuff. I just really love that and it's really intense. I think that's important in terms of development and winning.
"I like how organized they are and I like how they have a ton of accountability and discipline. All the key things they keep talking about with their program I think are really good. I just notice a lot of passion and a lot of energy with both of them (Mullen + Hevesy)."
Tarquin, the 30th-ranked offensive tackle on Rivals, possesses additional offers from Ohio State, Auburn, Clemson, Michigan, Georgia, LSU, USC and Oklahoma among others.
Oklahoma received an official visit during the spring, while Miami rolled out the red carpet last weekend.
The four-star prospect was sidelined for the majority of this season after having surgery on a torn labrum, but it's safe to say that hasn't put too much of a dent in his recruitment.
Tarquin, who hails from Freddie Swain's alma mater, is an early enrollee who will relocate to Gainesville shortly after the New Year.
"Just the new coaches," Tarquin said. "That's why I thought to look at the University of Florida again. They said I have a lot of potential and feel like they can develop me into being a really good player. They love my athleticism and how I'm able to bed and flexible."
Stay tuned to GatorsTerritory.