Murphy could return Saturday vs. Oklahoma State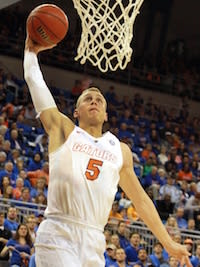 [rl]

Click
Here
to view this Link.



The Florida Gators basketball team (6-3, 0-0 SEC) could finally get redshirt senior forward
Alex Murphy
(foot) back when it faces Oklahoma State (7-3, 0-0 Big 12) this weekend in Sunrise, Fla., for the Orange Bowl Basketball Classic.
After suffering a partial tear of the plantar fascia in his foot during Florida's home exhibition against Palm Beach Atlantic on Nov. 5, Murphy hasn't participated in a contest since. Florida targeted the Miami game last Tuesday as a potential return date for Murphy, but he experienced a setback and that expected return time was pushed back further.
But on Saturday night, there's a possibility we could see the 6-foot-8, 225-pound Murphy on the court for the first time this regular season.
"He came off practice a couple days ago and was good," Florida head coach
Mike White
said. "He's doing much better than he was three weeks ago. I think there's a chance that he plays Saturday, just depending on over the next couple of days with the banging and the pounding and the sprinting up and down the floor, the bone on bone stuff and how well he deals with it."
Sophomore forward
Devin Robinson
thinks Murphy will play this Saturday.
"I'm pretty sure he's coming back for the next game," Robinson said. "They'll probably fit him in a small amount of time until he gets back 100 percent. He's been practicing with us and things of that nature. We need him at the four. He's bigger so we can probably move
Justin Leon
to the three and spread it out a little bit more. But he's going to be a big key when he gets back."
Murphy, who averaged 5.1 points on 45.7% shooting and 2.0 rebounds in 23 appearances (four starts) last season, projects to be one of Florida's first big men to come off the bench in the rotation once he's fully healthy.
However, Murphy has played a key leadership role despite his injury. Often, you can hear him serving as a vocal presence on the bench and motivating his teammates.
"He's tremendous," White said. "Alex has got, if he wants to coach, he's got a future in it. I'm sure he'll have a bunch of options. He's a bright guy. If he ask me I'll tell him to do something else, I'm just kidding. But he's infectious with his personality. He's as good a teammate as I've ever been around, and we've got three or four guys like that are just big givers. He's a big giver and a real positive guy. Whether he gets in the game Saturday or not, whether he scores 20 or 0, he's about Florida winning and he's always doing his best to help his teammates."
Robinson sees it in Murphy, too.
"He's real vocal," explained Robinson. "Before he got injured he wasn't as vocal, but when he sat out he told us, he's like it really opened his eyes to what he sees out there so he became more vocal. And now that he's back he knows what he saw and he's trying to adjust it when he's in there. He gets people talking, he gets people going. He encourages people and that's what we need.
"He's a second coach in there. Second to Coach White and all the assistants is Alex Murphy. He's one of our peers. We play with him. We listen to him also. He knows how to get under our skin and he knows how to get us going because he's our teammate. Coach White is our coach, so he's supposed to know. But our teammate he knows a little bit more inside."
THIS AND THAT
White on the plan at point guard this weekend versus Oklahoma State: "Up in the air over the next couple of days. I thought Chris was really good. First time we played both those guys together for long periods of time. We played well with those guys in the game so it's something we'll consider moving forward. We don't want to be real small but with those guys you're really quick and fast and you've got two playmakers out there especially with a lot of the ball screens that we set and two of our most experienced guys too so we'll consider it."
White on the 58-52 loss to No. 1 Michigan State loss this past weekend: "Most importantly, I look at that game as a positive. Again, we're not celebrating that we lost a close to Michigan State at all. But we showed this team has a lot of pride. We showed how much these guys care about each other and how they laid it on the line. We played as hard as I've seen these guys play. We played really, really hard and matched every bit of their intensity -- and again, they had an incredible crowd on their side. So I was really proud of the intestinal fortitude of our guys; getting a ton of loose balls; diving on the floor; no regard for their bodies. From our point guards to our 5s to our subs, everyone who got in the game gave us something physically. It was a tremendous physical effort by our guys."
White on the Gators' shot selection against the Spartans: "A little stagnant there, especially in the first half. The second half was better. I think a lot of that you have to credit Michigan State. Year in, year out, they're one of the best defensive programs in the country. It's at their place. It's in front of a very, very loud crowd. Sometimes that zaps your energy a little bit, especially with how much energy we were playing with defensively and with our press and on the glass. But some of it is us, as well. We've got to move our bodies a little bit better. We've got to move the ball a little bit better. We've got to get more paint touches. Whether that's throwing inside to the post or penetrating to pitch to get those types of looks, as opposed to one-two-pass and 3-point attempts. That will be our focus here over the next few days."
When asked about the Cowboys, White previewed his opponent for this weekend: "(Phil) Forte is tremendous and they'll be a different team when they get him back whether it's Saturday or in the future, I've seen that firsthand a couple of times in a scrimmage against those guys and then in a real game he can really shoot the ball. But they have other capable shooters. They have veterans, they have a bunch of guys that have has success there. They got size, they've got depth and they're always really sound especially positionally defensively so it's another tall task for us offensively, it's another, we're gonna be trying to find ways to generate points for us offensively."
White on freshman guard
KeVaughn Allen
, who has been banged up and struggling recently: "He's been able to get away from it a little bit. He took off Sunday and yesterday was a non-contact day so he's feeling a little bit better at this point and as we've all talked about it, I'm sure if that ball goes in for him a little bit he'll feel really good. He's really capable and he's gonna have a game sometime here soon where he feels it up and he's dealing with the freshman-itis that every other freshman here in the country just about, other than a few of them, are dealing with. It's all apart of the process."
White on redshirt freshman guard
Brandone Francis-Ramirez
's shooting woes: "I think early on it started with Brandone trying to, he's coming off the bench and he was just trying to prove himself. He was a little bit too eager I think with the ball in his hands. He got off to a bad start and I think a lot of it had to do with shot selection and just pressing a little bit with the ball in his hands. He has slowed down. He's let it come to him a little bit more, just like with KeVaughn, I expect these guys at some point to break out of it. They're better shooters than they're showing."