Muschamps ball hawk defense plays take away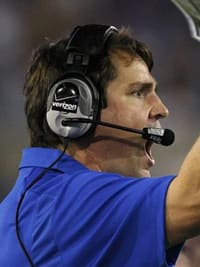 Please feel free to share this free Inside the Gators feature with your friends
LEXINGTON, Ky. -- Patience pays - even for Florida's aggressive defense.
Coming into the season, Florida wanted to have a ball-hawking defense with a goal of forcing three turnovers each game.
Four games into the season, that goal was finally achieved when Florida recorded four takeaways in a 48-10 win against Kentucky, the Gators' 25th consecutive victory in the series.
"That's our goal, to get a lot of turnovers," safety
Matt Elam
said. "We came in and accomplished our goal and won the football game. You win football games when you get turnovers."
The Gators' first takeaway occurred early on and swung the momentum of the game. Kentucky forced Florida to punt on its first two possessions, but on the Wildcats' ensuing drive,
Lerentee McCray
forced a fumble on Kentucky running back
Josh Clemons
. Defensive tackle
Omar Hunter
recovered at Kentucky's 45-yard line and gave Florida prime field position.
On the Gators' first play following the turnover,
John Brantley
hit tight end
Gerald Christian
for a 45-yard touchdown to give Florida a 7-0 lead it would not relinquish.
"It was definitely a momentum swing back on our side and we kind of set the tone for the game," Buck linebacker
Ronald Powell
said.
While McCray and Hunter set the tone, Elam and the rest of the defense kept up the pace for the rest of the night.
After notching his first interception of the season late in the game against Tennessee last week, Elam picked off another overthrown ball Saturday. Elam's takeaway resulted in another touchdown when
Trey Burton
scored from 1 yard out.
"Sometimes it just happens and it falls in your hands," Elam said of his second interception of the season. "You just need to be prepared and be patient because quarterbacks always make mistakes - overthrown balls, tipped balls. That always falls in your hand."
That's exactly what happened with defensive lineman Jaye Howard and linebacker Mike Taylor later in the game.
Early in the second quarter linebacker
Jon Bostic
sacked
Morgan Newton
and jarred the ball loose. The pigskin found its way into the hands of Howard, who walked into the end zone.
The Gators' final takeaway occurred in the third quarter when Taylor picked off Newton, eventually leading to a
Caleb Sturgis
field goal.
When all was said and done, Florida scored 24 points off four Kentucky turnovers. Florida's ball-hawking defense also recorded four sacks on the night, a new season high.
While the Gators' patience paid off against the Wildcats, they still weren't completely satisfied.
"We met our goal on the takeaways," Powell said. "We definitely should have got more, we definitely should have touched the quarterback more but for the most part we did get the takeaways."