Nameless, faceless approach is the right one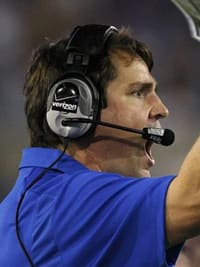 Please feel free to share this free Inside the Gators feature with your friends
In the world of sports, the media plays the role of Don King.
Every game of any importance must be properly hyped and promoted just like any good boxing match.
In college football, this is especially true, as media members feed hungry fans little morsels of hype for an entire week before the main course is finally served up on Saturdays.
Unfortunately for the fight promoters that cover Florida football, their boxers aren't talking.
Not a single UF player has threatened to eat Trent Richardson's heart or go after Marquis Maze's kids. The Gators' style might be impetuous, their defense impregnable and their running game ferocious, but you won't hear that out of anyone's mouth this week.
Instead, the players have taken to answering as many questions as possible about the impending showdown with Alabama with the same tired company line.
The Tide is just another "nameless, faceless opponent."
Same as Florida Atlantic, UAB, Tennessee and Kentucky.
Every time a Florida player dare answer a question about "the big, bad 'Bama boys," as one reporter put it Monday, with that phrase, the crowd of interviewers throw up their hands, sigh in disgust and chuckle in disbelief.
How the hell are we supposed to promote a fight when our boxer won't say anything -- positive or negative -- about the opponent?
Sure, the Gators have espoused this rhetoric for five weeks now, but this is ALABAMA. The No. 3 team in the nation. The team that crushed Florida 31-6 in Tuscaloosa last season. The team that knocked off UF in the SEC Championship Game two years ago. The team coached by Nick Saban, who mentored a young
Will Muschamp
almost a decade ago at LSU.
This is a prize fight. A title match. A heavyweight throwdown.
But Muschamp would rather his stable of young fighters treat this the same as any other bout.
And it's a damn smart decision for a trainer.
In the Urban Meyer years, rivalry propaganda would fill the locker room, weight room and practice field in the week leading up to action. The coaches and players would talk about what it meant to play in "big games" and "rivalry games" and how everything was different for that week.
And to Meyer's credit, he posted an impeccable mark against Florida's three major rivals -- Tennessee, Georgia and Florida State. Meyer's teams played 18 games against those three schools and lost just two of those contests. He also did his fair share of winning big games, considering the two national championships and all.
But there was an unintended side effect of playing in to all the pre-fight shenanigans -- Meyer's teams occasionally lost games they shouldn't have.
Florida lost to a South Carolina team that would finish 7-5 in 2005, Steve Spurrier's first season with the Gamecocks. UF lost to an Auburn team that came into The Swamp with a 2-2 record after early season loses to South Florida and Mississippi State in 2007. And Florida dropped a home game to Ole Miss in 2008 before going on to win Meyer's second national championship.
Three games in six years certainly isn't a lot when weighed against the overwhelming success Meyer had at Florida, but maybe Muschamp is shooting for winning every game the Gators are supposed to win as long as he's the head ball coach in Gainesville.
Though the "nameless, faceless" response is most agitating to reporters' ears during the weeks leading up to big games -- like Alabama this weekend -- that's not where this attitude benefits the team.
Of course the players are going to get up and have a good week of preparation with a game against Alabama looming, so fans needn't worry about that.
But if UF's player s prepare extra hard for Alabama, that just means they didn't prepare to that same level for Kentucky or UAB.
Muschamp is demanding his players prepare as hard as they possibly can every single week, regardless of the opponent.
So when the players stand in front of the media and say that nothing has changed this week and that it really doesn't matter who they're playing on Saturday, it's because that's the kind of attitude it takes to actually keep from overlooking any opponent, instead of just paying lip service to it.
This "nameless, faceless" approach wont give the Gators some sort of extra motivation or psychological edge against Alabama, but it also wont put them in position for a psychological disadvantage when it comes time to handle business against lesser foes.
Muschamp knows that if you don't prepare for every fight the same, sometimes you get knocked out by Buster Douglas.
Better a boxer follow the advice of his trainers than pander to the self-serving expectations of fight promoters.