Pineiro reflects on journey to Gainesville, 2016 season with Gators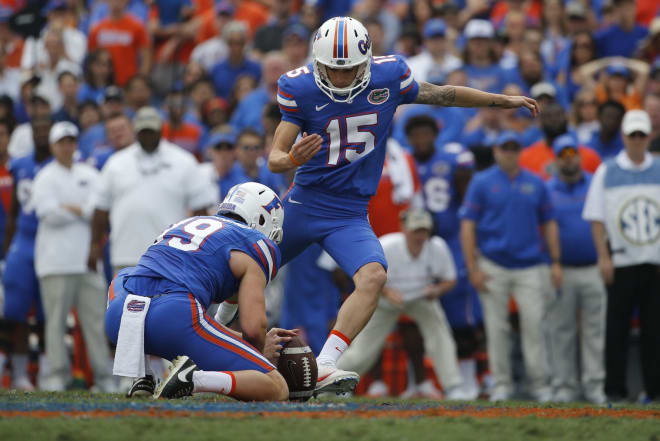 For Florida kicker Eddy Pineiro, the past few years have been a heck of a journey.
During his time at Miami Sunset High School, Pineiro was a soccer standout – following in the steps of his father, a former professional soccer player for the Fort Lauderdale Strikers - before ever pursuing football. However, Pineiro eventually discovered that he had the leg to potentially succeed in the sport.
Pineiro then joined his high school's football team, playing in the final seven games on kickoff and PAT duty. Still, he'd continue to heavily pursue soccer, receiving a Division I scholarship to play for FAU.
Then, Pineiro would learn that he could not qualify academically at FAU. Instead, he enrolled at ASA Community College in Miami, where he continued to play soccer but then got involved in the school's new football program. Pineiro began to discover that he could thrive as a field-goal kicker, potentially at the FBS level.
He'd go on to work out with kicking guru Brandon Kornblue while participating in the camp circuit, drawing attention from numerous Division I programs. His long field-goal attempts on social media also drew plenty of attention and soon turned him into a viral sensation.
"I would tell my friends, 'Hey, I just hit a 77-yarder,' and they're like, 'No you didn't hit a 77-yarder.' So I'm like, 'All right, I'm going to go back on the field and film it again,'" Pineiro recalled during Florida's Summer Football Tour special on the SEC Network.
"They're like all right. So I went back out like two months later and I filmed it and I hit a 77-yarder and it just blew up on YouTube. It got me a bunch of attention. The reason why I was doing it was to get scholarships to kick footballs. It really put me on the map."
Eventually, Pineiro would commit to Alabama, only to flip to Florida about six months later and enroll early for the 2016 spring semester. So far, it's been a decision that's worked out quite well for Pineiro, arguably one of the most intriguing kickers in the nation entering the 2017 campaign.
As technically a redshirt sophomore during the 2016 season in his first year at the FBS level, Pineiro finished tied for 24th individually for the best field-goal percentage in the nation. He went 21-of-25 (84%) on field-goal attempts while making every single one of his 32 PATs. Pineiro logged a long of 54 yards on the season, going 3-of-3 from 50-plus yards.
Early on, it was a learning experience for Pineiro, who was new to what was expected out of him as a college level after lacking high-school experience as a field-goal kicker.
"After I kicked my first collegiate field goal, Coach Mac ran up to me and said, 'Eddy, you're on the wrong side of the field,'" Pineiro said. "He told me I had to kick off going the other way because I still didn't really know what side of the field I had to go to after I hit a field goal. It was all new to me."
Following a 1-of-3 outing in the second game of the season against Kentucky – and then missing field goals from 32 and 33 yards out against Missouri and Georgia, respectively – Pineiro eventually found his groove. He finished the season on an extremely strong note, making 12 consecutive attempts to close out the year. The Miami native would come up big in wins against LSU (16-10) and Iowa (30-3), making three field goals apiece in each contest.
All in the process, his popularity with the fan base continued to grow, as Gators fans fell in love with his enthusiastic personality and celebrations.
"When I make field goals, I take pride in some of my celebrations, especially when you have the crowd booing you when you're running into a stadium," explained Pineiro. "My dad, he played professional soccer, so every time he would score I would watch him as a little kid. Every time he'd score a goal, he'd start punching and going up to his teammates and hugging them and stuff. I said, 'Hey, if I make a field goal – growing up and seeing my dad with all that emotion – I'm like hey, I'm going to do the same thing. I'm going to get my team hyped up.'
"Nobody wants to end with a field goal, they want to score a touchdown. After hitting that field goal, run up to my teammates and hit them in the head and push them and tell them, 'Let's go, wake up. You don't want three points, you want seven.'"
The future looks bright for Pineiro – and all in all, he's happy his journey has led him to Gainesville after wrapping up his first season as a Gator.
"Coming to the University of Florida was the best thing that's ever happened to me and my family," Pineiro said. "I'm so thankful for the opportunity that Coach McElwain gave me. It's honestly a special place."
------
Thank you for reading this Inside the Gators article. To discuss it, please visit the Alligator Alley Forum.