QB Jalon Jones talks UF commitment: Coach Mullen wants to win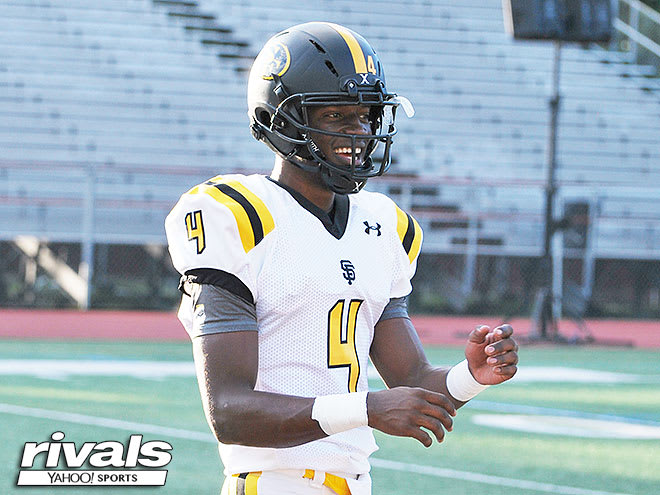 It's not often a coaching staff gets to celebrate a commitment from one player twice but Florida head coach Dan Mullen and his staff get to do that now that Baltimore (Md.) St. Frances quarterback Jalon Jones has announced his commitment to Florida. Jones, who chose the Gators over Ohio State, Virginia, N.C. State, and Oregon, was previously committed to Dan Mullen and his staff while they were coaching at Mississippi State.
IN HIS OWN WORDS…
"My relationship with all the old coaches from Mississippi State and seeing them all again had a big part in it," Jones said. "My conversations with coach Mullen, coach Johnson, and everybody else made it feel like a really good atmosphere and I really liked what they were saying. Their message from when they were at Mississippi State to now hasn't changed at all. Coach Mullen wants to win and now he's just on a bigger stage.
"Coach Mullen is just an all-around great guy," he said. "He's somebody that I can talk to and I feel like he understands me whenever we talk. He's going to bring the tradition of winning championship back to Florida.
"My main goal at Florida is to come in and compete," said Jones. "St. Frances has helped me experience tough competition and helped me hone my skills a lot more. I welcome any challenge. Being with all the competition at St. Frances over the last year has really helped me get better and I feel like that will help me transition into Florida.
"Coach Mullen gave me a list of people he wants me to help recruit so I'm going to do all I can to help bring him the No. 1 class in 2019," he said. "The main big one is Trey Sanders. I look forward to getting to know him."
RIVALS' REACTION…
Florida seemed like they were always in the driver's seat for Jones and he didn't make it a secret that he was interested in following coach Mullen from Mississippi State to Gainesville. Mullen has done a great job in the past developing quarterbacks with similar skillsets to Jones. This is a great situation for both Florida and Jones because he does have the tools to succeed at Florida but Jones is also a vocal leader at one of the best high school programs in the country. Being able to command respect and lead a team like St. Frances should make it very easy for Jones to do the same at Florida.