Sound Off: Commits Targets talk UF losses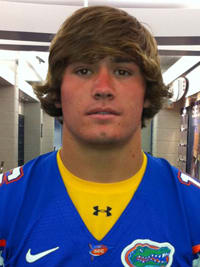 Please feel free to share this Inside the Gators feature with your friends
After three-straight crushing losses to Southeastern Conference competition, the Gators are in an unquestionable slide after starting off the season 4-0.
But with a number of issues bubbling and fans pointing fingers, what do prospective future Gators think about the losses to Alabama, LSU and Auburn?
Inside the Gators spoke with some recruits with various backgrounds and statuses to compile a breakdown of where high school prospects think after the two defeats.
On Florida's situation: "Obviously, a loss is tough, but people don't like to take into account the facts of the situation. A coach is coming in for his first year, the first and second-string quarterbacks are hurt, [Jeff] Demps is hurt."
The reason for the losses: "It happens. Especially in the SEC, teams go in a cycle. You're really, really good for a couple years and then sometimes you have an off-season. I don't even really think they're having an off-season right now because they're working hard and playing well."
What will it take to improve: "At least give them a year to get a recruiting class in. That's why I'm so excited to get down there is because I'm going to be a part of that new recruiting class coming in. ... It's Florida. It's not like we're not going to win championships. It's not Georgia."
What is going wrong with Florida: "Them not having Demps right now is a big factor, I think. They're also starting a lot of young guys and things like that."
How could Florida improve: "Honestly, I'm not really that sure. It looks like they could use a few linebackers. I could tell a little bit."
How his high school teammates (UF commits Mike Davis and JaFar Mann) are taking the losses: "They talk about it a little bit. They're still all Gators. They're still 100 percent committed. It's nothing that's changing their decisions or anything."
On the game: "It was a good game overall, but Florida made too many mistakes and things kind of went wrong."
Differences from the Alabama and LSU games to the Auburn game: "The LSU and Alabama games, I felt like those were two losses where everybody felt like they were the underdogs. Nobody expected them to win. … With Auburn, they had a lot of chances to take the game over. They just had a lot of penalties, and the muffed punts killed them."
On the repeated punt return mishaps: "It was just crazy. Some of those punts, I felt like they should have just let them go. It's kind of frustrating to see. I know the coaches were frustrated. I've never seen Chris [Rainey] muff punts like that before, but he wasn't the only guy doing it, either."
Did he talk to other commits after the game: "I hit them up to talk about the game. Pretty much, we all felt the same way. It was just a lot of mistakes by Florida. They're all still on board though."
On the loss to Auburn: "It sucked, but you know, Florida is down right now. That's it."
What factor do the losses play on him: "I just want to contribute. Florida is always going to be Florida. Everybody has their ups and downs. They'll be back up next season."
What's wrong with the defense: "They don't really like to hit, and they can't stop the run. They're getting run all over."
How much does a team winning matter to recruits: "Everything is about winning. I don't think any of us are giving up on Florida though."
Biggest reason for the collapse: "Losing [John] Brantley definitely had an impact on the offensive confidence, I think."
Major areas of concern: "I think losing the starting quarterback hurts the offense and defense. Special teams has also been a little shaky in the losses to LSU and Auburn."
How are recruits reacting to the losses: "I think every school is going to have its ups and downs. Right now I'm sure recruits are eager to compete for a starting job and make an early impact on the team."