Still committed to Syracuse, linebacker hopes for Florida offer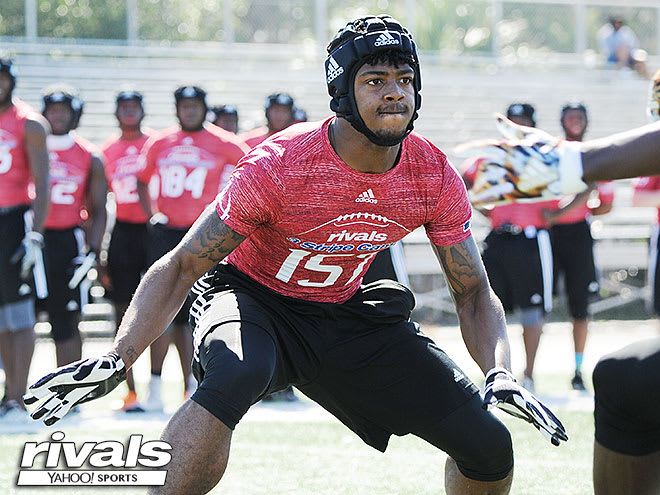 LAKELAND, Fla. -- A sight-unseen commitment is a leap of faith. Jack Smith doesn't much mind the jump.
The three-star linebacker chose Syracuse without ever setting foot on the school's campus or seeing Onondaga County with his own eyes. This commitment, instead, is a matter of trust.
It's also one that was built on relationships. Visit or no visit, the Lakeland (Fla.) High School standout is at ease with the Orange staff. Smith is at peace with choice.
"I talked to the head coach the day after they offered me, so I knew they really wanted me," he said on Wednesday. "When I talk to them, They just tell me about the campus and the snow, but you don't even have to really worry about the snow up there because they play in the dome, you know?"
Smith intends to visit Syracuse at this offseason. Until then, however, he'll partake in a handful of other trips. Already, he's starting to pencil in dates and destinations.
"I think I'm going to the Florida camp and maybe Florida State," Smith said. "They've both been asking about me a little, so I'm going to go."
Smith doesn't say he necessarily feels "close" to landing an offer from either in-state school. Still, he's not shy about forecasting what may happen should one of them come to the table in such a fashion.
One Sunshine State-based institution in particular has the potential to shake up his recruitment in a hurry.
"With the Florida Gators, I grew up a big fan of them," Smith said. "That's probably the offer that would make me think about changing things up."
There are other suitors in pursuit. Missouri recently offered Smith, and other schools seem to be getting involved with each passing week. The programs currently in play, however, don't seem to be massive threats to his standing as a Syracuse pledge.
"Right now, Iowa State is on me heavy," Smith said. "So is Western Kentucky, but I'm committed to Syracuse and everyone knows that."
RIVALS REACTION: The sight-unseen commitment is a dangerous one. Simply put, Syracuse is going to have to work to hang on to Smith until Signing Day. The faster the Orange gets him on campus, the better shot it will have. There are more offers to come for Smith, whose recruitment seems to be evolving quickly. Syracuse has a legitimate chance to hold on here, but a quick visit is probably imperative.