Two walk-ons to add to line numbers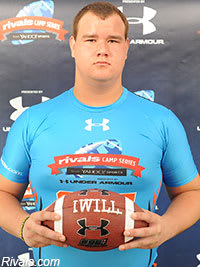 [rl]




Throughout both players' recruitment, Welch and Villano received some interest from notable college teams, but ultimately a few bumps down the road prevented them from having any active Division I offers on the table once National Signing Day rolled around.
A 6-foot-5, 285-pound two-star offensive tackle who transferred to Montverde (Fla.) Academy for his senior season after playing at Groveland (Fla.) South Lake High School, Welch had offers from seven Division I schools coming out of his junior season, including Mississippi State, USF, Syracuse, FAU, Appalachian State, New Mexico State and UAB. But around this time last year, Welch suffered a torn labrum and broken humerous bone in his shoulder during practice.
Welch would eventually heal and be ready to play for Montverde, but by that time all of the schools who had offered him had pulled out.
"I talked it over with my family and figured that was the best decision for me, being that my offers were no longer available to me. Really during Signing Day, I was sitting with nothing," Welch said. "He actually offered to me before Signing Day, but he told me to wait and see what happens, because by all means if you get something that's committable and that you want to sign to, that's why not to make the decision yet for the walk-on thing. After Signing Day, nothing really happened for me. I had a DII school in Massachusetts that offered me a full ride, but in my heart, that's just not where I wanted to be."
Meanwhile, during his time playing at offensive guard for Delray Beach (Fla.) American Heritage School, the 6-foot-1, 296-pound Villano drew some interest from Division I schools, including Miami, Tennessee, Arkansas, FAU and UCF. But due to concerns about Villano's grades and his academic eligibility at the next level, they backed off.
By the time National Signing Day arrived, Villano was without a Division I offer.
"In the beginning, I didn't have such great grades, so that's really why a lot of schools backed on me," Villano said. "I had at least 15 Division I colleges talking to me until they saw my transcripts, and they backed away. But I had a great relationship with Coach Summers, and he gave me a chance."
From his time visiting a camp at UF over the summer of 2014 and interacting with Summers, Villano and the Gators offensive line coach already knew each other very well and would talk about once a week.
With NSD approaching, Villano was committed to Jacksonville University and almost signed with the Dolphins. But eventually, Summers influenced him to hold off on a decision.
"Before Signing Day, Coach Summers had called me and said to hold on and that after Signing Day he would call me," Villano said. "Sure enough, the day after Signing Day he called me and told me that he wanted me and my parents to come up and meet and talk with him and talk with Coach McElwain."
When Villano visited Gainesville less than two weeks after NSD, during his weekend visit he was presented by McElwain and Summers with the preferred walk-on opportunity. Villano could not turn it down.
On the trip, he met Welch, who is set to be his roommate once both arrive in Gainesville next Tuesday before the start of the Summer B semester.
Both have become good friends and have formed a tight relationship since meeting, as they talk to each other almost every day.
Even though the competition entering the program as walk-ons will be a battle, Welch and Villano are eager to showcase their worth and play well enough to possibly earn scholarships down the line.
"Throughout the whole process, I always had people who told me I couldn't do it," Villano said. "I always had a chip on my shoulder for that. I'm a preferred walk-on, but that really doesn't mean anything for me because I know I could play at this level, but since my grades weren't so good, they didn't think I'd be able to play at the Division I level. So I have no worries about the scholarship linemen. I know what I can do."
Added Welch: "I can play anywhere on the offensive line - center, guard, tackle, I can long snap - so I'm pretty versatile. Basically wherever coaches need me - wherever Coach Summers needs me or there's a spot we're low on, I can definitely jump in there and work on that and help them."