BREAKING: Rivals100 CB Jason Marshall commits to Florida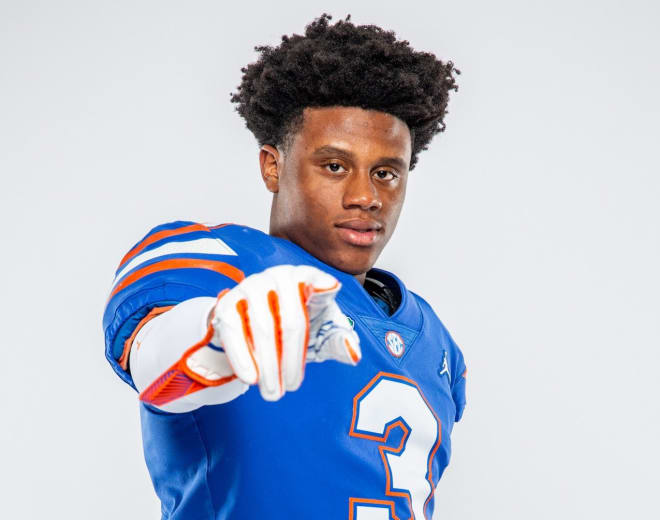 Jason Marshall Jr. is staying in the state of Florida for college, but not to play for the Hurricanes.
UF pulled off a major recruiting upset Sunday, beating out Miami and Alabama for the Rivals100 cornerback.
"I would just say how they recruit," Marshall told Gators Territory when asked what stood out about Florida. "How Dan Mullen, he ingratiates himself with his players' recruitments and the players there. Basically how they go about their program."
He announced his decision on Twitter, making a surprise pledge to the Gators after all 14 FutureCast predictions since Aug. 1 had been for the Hurricanes. They've landed a pair of Marshall's teammates in the last two weeks, with four-star WR Brashard Smith and five-star DT Leonard Taylor joining longtime UM pledge Savion Collins to give the 'Canes three Miami Palmetto players in their 2021 class.
But Marshall spurned his hometown team and the Crimson Tide, who had been viewed as the biggest threat to the in-state schools. LSU and Oregon were the other finalists, and his offer sheet of more than two dozen schools included Clemson, Florida State, Georgia and Ohio State.
Mullen and his staff prevailed, with quarterbacks coach Brian Johnson serving as the primary recruiter along with assistant director of player personnel John Herron. Marshall also stayed in touch with Torrian Gray, his future position coach.
"I have a good relationship with them," Marshall said of the Gators' staff earlier this summer. "During the pandemic, they've been texting me and checking up on me. So, I have a real, strong relationship with them.
"[Coach Gray's] been getting in touch with me. He was telling me about me reaching out to his former players, like C.J. [Henderson] and stuff. Talking to them about him, how he coaches."
Henderson took care of that himself, reaching out to Marshall on social media Thursday. The nation's No. 4 cornerback hinted at an upcoming decision by tweeting, "I think it's my time to shake the room."
With predictions rolling in for the Hurricanes, Henderson seemingly took a shot at the ACC program he also turned down as a recruit.
Marshall will be the first cornerback from Miami to sign with the Gators since Henderson in 2017. UF is also a finalist for his Palmetto teammate, five-star recruit Corey Collier Jr. The nation's No. 1 safety will announce his decision on Monday between Florida, Miami and LSU.