Early Entry Review: Toney turning heads with dynamic playmaking ability
During a highly successful run at Eight Mile (Ala.) Blount High School, Kadarius Toney did it all for his former team.
The 5-foot-11, 180-pound athlete started at quarterback for Blount in his final two seasons, combining for nearly 6,500 yards and 69 touchdowns in the air, and 1,790 yards and 31 touchdowns on the ground, during that span. However, Toney was utilized in multiple capacities, also seeing playing time on defense at various spots in the secondary including at cornerback and safety.
Toney's dynamic playmaking ability and athleticism caught Florida's eye during his recruiting process. Although the 2017 three-star athlete wasn't a traditional fit for Florida's pro-style system, the Gators promised Toney that he'd get a shot at contributing at the quarterback position from the get-go.
"I asked them, 'Is this just to be able to get my kid or are you giving him a fair shot?' Blount High head coach Lev Holly said. "They said, 'We're going to give him a fair shot at quarterback.' If it doesn't work out, then he's willing to move to another position."
Toney would announce his commitment to Florida in May of 2016 – and despite offers from numerous schools, including Alabama, he stuck with the Gators the rest of the way through.
As one of five early enrollees, Toney wrapped up his first set of spring practices about a month ago. While Feleipe Franks and Kyle Task primarily repped with the 1's and 2's on offense, Toney saw most of his action this spring with the third-string offense as Florida looked to get him more acquainted with the playbook and system.
While Toney's accuracy on a number of passes was a bit erratic early on, he certainly put his arm strength on display during spring practices. However, when he took off on the run, members of Florida's defense had to keep a close eye on him.
"I think a lot of it is just going to be repetition, just get reps. The game's a little fast for him right now, but once it slows down, he'll be a special kid to watch," Holly said. "I think he handled it well, especially with it being his first time stepping in that arena. I think he'll only get better. It's going to be more mechanical. Once he applies the mechanics to his athletic ability and his talent, I think he's going to be something special."
In the Orange and Blue Debut, that was certainly evident, as Toney eluded a number of Gators defenders on some scrambles operating in the read-option. Toney finished his spring game with 74 yards on the ground on five rushes, to go along with 24 yards and a touchdown on 3-of-5 passing. The score came on a wild scramble in the fourth quarter, when Toney connected with walk-on wideout Tucker Nordman for a 9-yard strike in traffic.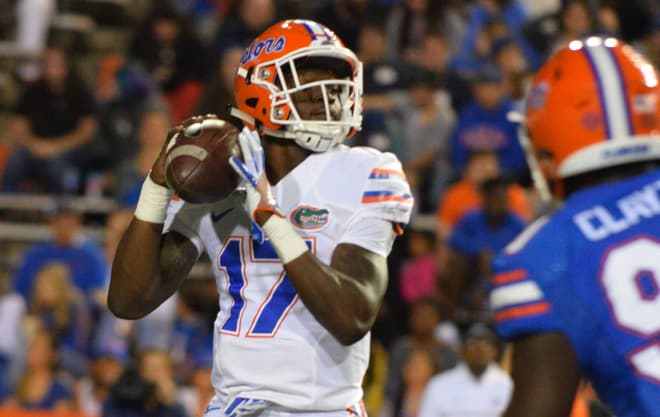 "He's really a good football player. He's a guy, like you said, that needs to have the ball in his hands," Florida head coach Jim McElwain said. "We never did play-action put it deep like he was able to show during practice, but he's got a very strong arm. You can see that with the quick release that jumped on a couple guys, but you know he's got a ways to go. Got to learn how to protect the ball a little bit too. He's a guy that, I'm glad he's a Gator."
As a complement, sophomore cornerback Chauncey Gardner memorably called Toney "a running back playing quarterback" after the spring game.
"That's a daily thing. He's quick, elusive," explained Gardner. "When he's out there, like coach says, you've got to respect the guy. He's just like any other quarterback. We treat him the same. But we're DBs so we don't really pay attention to him because we've gotta cover receivers, but overall Kadarius is a good quarterback. You see he can can run. You see he has a good arm. He has to keep his eyes downfield to make sure everybody is in the right place. You see how he got it to the right guy for the touchdown. I mean, he's doing good."
The obvious question moving forward is, how much of a role will Toney see at quarterback in 2017? With Franks and Trask competing for the job, Luke Del Rio and Jake Allen entering the competition in fall camp, and Malik Zaire joining the mix still being a possibility, right now it seems like a long shot that Toney would earn the starting gig as a true freshman.
However, McElwain has mentioned this spring developing a Wildcat-esque package for Toney. It's something we've seen Florida try over the years with McElwain and offensive coordinator Doug Nussmeier, as Treon Harris briefly operated out of it in 2015 while Will Grier was the starter, and running back Jordan Cronkrite worked in the Wildcat in 2016. The Gators had plans for Dre Massey in that role last year, but a torn ACL suffered in the season-opener led to those being scrapped.
"I think there's going to be some things we're going to be able to do with him in some package," McElwain said of Toney this spring. "A lot like we were doing with Dre a little bit, only more so that he really has been a quarterback."
Because of his ability to make things happen when the ball is in his hands, Florida wants to find a way to get Toney on the field immediately in 2017. It could be at quarterback, or it could end up being at another position on offense.
If quarterback isn't Toney's full-time role, Holly said he could envision him possibly helping out as a slot receiver. While he played primarily at quarterback this spring, Toney also saw a few reps at wideout in practices.
"Kadarius is a kid who just wants to get on the field," Holly said. "I think getting on the field and being able to be a team guy, being able to help the team win. If he could help his team win at another position, then I'd have no doubt that he'd be willing to do that. He was on double duty for us. We put him on defense, played him at safety, played him at corner. He was a doggone good one. It's all about the scheme and the concept, and I think he understands that."
Holly, who speaks with Toney frequently, said his former player wants to make an instant impact as a freshman this season.
"Sky's the limit for the kid," Holly said. "He's excited about the opportunity that's ahead of him."
------
Thank you for reading this Inside the Gators article. To discuss it, please visit the Alligator Alley Forum.