Fall Camp Positional Preview: Linebacker group young but promising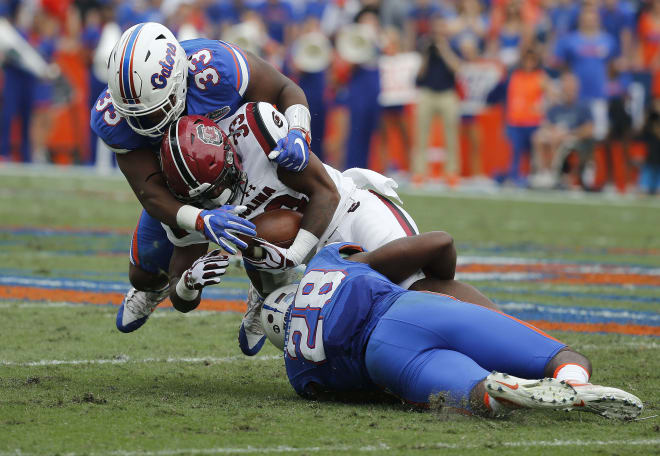 With fall training camp set to kick off next week, here's Inside the Gators' position-by-position look at Florida's roster for the 2016 season. Today, we look at Florida's linebackers.
THE MAIN PARTICIPANTS
PLAYER
YEAR
HEIGHT
WEIGHT

Vosean Joseph

So.

6-1

226

David Reese

So.

6-0

244

Kylan Johnson

R-So.

6-1

231

Jeremiah Moon

R-Fr.

6-4

218

Cristian Garcia

(walk-on)

R-Sr.

6-1

231

Rayshad Jackson

R-So.

6-0

226

James Houston

Fr.

6-1

233

Ventrell Miller

Fr.

5-11

222

Lacedrick Brunson

Fr.

6-2

220
Injured: OLB Nick Smith (torn meniscus, likely out 6-8 weeks)
2016 season recap: Although the numbers at the linebacker position weren't necessarily plentiful last season, the group was an overall team strength thanks to an impressive tandem of Jarrad Davis and Alex Anzalone in the starting lineup. However, later in the year the injuries began to pile up for Davis (ankle) and Anzalone (arm) - and the duo ended up missing a handful of games down the stretch.
In their absence, youngsters like Reese, Johnson and Joseph stepped up to the plate and performed fairly well despite being thrown into the fire. Each had their impressive moments late in the year - notably Reese winning SEC defensive player of the week honors for a 12-tackle performance at LSU, and then Joseph going viral for his punishing goal-line hit on Tigers quarterback Danny Etling.
Meanwhile, Garcia, a walk-on, jumped into the starting lineup when the Gators were short on linebackers in the Outback Bowl and during 2017 spring practices. Moon redshirted after suffering a thumb injury just a few weeks into the season, while Jackson saw practically all of his action on special teams.
Overview: With Davis graduating, Anzalone turning pro early and converted tight end Camrin Knight recently transferring, Florida's linebacker position is one of its youngest on the current roster. Every player currently on scholarship is either a freshman or sophomore. Garcia, a redshirt senior walk-on, is the veteran of the group, but he even joined the team in spring of 2015.
Still, Florida should be in decent shape at the linebacker position - if the end of last year was any indication. Joseph is primed for a productive sophomore campaign at weakside linebacker, while Reese could be in line for plenty of tackles at middle linebacker in his return from a wrist injury that sidelined him during the spring. Johnson, who could play at multiple linebackers but repped at strongside this spring, will also be heavily involved. So should Moon, a versatile strongside linebacker who not only thrives in the pass rush, but showcases impressive downfield coverage ability.
The incoming freshmen will try to crack the rotation, as will Garcia and Jackson. Miller could end up contributing right away as a backup linebacker, while Houston will aim to get back on track in his return from a torn ACL. Brunson was an under-the-radar pickup for the Gators on the recruiting trail, so it'll be interesting to see how he fares from the get-go. Meanwhile, Smith could miss the beginning of the 2017 season as he covers from surgery on a torn meniscus in his knee that he suffered recently in an offseason workout.
The standouts: You have to look at Joseph and Reese, who really impressed down the stretch late last season and proved that Randy Shannon really has an eye for scouting talent at the linebacker position. Joseph, a bruising, physical, hard-hitting linebacker, should blossom into a force at the position if he can get Florida's defensive schemes fully understood. Reese will have big responsibilities as a sophomore, as the "quarterback" of the defense filling in for Davis' departure.
Needs to step up: For Florida not to rely too much on true freshmen in 2017, Johnson and Moon will both need to step up considerably. Johnson flashed during the 2016 season but also has his share of errors he'll need to clean up moving forward. Moon hasn't played much up to this point, but the Gators will want him to contribute a good deal in the pass rush and play a big part in the rotation.
What to watch for: Which of the true freshmen will crack the rotation? Maybe Miller, a linebacker with a reputation for his physicality and tackling ability, has the best shot at this point. Houston will look to return to full health on the field, while Brunson will aim to prove doubters wrong. It'll be interesting to see whether Smith progresses enough after his injury to see playing time and avoid a redshirt.
Also, how much will the Gators play Garcia this season? His ceiling isn't nearly as high at that of the underclassmen, but as a veteran presence and a player highly familiar with what Shannon likes to do on defense, Garcia could see the field if any of Florida's other contributors at linebacker fail to live up to expectations or suffer injuries.
Group Rating (on a 1-to-10 scale): 7.0. A core of Joseph, Reese, Johnson and Moon is certainly promising, but the big knock on the unit is experience. The second half of 2016 gave us a good glimpse of their potential, but will those linebackers live up to expectations and continue their momentum? The linebacker unit should be solid with those four leading the way, but if the group sustains any more injuries this year, depth could be a big issue.