Fall Camp Positional Preview: Gators' special teams in good shape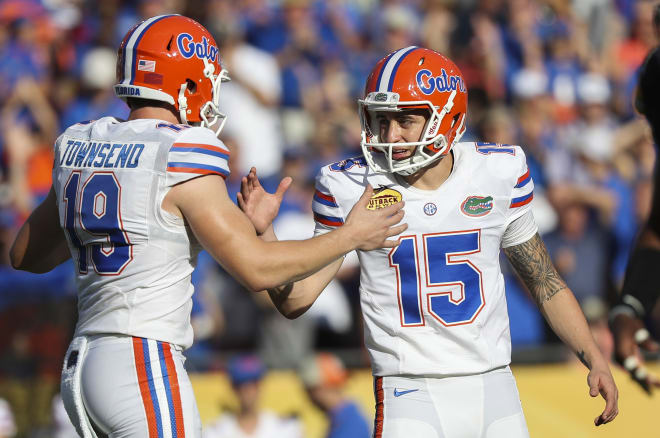 With fall training camp set to kick off next week, here's Inside the Gators' position-by-position look at Florida's roster for the 2016 season. Today, we begin with a look at Florida's special teams.
THE MAIN PARTICIPANTS
| POS. | PLAYER | YEAR | HEIGHT | WEIGHT |
| --- | --- | --- | --- | --- |
| K | Eddy Piniero | R-Jr. | 6-0 | 173 |
| P | Johnny Townsend | R-Sr. | 6-1 | 211 |
| LS | Ryan Farr | Jr. | 6-0 | 223 |
| KR | Dre Massey | R-Jr. | 5-9 | 180 |
| PR | Antonio Callaway | Jr. | 5-11 | 197 |
Walk-on backups: Kickers Jorge Powell and Daniel Justino; punters Tommy Townsend, Jacob Finn and Jon Gould; long-snappers Brett DioGuardi and Jacob Tilghman
2016 season recap: For Florida's special teams, the 2016 campaign was a mixed bag. However, it's specialists - in particular Townsend and Pineiro - shined. Townsend played a crucial role in frequently flipping the field, finishing tops in the country in yards per punt (47.89) and emerging as one of the best punters not only in the SEC, but the entire country. Meanwhile, Pineiro caught fire during his first season of collegiate action. He finished 21-of-25 on field goals and 32-of-32 on PATs, making his final 12 field-goal attempts of the season and showing off his strong leg frequently.
The Gators' performance in the return game wasn't as encouraging. Following a productive freshman season where he ranked among the best punt returners in the country, Callaway slumped a bit in that category as a sophomore. He finished 72nd in the country in punt return average (8.4 YPPR, after averaging 15.5 in 2015) and didn't score once off of them. Florida tried out a number of options in the kickoff return game, eventually settling on Chris Thompson, who turned out to be solid. The Gators ranked 39th in kickoff return average (22.31 YPKR) by the end of the year, scoring just once in that capacity (Callaway on an onside kick return).
The Gators' kick and punt coverage a year ago can be considered subpar. Opposing teams averaged 23.6 yards per kick return, placing the Gators at 110th in the country, while they allowed 9.79 yards per punt return (96th nationally).
Overview: Florida's special teams in 2017 shouldn't see too many drastic changes, under the watch of Jim McElwain and tight ends coach/special teams coordinator Greg Nord. Pineiro and Townsend will continue to assume kicking and punting duties, respectively, while Farr figures to lock down the long-snapper job for the third straight season. Despite his struggles as a sophomore, it'd be surprising to not see Callaway as the featured punt returner this season. Kickoff returner is more of a question mark, with the Gators considering a multitude of options, but Massey may end up being the favorite despite how his 2016 campaign ended.
The standouts: It's clearly Townsend and Pineiro, who are both among the best players in the country at their respective positions. This offseason, Townsend was named to the Ray Guy Award watch list, while Pineiro was a Lou Groza Award watch list selection. Townsend will graduate after this season, while the rumblings have been there about Pineiro being linked to the upcoming draft with a strong redshirt junior season. Regardless, Florida will miss those two when they're out of Gainesville - and the Gators are sure to appreciate what they'll bring to the table once again this season.
Needs to step up: The Gators need more of an overall boost from their return game, but if Callaway is indeed Florida's top punt returner once again, he'll need to be sharp as a junior. Last season, he made too many mental errors with fielding punts - the Tennessee game immediately comes to mind - and it hurt the Gators. It would mean a great deal for the Gators in 2017 if Callaway can return to top 10-20 status nationally as a punt returner.
What to watch for: Who returns kicks in 2017 will be worth watching. Brandon Powell was unimpressive in that category last year, and while Lamical Perine had his moments as a kickoff returner it doesn't seem like a natural role for him. Thompson eventually took over for Perine mid-2016, as Perine's role as a backup at running back increased.
Florida has a number of options to choose from at kickoff returner: Massey, Freddie Swain, Callaway, Tyrie Cleveland, Chauncey Gardner, McArthur Burnett and even dual-threat quarterback Kadarius Toney. Florida coaches have stated before that Massey isn't too reluctant to assume kick return duties once again, even though his 2016 season ended to a torn ACL in the season-opener on the opening kickoff return. He could be the leader at that spot entering fall camp.
Group Rating (on a 1-to-10 scale): 9.0. Florida's specialists are among the best in the conference - Pineiro and Townsend were both preseason All-SEC second-teamers - and rank with the top players at their positions nationally. The Gators should get things sorted out in the return game, but it would be surprising to see the Gators not be a little more productive in that capacity this upcoming season.
------
UP NEXT: Defensive backs
------
Thank you for reading this Inside the Gators article. To discuss it, please visit the Alligator Alley Forum.