Former West Virginia running back goes in-depth on Seider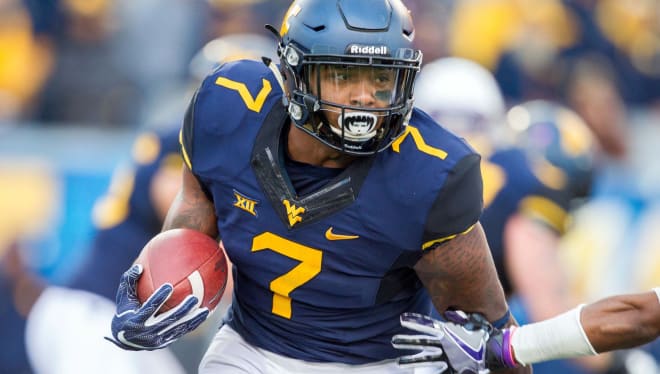 During his four seasons as running backs coach at West Virginia from 2013-16, new Florida assistant coach JaJuan Seider pieced together an impressive resume of success stories at his position.
In three of his four years in Morgantown, Seider had a 1,000-yard rusher by the end of each season. After Charles Sims amassed 1,095 yards and 11 touchdowns on the ground in 2013, the Tampa Bay Buccaneers selected him 69th overall in the third round of the NFL Draft the following year. Wendell Smallwood followed suit in 2015, recording 1,519 yards (tops in the Big 12) and nine touchdowns en route to being selected 150th overall in the fifth round of the 2016 NFL Draft by the Philadelphia Eagles.
In his first year with the Mountaineers as a JUCO signee from the 2016 recruiting class, Justin Crawford led WVU in the rushing department with 1,184 yards, good for third in the Big 12, to go along with four touchdowns on the ground.
Another one of Seider's most successful backs at West Virginia was Rushel Shell, who led the Mountaineers in rushing during the 2014 season with 788 yards and seven touchdowns. Arriving from Pittsburgh as a transfer in 2013, Shell spent all four of his years in Morgantown with Seider as his position coach. During his three seasons of action with West Virginia from 2014-16 after sitting out the 2013 campaign per transfer rules, he combined for 2,010 rushing yards and 20 touchdowns on 450 carries (4.5 YPC) to go along with 341 receiving yards on 49 catches.
Shell said Seider played a key part in his successful run at West Virginia.
"Coming from Pitt, I really didn't understand much about schemes and odd fronts and even fronts and how to read your triangle of the safeties," Shell said. "He really taught me just a lot about the game and a lot of keys that running backs should know whenever they're in the game to help them digest everything that's going on and realize what defenses are out there. Big keys whenever someone was blitzing or they have a corner blitzing or just reading the safeties and stuff like that. So he just taught me a lot about the game that I honestly didn't know."
Shell arrived at West Virginia in the summer of 2013 - a few months after Seider left Marshall to serve as a position coach for the Mountaineers. Although Shell's initial connection to WVU was Tony Gibson, who formerly served as Pittsburgh's passing game coordinator/secondary coach in 2011, soon he grew close with Seider and the two formed a strong relationship.
By Shell's account, he viewed Seider "like a father figure." During his time at West Virginia, he felt that Seider's coaching style brought the best out of his players.
"He's a loving but also very intense coach. He's not going to let you B.S. though practice," Shell explained.
"For example, say I got in the game and I fumbled or I missed a block or something. He wouldn't hound you about it. He would understand that it happens. He knows that whenever you have a player and stuff like that happens, that's what a player thinks about most instead of playing his game. He would just come up to you and be like, 'Play is over with. Show me what you got this play.' He always believed in you, even if you messed up. And he wasn't just going to cut you off if you made a mistake."
Shell feels Seider's personality – and his honesty - translate well to the recruiting trail.
"He's a real guy. He's not going to tell you something that's not true," Shell said. "He's not going to just say, 'Oh, you're going to start' or 'Hey, you're the best guy we have.' He'll be honest with you, like, 'There's two guys just as good as you, but you can separate yourself if you work harder than them.
"For example, we had a freshman, Kennedy (McKoy) come in. Me and Justin were the older guys, but he would always tell Kennedy, 'Don't sit backseat. Don't think that just because they're seniors I'm going to put them in over you. If you give me reasons to put you, then I'm going to put the best player on the field at all times.'"
Florida's hiring of Seider, a Belle Glade, Florida, native, has been praised because of his past success recruiting in south Florida and his numerous ties to that region. Shell feels that Seider will connect well with the players he's targeted from that area while he's with the Gators.
"He's a big name in Florida. He went to FAMU. He's from Belle Glade, so there's a lot of respect down in Florida, a lot of ties to a lot of high schools and high school coaches," Shell said.
"He has a lot of access to players that recruiters wouldn't get where they are from - say like Ohio State or Penn State or Pitt. He's from down there, so he understands the type of life they are living. He can relate to them. So it's more of him just being able to relate to the athlete. He didn't come up in the greatest environment, so he understands the kids that are coming from the bottom of the bottom. He's able to translate that into his coaching."
Shell also noted the 39-year-old Seider's ability to connect with millennials as one of his great attributes. Currently, Seider has roughly 12,200 followers on Twitter – the most right now of any Florida assistant coach outside of coordinators Doug Nussmeier and Randy Shannon.
"I feel like he's very hip to this era and generation of kids, what we think is cool and funny," Shell said. "Like clothes, he knows what's in style for us. He'll joke around with the guys on like what some type of clothes that we funny are just funny. Not make fun of them, but just kid them. He'll wear his Jordans to practice, and in meetings he'll show up in his new J's that he just got."
To this day, Seider still keeps in touch with Shell and a number of his former players.
"Me, him and Wendell Smallwood, we have a group text. We'll text throughout the week all the time," Shell said. "He'll send us funny stuff he sees on Instagram and Facebook. He keeps up with us and he's always asking us how we're doing. He's wanting us to keep succeeding, checking up on us whether it's our kids or just family or just life in general."
With the next stage of Seider's coaching career underway in Gainesville, Shell is excited to see how his former position coach fares. Shell will keep a eye on Seider during his first year at Florida while he prepares for the upcoming NFL Draft and embarks on a professional career.
"I feel like West Virginia was just a stepping stone for a great coaching career he's going to have," Shell said. "It's something that's going to really open up a lot of eyes. Just to see that he went from West Virginia, where he put out a bunch of good running backs, and now you're going to go to a different school and take their running back room and take it to high level and get a bunch of 1,000-yard rushers and put them in the NFL."
------
Thank you for reading this Inside the Gators article. To discuss it, please visit the Alligator Alley Forum.