Redshirt Report: Brett Heggie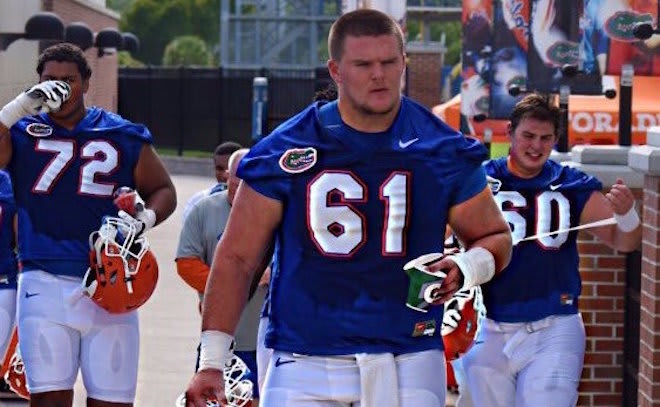 During the beginning weeks of the offseason, Inside the Gators will take an in-depth look at how last season went for Florida's 2016 signees who redshirted with our Redshirt Report series. Today, we focus on how last season went for center Brett Heggie.
Brett Heggie arrived at Florida this past summer looking to make his own mark in his family's football lineage, as his father, Bruce Sr., notably played at FSU and his older brother, Bruce Jr., suited up at Notre Dame and then Ball State.
However, redshirting ended up being the path taken for Heggie during the 2016 season. After suffering a broken wrist during the first game of his senior season at Mount Dora (Fla.) High School but managing to play through it throughout the course of the year, Heggie underwent surgery for the injury after participating in the Under Armour All-America Game.
Taking a redshirt allowed Heggie to let his left wrist eventually heal to 100% and get back on the right track with his upper body strength and conditioning. He spent much of the 2016 year preparing his body for the college level and becoming immersed in Florida's playbook, as he soon grew accustomed with the speed of the college game.
According to his former head coach at Mount Dora, Donnie Burchfield, the 6-foot-3, 317-pound Heggie has made a constant effort to spend much of his first season at UF in the weight room.
"One thing was just making sure that they got him in there and got his wrist back up to 100%, which they did," Burchfield said. "Then, they had a little bit more depth along the offensive line compared to the year before, so giving him that extra year to just develop. Now, they're going to have him for four years of eligibility.

"You know the old saying, you can look at a cup – is it half full or half empty? He looked at it like, 'Hey man, this cup is half full, so I'm going to take advantage of this.' What he did, he said, 'I get a whole year to prepare mentally and physically for the following season.' That's his mindset. He's been super positive every time I've spoken to him. I would say he spent all that time in the weight room, running, conditioning, getting ready. Every time you'd talk to him, that's what it's about."
One attribute of Heggie's that's become notable is his mental toughness and ability to play through discomfort. After the first day of fall training camp, at Jim McElwain's press conference the Florida head coach singled out Heggie for his impressive play. Later on in fall camp, fellow offensive lineman Martez Ivey memorably shared an enlightening anecdote about Heggie.
"The other day, it was a 1-on-1 drill and his finger just pops out of place," Ivey said of Heggie. "He goes over to the sideline and is like, 'I think my finger's out.' He popped it back in and took another rep after that. Stuff like that doesn't go unnoticed, how tough you are."
That is an aspect about Heggie that dates back to his playing days at Mount Dora, from what Burchfield has witnessed.
"Brett is a young man who will push through pain. He's so mentally and physically tough," Burchfield said. "You look back at his senior season, Brett's the one out there doing suicides across the field. When everybody's walking off the field, he's doing suicides. Even when he was working through his injury coming out of high school, he said, 'I'm going to absolutely commit everything I've got to the other parts of my body.' He'd be out there every day lifting, running, ladders – you name it."
Heggie spent much of his freshman season working mainly as the third- or fourth-string center, as Cameron Dillard handled starting center duties for the majority of the 2016 campaign while Tyler Jordan and T.J. McCoy served as backups. When Dillard and Jordan went down during different points in the season, Heggie stepped into third-string center duties.
He and McCoy, a Groveland (Fla.) South Lake High School alum, are particularly close, having grown up in the same region, played against each other in high school and attended numerous combines and camps together. Throughout his redshirt season, Heggie made an effort to learn from Florida's more experienced centers, including McCoy.
"The thing that I love when I talk to either one of them is I'm always reminded that character athletes have so much to offer to a team," Burchfield said. "I know that him and T.J., they've communicated a lot with each other over the last year or two. They're really good friends, they both come from Lake County. When I've talked to T.J. or Brett, they've always said positive stuff about how they've worked together with one another, so they've got a good family atmosphere up there among the linemen, it seems like."
Moving forward, Heggie hopes to potentially see a role in the rotation in 2017 and could possibly compete with McCoy for a starting role at center this offseason, with Dillard transferring. Heggie will have plenty of competition at the center and guard positions, with McCoy, Jordan, Fred Johnson, Kavaris Harkless and Antonio Riles among the options who could see playing time at the center and guard spots next year. Richerd Desir-Jones, Nick Buchanan and/or Brandon Sandifer, as well as 2017 signees T.J. Moore and even Kadeem Telfort, could also potentially factor into the equation at guard.
"I know that they recruited him as a center/guard. You have options with him because of his size," Burchfield said of Heggie. "He can contribute across the line, like many of the players did this past season. I expect him them be looking at him at center and guard, to be honest with you. The thing that makes him special is that he's a selfless person. He's going to do whatever the coaches believe will make him the best contributor for his team.
"Brett's got the frame and the size and the work ethic to play anywhere on that line. I think he brings a little bit of grit, too - he's a physical player. You see a lot of pass-pro type linemen that come through over the years, and then you've got a kid who can lead with his facemask and do pass pro. He can do it both."
According to Burchfield, two areas that Heggie is focused on improving are his physical shape and his mental grasp of the playbook. If Heggie can master both of those things, then there's a good shot that he could play a role in the rotation in 2017.
"The first word when I think about Brett would probably be poise," Burchfield said. "Seeing him in difficult situations, seeing him face different obstacles throughout his process, he's been poised. He's really kept it together – it's something I've seen on and off the field. That's a great attribute to take on in a game-time situation, because when the crowd is loud and something doesn't look right, I don't think he's going to be confused."
PREVIOUS REDSHIRT REPORTS
------
Thank you for reading this Inside the Gators article. To discuss it, please visit the Alligator Alley Forum.