McElwain discusses hiring process of Florida's three new assistant coaches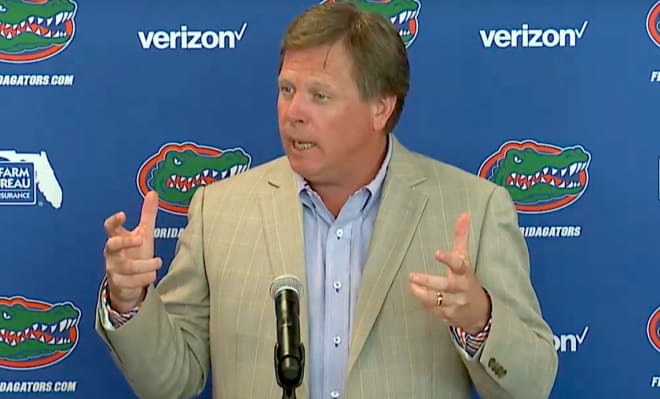 Following the conclusion of the SEC Championship Game, Florida head coach Jim McElwain eventually saw three members of his coaching staff depart for new roles.
After defensive coordinator Geoff Collins left to accept the head-coaching gig at Temple in December, McElwain filled the vacancy by promoting linebackers coach Randy Shannon to that role. In January, offensive line Mike Summers accepted a job at Louisville in the same capacity, leaving Florida with two coaching staff vacancies – at linebacker and offensive line – in the weeks leading up to National Signing Day.
Once NSD was officially in the books, Florida quickly addressed one of its vacancies by hiring West Virginia running backs coach Ja'Juan Seider to the same role and then moving Tim Skipper from running backs to linebackers. However, the Gators soon experienced their third departure from the 2016 staff, when defensive backs coach Torrian Gray left to join the Washington Redskins.
Florida responded by hiring USF defensive backs coach Corey Bell, as well as North Texas offensive line coach Brad Davis, to fill out its staff.
"I want to say how excited I am that they chose to join this family and be part of something great," said McElwain, who introduced Florida's three new hires Thursday. "In each of their cases as we went through the process and looking for the right fit, I think the important thing is making sure you've got the right fit for the organization and the guys in that organization. That's something we hit a home run on."
Overall, McElwain called the search for assistant coaches to fill out the staff an "arduous process."
"It's overwhelming and yet a little bit humbling as far as the interest that those spots garnered throughout the country from all levels of ball," McElwain said. "Yet these are all names that kind of kept coming back, especially for the fit. I think the important thing is understanding the fit and what is right for this program and this organization in this given time. It was long.
"It was one that needed to be really highly looked into and covered in all respects, because you only get this chance to get this one right."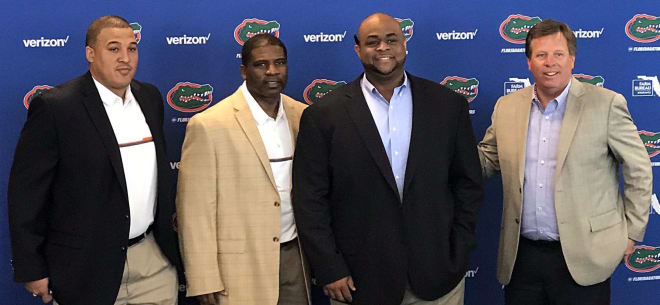 McElwain has had his eyes on the 39-year-old Seider, an experienced south Florida recruiter with an impressive resume of running backs at WVU, for quite some time. Initially, McElwain tried to hire Seider to his inaugural staff in Gainesville, but Seider opted to remain with the Mountaineers. One of the key factors in that decision in 2015 was that his son was in the midst of battling lymphoma.
"Tried to hire him the first time and finally got back and got him where he belongs," McElwain said. "Another guy that obviously has a lot of ties with former Gators. His knowledge of the game and what he can bring to the running back position is something that is well thought of throughout the country. And again, another guy that cares about the players.
"It is family first. That's how we run this program, so I totally understood that that first time around more than most people do, having gone through something with my own son. So I know as I told him when we got that next opportunity, 'I'm not going to stop calling you.' And I'm glad he chose to come."
Seider discussed further what went into that entire decision Thursday.
"This is one of those universities that you don't get these opportunities in life," Seider said. "To have an opportunity to work for Florida, that's the standard and the prestige of this university. So saying no at that time was tough, but my son was the most important thing in my life at that time. When you learn your son is diagnosed with cancer, I've never been around it. You hear about it, but when you actually have somebody that's close to you get affected, it changes. So my priority was being a dad, and nothing is mattered at that time.
"He understood that. They didn't stop trying," Seider continued. "They waited a week and we're like, 'Are you sure? Are you sure?' I'm like, 'Yes coach.' I'm telling you, it made it hard to say no the first time, but I had two little girls I had to think about too. So you can't just uproot your family even though this hospital may be better here than there, quote on quote. So it was just an opportunity that I felt at the time I made the decision and I think Mac understood that. If he didn't, I wouldn't be standing here right now."
The hiring of the 45-year-old Bell was one McElwain felt comfortable with because of his Floridian roots and familiarity with Shannon from their time together at Miami from 2007-10. Bell is also familiar with defensive line coach/co-defensive coordinator Chris Rumph, who played with Bell at South Carolina in the 1990s.
"I played in the SEC, and now I have an opportunity to be back in the SEC," Bell said. "And long story short, when coach (Charlie) Strong was here during his first stint, he recruited me. You know, and I actually committed here. And that was a long time ago, of course, but I always wanted to be a Gator. Now I have the opportunity to be that, so I took advantage of it.
"Maybe a week ago or so, I was at home and they gave me a call. It happened rather fast. It was a situation where I asked him to reach out to coach Strong because I was with coach Strong at the time. Once they had the conversation, then Mac and I had a second conversation. So it happened within 72 hours, actually."
In the addition of Davis, who turns 37 on Friday, McElwain saw a young, energetic offensive line coach who should help boost that unit this upcoming season. McElwain hasn't made it a secret that he's looking for more physical play out of that unit.
"He's a name that kept coming up," McElwain said. "He's a guy that play for Coach (Bob) Stoops at Oklahoma. A guy who has been in The Swamp a couple of times with some visiting teams in East Carolina and North Texas. Was with a good friend of mine in coaching and that speaks so highly of him in (former ECU head coach) Ruffin McNeill, who I've got as much respect for as anybody in this profession. It's interesting.
"The thing that kind of tipped it kind of over there, a guy I played with, a guy I coached a little bit when I was Eastern Washington and he was at Portland State for five years. Was part of Barney Ball out there (with Bruce Barnum). It's interesting, as you grow up in this profession, there's something that's great about being at some of those places that these guys had been. That isn't necessarily just the highest level of ball, but learning how to do a little bit of everything in affecting your men's lives. We're excited to have Brad."
Davis said he received McElwain's call after NSD while he was getting his teeth cleaned at the dentist's office.
"After signing day, that's typically when coaches have a chance to actually take care of their personal hygiene, perhaps get a physical, check your cholesterol, look at the all the weight you've put on during recruiting and that kind of stuff," Davis said. "I was getting my teeth cleaned and I'm very fortunate my dentist was very understanding."
McElwain added that Shannon would have a hand in both the linebacker and secondary groups' development this role in his role as defensive coordinator. As far as Skipper moving to coach linebackers, McElwain said it was a move that Shannon wanted.
"Skip's one of those guys, jack of all trades," McElwain said. "Obviously when I was first with Skip he was our running backs coach when I was at Fresno. He's been a defensive coordinator, has been a linebacker coach for most of his time - obviously playing linebacker. A guy that can wear a lot of different hats and has, and yet his comfort area I think and I know is how he brings and what he brings to the linebackers."
---------
Thank you for reading this Inside the Gators article. To discuss it, please visit the Alligator Alley Forum.