Parting Thoughts I: Appleby reflects on 2016 season with Gators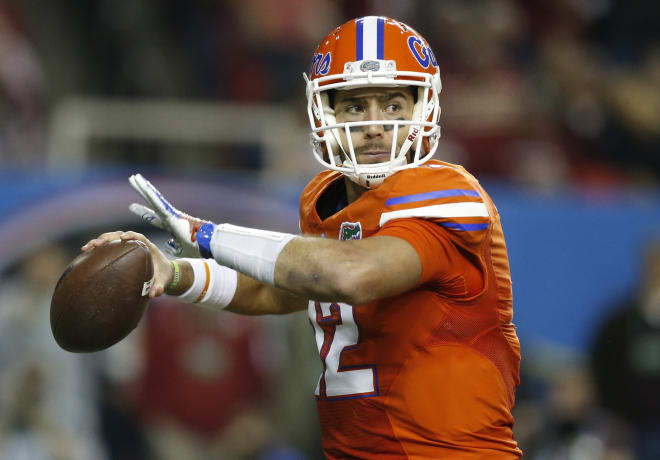 To address its depth at the quarterback position early last offseason, Florida made the decision to bring in Purdue quarterback Austin Appleby on the roster as a graduate transfer. Ultimately, the move proved extremely helpful for a Gators quarterback room that needed his experience and skill set.
Once starter Luke Del Rio went down with a knee injury late in the third quarter against North Texas in the third game of the season, Appleby stepped in for the final quarter of action and then took the reins under the center for Florida's next two games at Tennessee and Vanderbilt. Del Rio would return and start the next three games but was then sidelined for the remainder of the season after a shoulder injury considerably hindered his play.
The 6-foot-4, 240-pound Appleby would go on to start Florida's final five games, helping Florida clinch an SEC East division title with a 16-10 road victory against LSU and then leading the Gators to a 30-3 win over Iowa in the Outback Bowl. Starting seven games against plenty of challenging opponents, Appleby finished 2016 with 1,447 yards on 10 touchdowns against seven interceptions on 60.8% passing.
Since his lone season with the Gators, Appleby has spent plenty of his time in Gainesville working out around the Florida football program. Appleby was part of the Dallas Cowboys' roster as an undrafted free agent for about a month, but the North Canton, Ohio, native will continue to pursue his dream of playing at the next level moving forward.
Appleby was nice enough to take time out of his schedule and speak with Inside the Gators for roughly an hour as we continue our "Parting Thoughts" series, where we have spoken with graduating seniors and departing juniors about their experiences at Florida as well as an array of other noteworthy topics.
Today, in the first segment of a five-part interview with Appleby, he discusses his 2016 season with the Gators.
ITG: Taking a look back at your season in Gainesville, do you feel transferring to Florida was the right decision for yourself?
Appleby: Absolutely, and it's on a number of different levels. I got my degree at Purdue and sitting back with everything that had transpired in my great four years there, I soon told my family what I decided. I know what kind of player I am, I know how good I am, I know the kind of work I've put in. I really want to go put all the chips in when I was going through the transfer process and had all of the options of where I was going to go. I could go to a number of different teams and be guaranteed starting – they already gave me the keys to the car. I can go play my 12 games and win a bowl game and be really great.
But, what I was looking for was I want to go play with the very best against the very best, and be coached by the very best, and go compete for a championship. Nothing was ever promised here at Florida. Coach Mac gave me nothing more than an opportunity to compete and earn the respect of my teammates and come help this football team in any way that I have to do so.
I took a gamble on myself, and I am 100% proud of the decision that I made. Getting the chance to be half done with my master's degree in sports management here is unbelievable. My teammates, these guys that I've met and only known for about a year, are my best friends in the world. The relationships I've built these guys are absolutely second to none. I wouldn't trade it for anything.
Then from a football standpoint, it didn't necessarily start the way that I had intended. They had their mind up from the very, very early point that they were going to start Luke. I don't know how much of a competition it really was, being candid. But again, it's about me trusting my preparation and my process, earning the respect of my teammates and knowing that the cream rises to the top and when I was going to get my opportunity, I was going to make the most of it.
That opportunity came, and I really feel like I seized it. I ultimately led us to Atlanta and have a chance to play for a championship and capped it off with a bowl win. So looking back, it was one heck of a year.
ITG: What did you truly enjoy the most from that whole experience? What was your favorite moment of 2016?
Appleby: I'm really proud of the way that I come in, I'm a kid from Purdue – it's hard to win over a locker room at the University of Florida. The expectations in that locker room, the kind of guys that are in there, kind of guys who would kind of look at me sideways like, "Who is this kid coming from Purdue? Can we expect him to be our quarterback?"
I put my hat down and I worked my butt off. Over the course of the year, I started to see that these guys started to see me for who I really was and then started to go to battle for me. It was being able to earn the respect of my teammates and have them go to battle for me and trust in me and say that I'm their guy – that was really, really rewarding to me. I'm definitely thankful for the kind of guys that they are and the way they accepted me to be part of their football team. That's something that I'll never forget. It's a testament to the way that we worked and built our relationship.
From a football standpoint, it goes without saying that the win against LSU, the way that team fought in all phases. Coming down to a last play and the way they had disrespected us and the way that our team really came together, that was really a turning point in our season. It was really, really big for us. That's something I'll never forget – that Saturday with those guys, sharing those moments in the locker room. It was something that was very near and dear to me.
Also, finishing it off with those seniors in the final bowl game, where everything clicked and to get a chance to celebrate with your guys one last time. To enjoy that experience was really, really cool.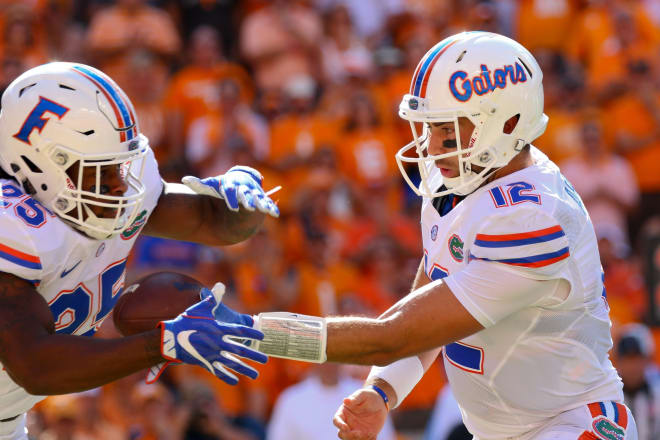 ITG: Looking back at the Tennessee game, you guys got off to a really hot start there on the road and had a great first half. What factors really led to it falling apart en route to the 38-28 loss? What would you attribute that second-half performance to?

Appleby: We obviously were firing on all cylinders to start the game, played at a really high level and showed what we were capable of. We were very, very aggressive coming out of the gate and Coach trusted me to do what I was brought out here to do. I think once the momentum shifted, they started making a couple plays. We were backed up in our territory the entire game, and in the first half we were able to complete some deep balls and get our run game going. It got us out of 3rd and long, so they weren't able to dial up their pass rush and we were able to stay on schedule and really keep our foot on the gas. We were the aggressor and we were dictating terms.
I think the two things that happened - being backed up, having to go 80 or 90 yards plus drive after drive after drive, is really hard to do. They made their adjustments and stopped the running game on early first and second down. What we did in the first half, it's not like the game plan changed. We got the run game going, we used play action, pushed the ball down the field, made plays in the backend. When they stopped the running game, we weren't able to keep ourselves in those situations on third down where we could be aggressive.
Then, when you get a chance to get that crowd going, they were electric in that stadium with the pass-rushers like (Derek) Barnett that they had. That's when they're at their best. Unfortunately, we weren't able to make the plays that we needed to in the second half, compounded with uncharacteristically our defense having teams score on them. That's something they were shocked by, honestly.
You think coming out of the locker room – we're up three scores – we hand the ball off, we shorten the game, our defense will shut them out, we'll be good to go. I don't think we took our foot off the gas, but I think a lot of people said that we got complacent or we got less aggressive. I don't think that was true. I think when you get forced in third down and long, and once momentum gets going that offense started scoring points. Before you can blink, we were down 10 points. Once you're playing catch-up in the fourth quarter, it's something that's hard to turn around.
It felt very similar to what we were watching in the Super Bowl, with the Patriots and Atlanta. It was the tale of two halves. Once a team gets rolling, it's hard to stop them.
------

UPCOMING PARTING THOUGHTS TOPICS:
Pt. 2: 2016 offense, QB development under Jim McElwain and Doug Nussmeier
Pt. 3: Evaluations of Feleipe Franks, Kyle Trask and Kadarius Toney
Pt. 4: Malik Zaire and Luke Del Rio
Pt. 5: Reviewing units on the 2017 roster
------
Thank you for reading this Inside the Gators article. To discuss it, please visit the Alligator Alley Forum.