Rivals 3 Stripe Camp: Ten players to watch in Orlando
Stop No. 2 of the Rivals 3 Stripe Camp Series presented by adidas will take place in Orlando on Sunday, and the Florida-based crop set to compete at the event includes its share of star power. Here, we take a look at the 10 highest-ranked players set to attend the event and examine the colleges in the mix to land them on National Signing Day.
1. Lorenzo Lingard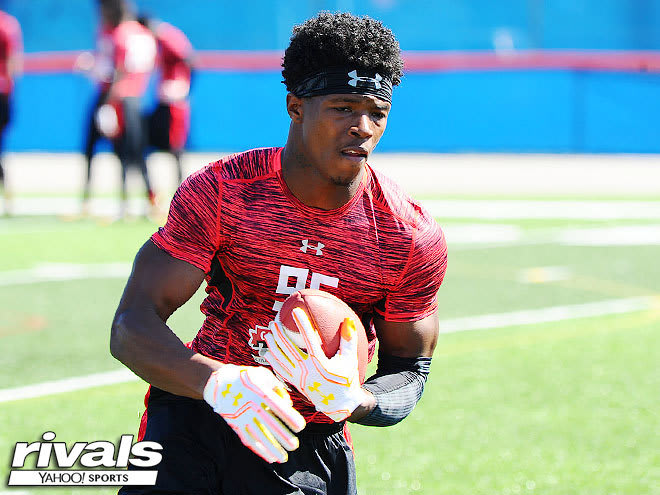 SCHOOLS IN THE MIX: Lingard is committed to Miami

THE SKINNY: A two-time Rivals Camp Orlando MVP, Lingard is committed to Miami and is likely to sign with the Canes barring a disastrous on-field performance from the program this fall. If he does sign with UM, he will be the its first five-star signee since Chad Thomas in 2014.
2. Amari Gainer
SCHOOLS IN THE MIX: Florida State, Alabama, Oregon, Texas, UCF, others

THE SKINNY: Some wonder whether Gainer has the quickness to back up his lofty ranking. He certainly possesses the frame and the strength, but the Rivals100 prospect still has a bit to prove. He holds a long list of offers and is thought to favor Florida State.
3. William Barnes
SCHOOLS IN THE MIX: Florida, North Carolina, Auburn, Alabama

THE SKINNY: Barnes was a load at least year's Orlando camp and should prove to be even better now. Florida seems to be the frontrunner to land his commitment, but another rush of offers could flood his recruitment this spring.
4. Justin Watkins
SCHOOLS IN THE MIX: Watkins is committed to Texas

THE SKINNY: It's early in the cycle and Watkins is already committed to his third college. First it was LSU. Then, it was Florida State. These days, the explosive receiver is pledged to Texas. It's not insane to think the Florida-based athlete may have another change of heart left in him, but he seems pretty content with the Longhorns at the time being. Watkins is a two-way player, but is in the mold of Florida State signee D.J. Matthews, a member of the 2017 Rivals100.
5. Richard Gouraige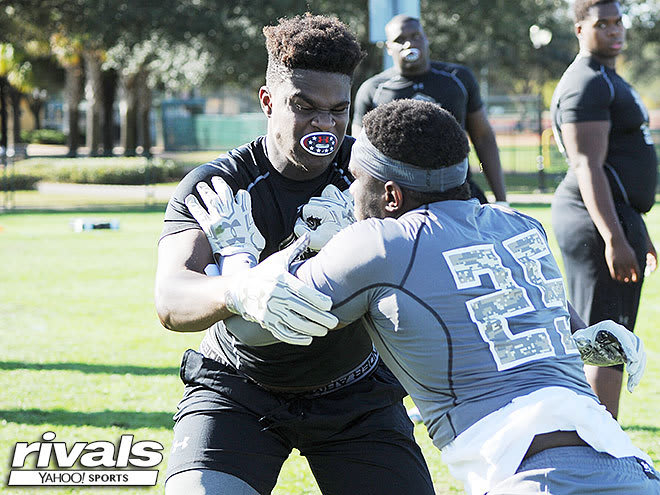 SCHOOLS IN THE MIX: Clemson, Florida, Auburn, North Carolina

THE SKINNY: Gouraige is an impressive-looking physical specimen. He's long since had a lengthy offer list and seems particularly high on Clemson. He recently visited North Carolina but seems to be nowhere close to announcing a commitment.
6. Joe Milton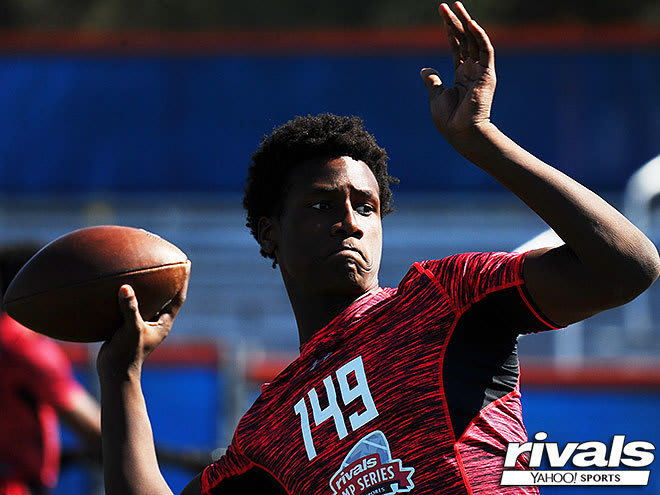 SCHOOLS IN THE MIX: Georgia, Michigan, Miami, Tennessee, others

THE SKINNY: Milton is just now hitting his stride when it comes to collecting major offers. He has one of the strongest arms in the country and a massive build to match. It's likely too early to venture a guess at where he may land as there are more offers in store.
7. Joey Gatewood
SCHOOLS IN THE MIX: Gatewood is committed to Auburn

THE SKINNY: Gatewood has a massive frame and a number of physical tools. People make a big deal over him not being his high school team's full-time starting quarterback. And while that means nothing, he is still developing touch and accuracy. The Auburn commit comes into this weekend with major upside and the hope that he can put it all together.
8. John Campbell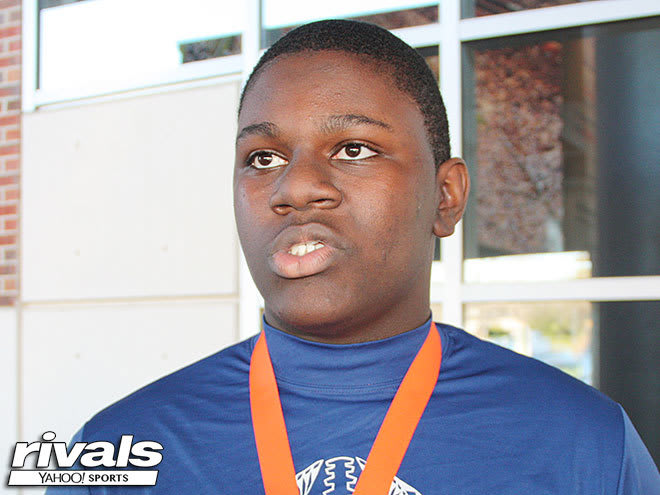 SCHOOLS IN THE MIX: Florida, Florida State, Miami, Auburn, Tennessee

THE SKINNY: Campbell's length and lean frame make him a prospect with incredible upside. They also make him one that is in demand. Campbell holds a list of major offers for good reasons. He's strived to become stronger over the past year and will get a chance to show off his progress against some impressive competition on Sunday
9. Amari Burney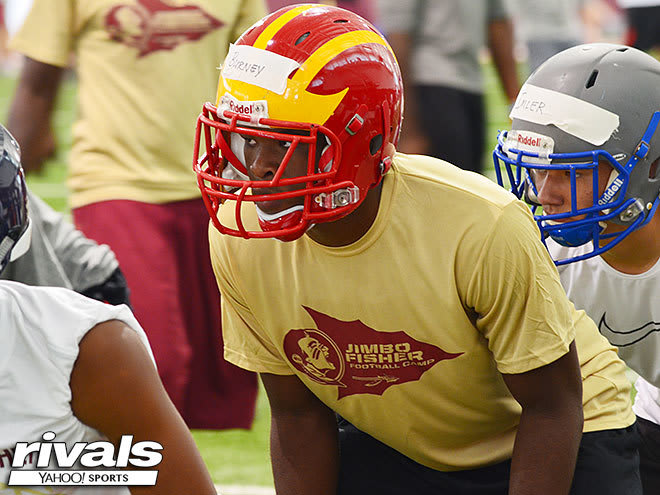 SCHOOLS IN THE MIX: Florida, Florida State, Miami, Ohio State

THE SKINNY: Burney is a two-way player that looks like a college prospect at both wide receiver and defensive back. He plans to commit on July 1 and seems likely to remain in-state at this juncture.
10. Isaiah Bolden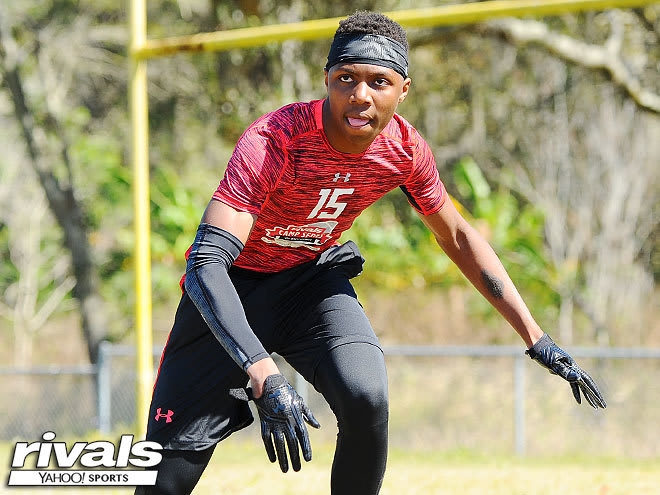 SCHOOLS IN THE MIX: Bolden is committed to Florida State

THE SKINNY: Bolden has been committed to Florida State since last summer and seems externally solid in his commitment. At 6-foot-3, his length is his most notable trait but he doesn't struggle in coverage, either. Sunday will provide him the chance to cover some high-level wideouts