Rivals Analysts take note of Florida's Top 10 Class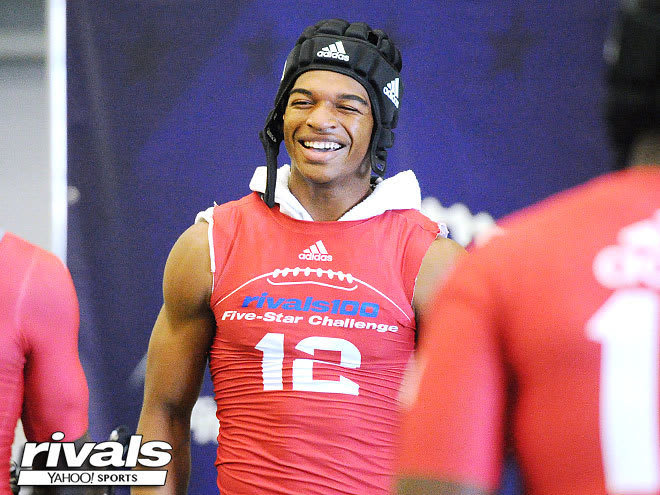 Mike Farrell leads off his weekly Three-Point Stance column with a look at Florida's recruiting surge.
Then he runs down his 10 biggest commitments from across the nation over the last week - with the Gators holding down the top two spots and three of the top eight.
RELATED: Read the entire Three-Point Stance
RELATED: Discuss it with Florida fans in the Alley
And then Woody Wommack and Chad Simmons lead off with Ja'Marr Chase picking Florida in their Southeast Spotlight: Biggest Summer Surprises.
Head coach Jim McElwain has been criticized by fans and opponents alike for a lack of recruiting pizzazz, and this author has been no different. But when the time comes to give credit where credit is due, I am ready, and this past weekend/week was a huge one for McElwain, his staff and the Gators.
How does a five-star quarterback from California, a four-star wide receiver steal from Louisiana, a four-star tight end from Pennsylvania, a massive in-state offensive line target, some 2019 help with excellent potential and a couple of additional three star in-state gets at key positions sound? No, it's certainly not the best week in Florida recruiting history nor is it the best week of any program for this spring and summer, but it's still huge for a coach who has been under fire for his inability to close on big-name guys.
I was critical of McElwain's class last year despite the No. 9 finish in the country because the class itself was missing some big-time playmakers and a few guys (James Robinson, Brad Stewart, etc) fell to the Gators because others ran out of room or backed off. But the likes of Matt Corral, Ja'Marr Chase, Kyle Pitts and Curtis Dunlap, the headliners of the recent commitments, were coveted by many programs. Now they have the quarterback of the future with a high ceiling (whether he remains a five-star or drops to four in our next rankings, he's a talent), a game-breaker at wide receiver who will wow fans, a reliable tight end who will be a serious red zone threat and a massive interior lineman who will pave the way for the run game.
And, as always, you can expect some of the three-stars to either outplay that ranking or raise it as we head toward signing day. McElwain needed a big splash this past weekend out of Friday Night Lights, and so far it's been a great haul with more likely to come. (Jacob Copeland, others?)
GATORS IN HIS TOP 10 COMMITMENTS OF THE WEEK
1. QB Matt Corral, Florida: A big-time QB commitment and a kid who could play early from across the country no less. It doesn't get much bigger than this.
2. WR Ja'Marr Chase, Florida: A dynamic playmaker who can stretch the field and is excellent after the catch as well. A steal from Louisiana.
8. TE Kyle Pitts, Florida: Pitts isn't a burner but he gets open, can box out defenders and should be a reliable red zone target.
SOUTHEAST SPOTLIGHT - BIGGEST SURPRISES
The summer started with Rivals250 wide receiver Ja'Marr Chase naming a final three of Tennessee, TCU and LSU in advance of an early July announcement. Chase was set to announce his decision on NFL Network, and all signs pointed to him committing to TCU. But thanks to poor planning on the part of the network, Chase was bumped from broadcast and wasn't able to make his commitment. After initially planning on announcing again shortly thereafter, Chase elected delay his decision indefinitely. It seemed like the delay in the announcement would benefit LSU, as the Tigers were making up ground in their efforts to keep Chase close to home. But over the weekend Chase made a surprise visit to Florida and the Gators impressed him so much that by the time Sunday night rolled around, he was committed to Florida. Neither LSU nor TCU is likely to give up on Chase, who was once committed to Kansas as well, so it will be worth watching to see if he has any more surprises up his sleeve before it's all said and done.