Signing Day Central: Two late additions - Lemons & Robinson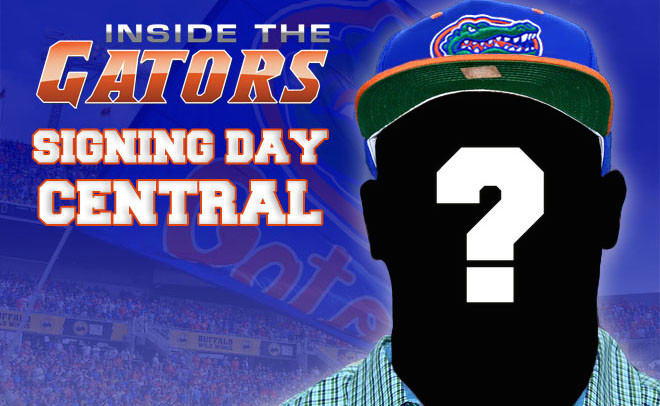 ----------       
----------     
NOTES:
• For you mobile users DOWNLOAD the new Rivals App for fast, easy access. If you want to follow along on twitter, or even tweet yourself, use the #RivalsNSD hashtag.
• Make sure you hit refresh often when visiting this page. Even if you come back to this page from a different page or site, your browser could using an old version from your cache (hold down the shift key as you click on the refresh button). You will receive our most recent update when you hit refresh.
• We will first update confirmed signings and other breaking news on Alligator Alley. If you're not a member, you can SIGN UP FOR OUR SERVICE HERE and get the best year-round coverage of Gator sports!
• NOTICE: For breaking news follow Inside the Gators and Blake Alderman on Twitter.
----------     
BREAKING NEWS:  
----------     
SIGNINGS ANNOUNCED BY FLORIDA
Kyree Campbell
Jake Allen
Kemore Gamble
Marco Wilson
Shawn Davis
Daquon Green
Donovan Stiner
Ventrell Miller
Zachary Carter
Malik Davis
Brad Stewart
TJ Moore
Lacedrick Brunson
Tedarrell Slaton
Elijah Conliffe
C.J. Henderson
Nicholas Smith
James Houston
Kadeem Telfort
Kadarius Toney
Brian Edwards
SIGNED BUT NOT ANNOUNCED YET
None
COMMITS STILL WAITING ON LOI
Zech Byrd (Will not sign LOI today)
TARGETS REMAINING
Levi Jones (SOUTHERN CAL)
Eric Stokes (GEORGIA)
K'Lavon Chaisson (LSU)
LaBryan Ray (ALABAMA)
Elijah Blades (NEBRASKA)
Malik Young (MISSOURI)
Adarius Lemons (FLORIDA)
----------       
EXPECTED SIGNING TIMES:  (MANY LISTED TIMES ARE CEREMONIES, SIGNINGS COULD TAKE PLACE EARLIER)
ALREADY ENROLLED
Kyree Campbell
Kemore Gamble
James Houston
Kadeem Telfort
Kadarius Toney
7:00 AM
Malik Davis
8:00 AM
Shawn Davis
Marco Wilson
T.J. Slaton
Levi Jones
Eric Stokes
9:00 AM
Lacedrick Brunson (he had not received a UF LOI as of Tuesday)
Donovan Stiner
10:00 AM
Zachary Carter
Nicholas Smith
11:00 AM
K'Lavon Chaisson
Brad Stewart
12:00 PM
TJ Moore
Ventrell Miller
C.J. Henderson
Brian Edwards
LaBryan Ray
1:00 PM
Daquon Green
2:00 PM
None
3:00 PM
Jake Allen
4:00 PM
Elijah Blades
NOTES
* Commit Elijah Conliffe was unsure of his signing day time or plan.
* Target Malik Young was unsure of his signing day time or plan.
* We are unsure if committed tight end Zech Byrd will be permitted to sign or if he even has a Florida Letter of Intent.
* Regardless of where or when he signs, running back Adarius Lemons won't take part in the ceremony at Clearwater. That is reserved for their football players. The coach at the school said he hadn't received a Florida LOI as far as he knows.
----------   
----------   
----------   
COMING UP:
Wednesday:
Breaking news on the new commitments
Jim McElwain 3:15 p.m. press conference coverage
Thursday:
Position-by-position grades
Recruiting Class Superlatives
Friday:
Great Eight Signees
Saturday:
Signing Class expert Roundtable
Sunday:
Ten top 2017 Targets Instate
Ten top 2017 Targets Out-of-state