Status of key injured defensive Gators uncertain for Georgia game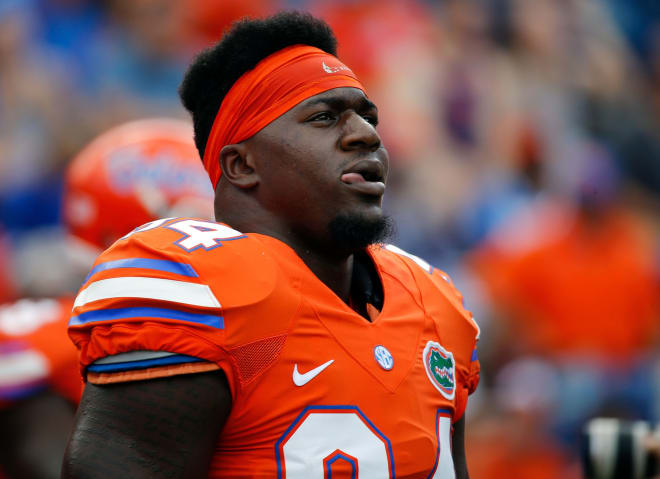 Florida head coach Jim McElwain updated the status of numerous injured Gators on Monday during his press conference - and while he didn't share much definitive news, his update on redshirt senior defensive end Bryan Cox Jr. (thumb) was optimistic.
After saying of Cox last Wednesday, "I don't know whether he'll go again this year," McElwain said Monday during his press conference that Cox - along with defensive end Jordan Sherit (knee) and defensive tackle Joey Ivie (thumb) - were "some guys that kind of ran around a little bit in the stretch and stride" on Sunday. All three are questionable for Saturday's contest against Georgia in Jacksonville.
"We'll see more as practices go on," McElwain said Monday. "Obviously, today is in spiders, so I won't have any earth-shattering news there. We should know more obviously Wednesday."
Meanwhile, senior linebacker Jarrad Davis' status for the Georgia game remains uncertain as he nurses a badly sprained ankle.

"Right now, that's one that we'll push through the week," McElwain said. "Know this: We won't ever jeopardize anything there. It'd have to be right, in all these guys' cases."
Ivie and Sherit have each missed Florida's past two games with their respective injuries, while Cox suffered his thumb injury during pre-game warmups before the Missouri contest and did not play. During the 2016 season, Cox has also battled through knee tendinitis and an ankle injury. Davis suffered his ankle injury in the second half against Missouri, leaving to the locker room and not returning.
Tight end DeAndre Goolsby (hand) came out during Sunday's workout and "did some things," according to McElwain. "It'll be interesting to see how he's able to handle that throughout the week. So I'd say that would be questionable as well," McElwain added.
Right guard Tyler Jordan, who missed bye week practices with an unspecified injury, "should be back and ready to roll," per McElwain.
"Other than that, we're in pretty good shape," he added.
------
Thank you for reading this Inside the Gators article. To discuss it, please visit the Alligator Alley Forum.