Callaway cited for marijuana possession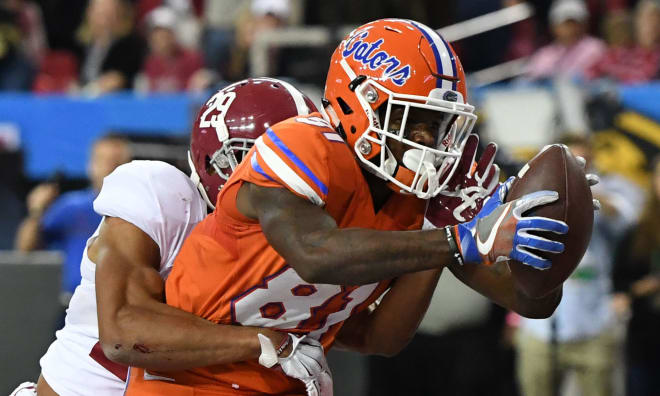 According to Alachua County court records, junior wide receive Antonio Callaway has been cited for marijuana possession.
At about 12:40 a.m. last Saturday, Callaway, 20, and another man, Kendrick Williams, 40, were cited for misdemeanor possession of less than 20 grams of cannabis on a traffic stop for a seatbelt violation. Upon approaching their vehicle, a black Mercedes SUV, the Gainesville Police Department officer "smelled fresh cannabis," according to the police report.
After the officer found two bags of cannabis that weighed about 7.0 and 5.4 grams, both Callaway and Williams admitted to ownership of the marijuana.
Callaway and Williams' arraignment is scheduled for June 6 at 9 a.m.
"Coach McElwain is aware of it and it is being dealt with," UF said in a statement.
Callaway was previously involved in a Title IX investigation at UF, which saw him suspended indefinitely during 2016 spring practices but eventually cleared of wrongdoing in the case as he returned to the team before fall camp. In the hearing report involving the case, Callaway admitted to marijuana use, saying, "I was so stoned, I had no interest in having sex with anyone."
The Miami native appeared in 12 games last season, racking up a team-best 721 receiving yards and three touchdowns on 54 catches while also scoring a touchdown on the ground and on an onside kick return.
Following the conclusion of the 2017 NFL Draft, Callaway has been projected as an early-round pick on many 2018 mock draft boards.
Florida squares off against Michigan in its season-opener at AT&T Stadium in Arlington, Texas, on Sept. 2.
Two Gators in the past two seasons have received one-game suspensions following citations for marijuana possession. During the 2015 campaign, running back Jordan Scarlett missed the Citrus Bowl, and the following year running back Mark Thompson did not make the trip to Jacksonville for the annual Georgia contest.
------
Thank you for reading this Inside the Gators article. To discuss it, please visit the Alligator Alley Forum.