Gators 2017 Spring Preview: Special Teams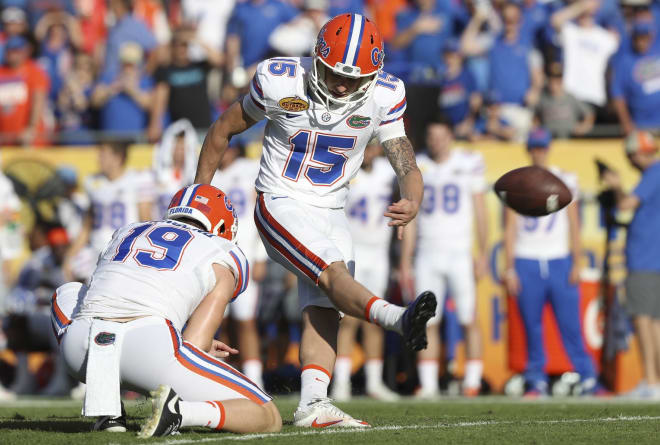 Feb. 28 marks the beginning of spring football for Florida as Jim McElwain enters his third season as UF's head coach. As practices are soon approaching, Inside the Gators will take a position-by-position look at Florida's roster. Today, we begin with a look at the Gators' special teams.
NOTABLE PARTICIPANTS:
-- K Eddy Pineiro (redshirt junior; 6-0, 173)
-- P Johnny Townsend (redshirt senior; 6-1, 211)
-- LS Ryan Farr (Jr. former walk-on; 6-0, 223)
-- K Jorge Powell (redshirt junior walk-on; 5-10, 177)
-- K Daniel Justino (redshirt freshman walk-on; 5-8, 160)
-- P Tommy Townsend (redshirt sophomore walk-on; 6-1, 195)
-- P Jon Gould (redshirt sophomore walk-on; 6-0, 181)
-- LS Brett DioGuardi (redshirt freshman walk-on; 6-3, 242)
-- LS Jacob Tilghman (redshirt sophomore walk-on; 6-1, 208)
Do not arrive until the summer semesters: N/A on scholarship
Departures: N/A on scholarship
LAST YEAR: Florida's special teams were a mixed bag in 2016, but two of its specialists were among some of the best performers in the country.
As a redshirt junior, punter Johnny Townsend led the nation in yards per punt (47.89) while also landing 27 of his 64 punt attempts inside of the 20, booting 29 for 50-plus yards and accomplishing a long of 62. Despite the impressive numbers - and serving as one of the Gators most important weapons during a year where the offense once again often struggled - Townsend was snubbed from Ray Guy Award finalist consideration. However, he received a number of postseason accolades, including second-team All-SEC honors.
In his first season as a Gator arriving in Gainesville as the top-rated JUCO kicker in the country, Pineiro lived up to the hype. Getting accustomed to the preparation and tempo of the college game was an adjustment, but by the second half of the year Pineiro was in an impressive groove. He finished the year making his final 12 field goal attempts, going perfect during November and the postseason.
On the year, Pineiro went 21-of-25 on field goals, going 3-of-3 from 50-plus yards (with a long of 54), 8-of-10 from 40-49 yards, 5-of-7 from 30-39 yards and 5-of-5 from 20-29 yards. He also went 32-of-32 on PATs, and despite a few missteps was for the most part effective.
At long snapper, Farr once again served in the primary role, appearing in all 13 games as a sophomore and continuing to hold down the job.
Florida's return game - and kickoff and punt coverage - weren't as encouraging. The Gators did make some progress on kick returns, finishing 39th nationally with 22.35 yards per attempt, but the Gators' longest kick return of the year was just 44 yards from Antonio Callaway. Lamical Perine was utilized briefly in the role and Chris Thompson (21.7 YPKR) was all right handling the role down the stretch.
A year after Callaway emerged as one of the best punt returners in the country and scored twice on punt returns, that aspect of special teams lagged in 2016 as the Gators finished 72nd in the country in punt return average and didn't score once off of them. Callaway finished the year with just 8.4 yards per punt return on 26 attempts, dropping from fifth nationally in 2015 (15.54 YPPR) to 34th this year. His punt return gaffes at Tennessee were a memorable aspect of Florida's inability to generate much in the punt return game.
Brandon Powell was especially ineffective in the role, returning five punts for just 23 yards (4.6 YPPR) and seeing his utilization in that capacity decrease as the year went on.

Florida's kick and punt coverage was subpar. Opposing teams averaged 23.6 yards per kick return, putting the Gators at 110th in the country, and 9.79 yards per punt return (good for 96th nationally).
2017 OVERVIEW: Townsend and Pineiro both opted to return to school for this upcoming season, giving the Gators one of the most dynamic kicker-punter pairings not only in the SEC, but in the country. Those two should certainly be the face of Florida's special teams once again throughout the 2017 season. Farr also returns and should be the likely favorite to continue assuming long-snapping duties.
The depth behind that trio consists of walk-ons. Townsend's younger brother, Tommy Townsend, will compete with Gould for backup punter duties, while Jorge Powell and walk-on Daniel Justino will battle for the backup spot. DioGuardi and Tilghman will also make a push to see opportunities at long snapper.
Questions lie among other aspects of Florida's special teams. Who will Florida turn to at kick and punt returner in 2017? And will the coverage from special teams improve next season? By the spring game, we should get a slightly better idea of which candidates Florida is considering for the return jobs, but how much its coverage has truly improved won't be on display until next season - given the nature of the spring game and its absence of full-contact return plays.
At punt returner, Callaway still should remain the favorite to assume those duties, even after a shaky sophomore season in that role. With Thompson graduated, kick returner is an unknown. Dre Massey, who many thought would serve as a contributor on kick and punt returns in 2016 before suffering a torn ACL, is a strong option. He won't be full-contact this spring, though, as he continues to return to full health. Given Massey suffered his injury on the opening kickoff return of the 2016 season, it'll be interesting to see how willing he'd be to return to that role.
Freddie Swain, Tyrie Cleveland and McArthur Burnett are among some of the players who repped in returner roles in practice during the 2016 season, and defensive back Chauncey Gardner is also a player capable of contributing there. Brandon Powell and Perine are names on the spring roster the Gators could turn to as well.
However, don't expect a clear-cut answer to this question until fall training camp.
----
UP NEXT:
Secondary
------
Thank you for reading this Inside the Gators article. To discuss it, please visit the Alligator Alley Forum.