Florida Football: Behind the Scenes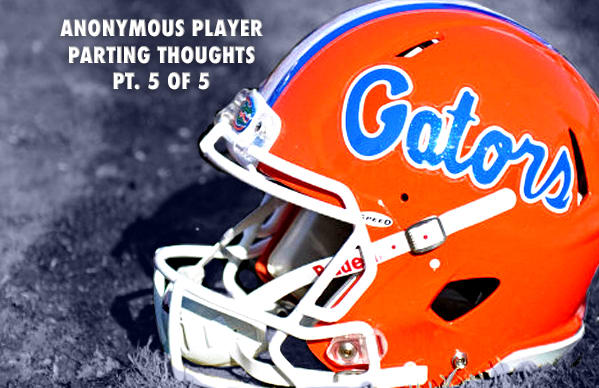 During each off-season, Inside the Gators interviews departing seniors and early-entry juniors for a recap of their time at Florida as part of our Parting Thoughts series.
We've tried this the past few years and have gotten great feedback from our subscribers, so for the fifth time we will include an anonymous player in the series to share his thoughts on an array of topics regarding Florida Gators football. In this five-part interview, no topic was off-limits as we discussed the past two seasons under Jim McElwain, player assessments and much more. The anonymous player took questions from ITG's subscribers as well as our own staff.
As an aside, allowing a player to comment anonymously obviously has its benefits and downsides. The goal of this feature is to give our readers an honest and freely expressive look at the Florida football team, but we also acknowledge the nature of anonymous comments and the stigma that can come with them.
Today, we discuss some of what went on behind the scenes and away from the football field.
What do you think UF does well as a program relative to others? What could it do better?
Probably the recruiting is pretty good. I think our recruiting is always turning out pretty well, we always get decent guys. Things you can do better, is definitely improve the facilities, which I think they're going to do. But also improve maybe the living situation for some of them. The dorms aren't great, and I know people come here to visit and they are always saying, "Florida's dorms are terrible. Florida's facilities are like subpar and embarrassing to others." I think updating the facilities is something that needs to be done.
I think that also, we need to - I don't know how other programs do it, but more team-building activities, that would be good. Just trying to get more camaraderie with the team. I know you don't want to force people to like each other, but in a way you kind of have to like get that gel to where people like each other enough and they like play for each other. I think we always played for each other – a lot of the guys were close – but getting closer as a team is important.
McElwain seems to have a laid-back persona in public. Does he have a different, perhaps even fiery, personality behind closed doors?
Depends on the day. He's kind of moody. Some days, he comes in and he's like, "What's up, guys? How are you doing? You doing good today? We're going to do this, we're going to do this." Some days, he'll just come in and he'll just be like, "Yesterday's practice was s---. We need to get our s--- together." I think like every week, he has one day where he's trying to get mad. I don't know if it's forced or if he's trying to get us fired up to play harder at practice, or if it was actually on the film that we weren't doing well. I don't know. I felt some of it was kind of fake and some of it was real. The emotions ranged from super happy and totally fine to angry and "I hate the world."

When we lost to Tennessee, he kind of held his head low. Everyone was kind of down after that game, but he especially as a head coach, you have to pick yourself up, you know? The guys noticed it. Like, "Coach, are you OK? You're kind of out of it." Then, he had said, "Yeah, I know I've been kind of out of it. I'm just down about this loss." He kind of just sat back into it and then he was fine after that. But most of the time, he's just a very easy-going person.
Do the coaches provide support off the field for players with no father figure or male influence in their lives?
Coach Shannon invited players to dinner a couple of times. They had players over their houses for stuff. I mean, Coach Mac and Coach Nuss and Coach Rumph all had Thanksgiving at their house and at plenty of people went to those things, so that was pretty cool.
Are there ways the Gator faithful could help with team attitude?
I feel like the fans should always be positive. I would hear the crowd at the games and people would be like, "F--- you" to the team, and I was like, "Why?" Just stay positive. There's no reason to get mad at your team. I don't work with negative reinforcement. I think a lot of the guys work on positive reinforcement. I think yelling at people and telling them "you suck" – not that anyone actually reads that stuff. The guys on the team, I think, don't really look into it. They kind of just walk above it. And we're told, "Don't read what the media is saying. Don't do this." I don't think the guys are really reading what a Facebook page says. They just go watch the little highlight videos and stuff.
What did the team learn the most from its experience at the Citrus Bowl against Michigan? Did you see a lack of effort that year? What went into the change the following year at the Outback Bowl against Iowa?
Michigan is a good team, and I think just maybe we didn't prepare hard enough. I think for Iowa, it was much more of a statement game – like we needed that. I don't think we needed it as much last year to beat Michigan, because it was like coming back from having a really bad season and then going 10-2, going to the SEC Championship. I think the guys this year were almost dissatisfied with the record, 8-4 – 9-4 I guess with the bowl game. I think they were just more amped up about getting that game.
Coach Mac and the coaching staff were definitely on their stuff way earlier. I think we were preparing for Iowa the day after the SEC Championship Game whenever we got the bowl bid. Whenever they knew we were playing Iowa, they had everything ready. During the 2015 season, they gave us a week off after that SEC championship. We had a week off but we still had meetings this year. Last year I don't think we had the meetings as much, and I think the guys were more invested this year. Last year, they were just more satisfied, that's the main thing. As far as the coaching staff, it's not like they screwed up or anything.
What was the message from the Florida coaches and Jeremy Foley during the Hurricane Matthew postponement debacle with LSU?
It started off with Coach Mac being pretty upset. Just like, "F--- them for not wanting to reschedule." I guess he's like, "We're still going to play the game. We're going to find a way to play the game." Because they kept saying that we were scared or something, but there was no way any of the team was scared. That wasn't why we backed out.
The weather was fine the way the hurricane was, but how could they know that? They have tons of first responders and all that stuff, all the families that needed help. So I don't think it was very feasible to play that game. Coach Mac was just trying to explain that to all of us, trying to make the point, "I know you guys want to play, but we've got to think about the bigger problems at hand here. There's a lot of people who are going to need help and how are people going to get here and with people's power out and stuff."
Then, when they wanted to reschedule and they were trying to say like, "We need to go there," and we had to give up another home game, Coach Mac was livid. I think a lot of the players were pissed, too. Mac, he was just kind of like, "I'll do this if you guys want me to." I don't think we had a choice. I think if somebody had spoken up and said, "I don't want that. I want a home game and we can play LSU at a different time," I don't think it would have mattered. But I guess he just ran it past us.
I think that's what really got us fired up. The whole team was very emotional after that speech that he gave about, "We're going to go in there and we're going to play it like a home game. We don't lose at home."