Q&A: Stricklin discusses Florida's recruiting, upcoming facilities projects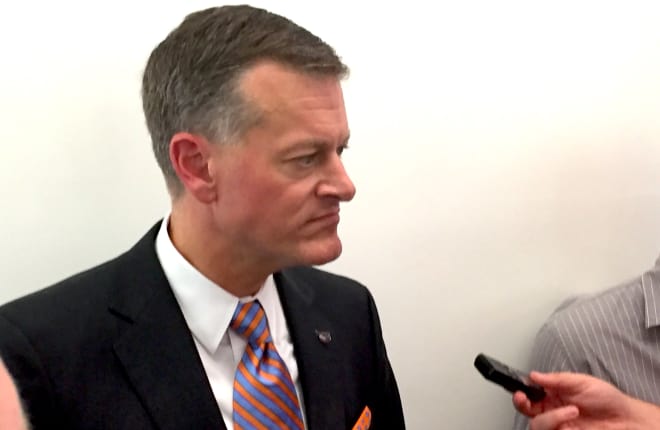 Currently in the midst of a state tour meeting top Florida boosters to generate fundraising for facilities projects and upgrades, new Gators athletic director Scott Stricklin made an appearance Wednesday on ESPN Orlando to discuss Florida's athletic program and a number of topics concerning it.
Below is a Q&A of what Stricklin had to say Wednesday afternoon:
The football team won the Outback Bowl against Iowa but lost in the SEC Championship Game against Alabama. What is your take of the trajectory of the football program under Jim McElwain?
Stricklin: You know what, I'm excited about what Jim's done. I think you look at the first coach in the history of our league to win a division and go to the championship game each of his first two seasons. It's been 3-4 years – actually longer than that – that the Gators have been there. Then he got hired and in his first two years went to the championship game. Coach Mac would be the first to point out that at Florida, the goal isn't just to get to Atlanta - it's to win in Atlanta. I think you can see all of the pieces he's put in place to do that. Obviously, winning the bowl game was great.
Having the kind of program that has the mental toughness to deal with what they dealt with this year - crazy schedule as the result of the hurricane, have to go to Baton Rouge, win a game in Tiger Stadium to win the division - I think that says a lot about the leadership that Coach Mac is providing. I think we've got a chance to build on that. I'm excited to walk into a situation with a guy of his caliber in the building to coach and lead young men. I get the chance to work with him every day.
I've read that Florida is lagging behind in recruiting right now. Does that concern you? It seems to be lagging behind the Florida State's and Alabama's. What's your take on that?
Stricklin: You know, recruiting is very subjective. It's also very important. You've got to find the right young people to your program, the ones that fit athletically, the ones that fit academically and socially. All of that stuff is important. But just the importance of going out and being able to find the key people is the ability to evaluate who the right people are and the ability to develop those young people once they get on you campus.
We all see every year. You're right. This time of year, the only thing we have to focus on is those rankings and number of stars the kids have next to their names. Every year after Signing Day, people go back and look at previous years. All of the five-stars that you've never heard from again, and then there are all of the two-stars or the three-stars that were just kind of afterthoughts on Signing Day who end up being big-time players. I came from a place in Mississippi State, we signed a three-star quarterback out of some small town in Louisiana several years ago named Dak Prescott. Now, look where Dak Prescott is. That same signing class, there were two or three five-stars who were the gem of that class that you never heard from. I think there's example after example.
Just as important as being able to sign things, you've got to be able to identify talent. Really good coaches I think can do that, trust their own evaluations. Don't necessary trust what some recruiting guy is telling you is the right guy. The University of Florida is always going to attract good kids. … Florida is the place people want to be. I think we'll always have talented kids. I think we'll have kids that fit our program and kids who want to compete, fight and win for the Gators.
As far as facilities, what on your agenda there on the UF campus? Obviously, it's become an arms race in collegiate athletics.
Stricklin: Well, I don't know if it's an arms race, but you're right – facilities are always critical whenever you're trying to create a great experience for your student athletes and for your fans. Pretty much every facility that gets built related to college athletics at this level, it impacts one of those two groups: your athletes or your fans. Both of those groups are really critically important to us here.
The newly renovated O'Connell Center, Exactech Arena, $65 million dollar investment there, has been unbelievable. We've had 3-4 sellouts. Our next two games are already sold out for Mike White's Gators, and fans have really responded. I think they love the way the team has played undefeated in the SEC right now. But I think they also really love the new place, it's nice at Exactech Arena in the O'Dome. That's a great illustration why it's important to invest in facilities.
In the last 16 months, Florida's athletic department has spent about $106 million in facilities investments that have completed those kinds of projects. We need to do another $100 million in building a stand-alone football building and then renovating softball and baseball. To do all three of those facilities, including a dining hall, that's about $100 million. That's our focus right now in the short-term, trying to get those projects up and off the ground. I'm confident that we'll be able to start with the football construction before the end of this calendar year and get that thing going for our student athletes there. Baseball and softball will be right behind it.
At the same time, we have to take a long view at The Swamp and see what we could do there to really enhance the experience for the Gators fans who come to watch football games on campus. That's such an iconic venue in college football. I think we have a really good chance to do some things there with that.
You mentioned the Gators basketball team. What's your take on the job White's doing with the men's basketball program.
Stricklin: It's hard not to be impressed with Mike. Just a really, really sharp individual. Very bright, a competitor. Just keeps his composure, but he relates so well to this team. I think you've got to look all of the different parts, aspects of this team. There's a lot of different things they can do. A lot of depth. A lot of ways you can go – you can go big, you can go small. Mike's done a great job of pushing the right buttons.
They are on the road at Tuscaloosa last week and the Gators are up 18 in the first half. There's a little bit a lull, and next thing you know, in the second half Alabama is up six at home and had totally flipped it. Florida came back and won that game pretty handedly. I think that shows a lot of toughness, certainly a lot of great coaching and leadership on White's part.
We've got a lot of regular season left, 13 SEC games plus the postseason, but all in all, really excited about the opportunity to work with Mike. It's a really fun team to watch.
------
Thank you for reading this Inside the Gators article. To discuss it, please visit the Alligator Alley Forum.