Robinson showcasing talents at NBA Scouting Combine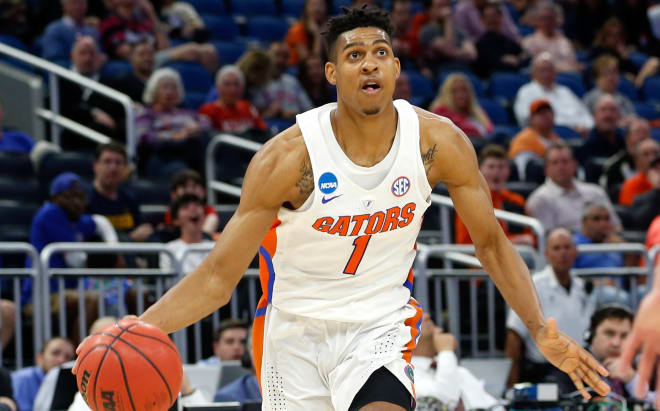 Of the 67 players this weekend participating in the NBA Scouting Combine in Chicago, the lone Gator in attendance has been former Florida forward Devin Robinson.
Although players who participate in the combine who haven't signed with an agent yet have 10 days following its conclusion to withdraw from the draft, Florida center John Egbunu, who is nursing a torn ACL, wasn't on the list.
However, Robinson, who signed with Glushon Sports Management after declaring early for the draft, has put his talents on display for scouts during the past few days.
Overall, the athletic Robinson has been for the most part helping his stock, especially during athletic testing and scrimmages on Thursday and Friday. The scouting combine began Tuesday and ends Sunday.
Robinson's measurements and numbers during drills intrigued a variety of scouts and media in attendance. He stands at 6-foot-7 without shoes but 6 feet, 8.25 inches with shoes on. He weighed in at 189.6 pounds but has just 3.2% body fat, the lowest of anybody at the combine.
The length of his hands tied for second-largest at the combine, at 9.25 inches, while his 10.25-inch hand width was tied for third. Robinson also logged an 8-foot-10 standing reach and a 7-foot-0.75 wingspan.
Robinson made sure to showcase his ups in plenty of drills this weekend. His max vertical leap was good for third among players at the combine, at 41.5 inches, while his standing vertical leap of 35.5 inches also tied for third-best.
However, his shuttle run time of 3.61 seconds was the slowest among participants at the combine. His 12.85-second lane agility time was second slowest, while his 3.23 three quarter sprint was middle of the pack.
Robinson reportedly met with the Miami Heat on Friday and has a workout set up with the Milwaukee Bucks next Wednesday. When meeting with reporters a few days ago, he surely wasn't lacking confidence.
"I say if you want a winner, you should draft me," Robinson said at the combine. "I care all about winning, I care about my teammates. I'm a great team player and I work hard. I'm a sponge. I don't act like I know everything, because I don't. I'm still learning the game. I just want to be the best Devin Robinson I could be."
A number of mock draft websites project Robinson as a second-rounder in the 2017 NBA Draft, while others have him going undrafted. If Robinson were to hear his named called, he'd be the first Gator drafted since Erik Murphy (49th overall, Chicago Bulls) in 2013. Former Florida forward Dorian Finney-Smith went undrafted last year but has since carved out a rotational role with the Dallas Mavericks.
"Yeah, everything I've heard from NBA guys say he's going to be a second rounder," ESPN basketball insider Jeff Goodman said in a conference call. "Where, I don't know, but I think they love his upside. We've always liked his upside, and finally, you've started to see the progression a little bit, again, with — he's never been a go-to guy, but in the league, that's not going to be him, either. He's got to be a guy who makes shots and defends. He's versatile. That'll help him. So I think he goes somewhere in the second round from what they're telling me."
A former five-star recruit, Robinson logged 935 career points on 45% shooting (33.6% from three) in three seasons as a Gator. Last season, Robinson logged career-best averages in numerous categories, with 11.1 points on 47.5% shooting (39.1% from downtown), 6.1 rebounds, 0.8 blocks and 0.9 steals per game in 26.4 minutes on the court per contest. Arguably best game of the season came in the opening round of the NCAA Tournament against ETSU, where he logged 24 points and seven rebounds.
"Well, Devin finally lived up to the potential based on the guy I saw in high school," ESPN college basketball analyst Fran Fraschilla said. "He obviously had his best season. Here's what I think he is: He's, again, a classic 3-and-D guy, willing defender with a 6-11 wingspan, obviously athletic enough to guards 2s and 3s, some 4s. And let's face it, if he makes 39 percent of his NBA threes, like he did this year, then he's your prototypical NBA wing defender, role player. You know, he could stick on a team.
"And most of these guys, even Devin Robinson, if he gets drafted, let's say early second, for example, he's not going to play very many meaningful minutes right away in the league. But going back to his high school days and the fact that he started to improve and take the game seriously and he's got to overcome the talk about his stress fracture earlier in the year, there's going to be some teams that really like what they see from him, because they do see improvement."
Below is a look at where Robinson is projected to land on some notable mock drafts:
-- BasketballInsiders.com: 30th, Utah Jazz
-- DraftExpress.com: 46th, Philadelphia 76ers
-- MyNBADraft.com: 47th, Indiana Pacers
-- WalterFootball.com: 55th, Utah Jazz
-- NBADraft.net: Undrafted
-- CBS Sports: Not selected (first round only)
-- NBC Sports: Not selected (first round only)
------
Thank you for reading this Inside the Gators article. To discuss it, please visit the Alligator Alley Forum.