Notebook: New hires Davis, Seider, Bell finally introduced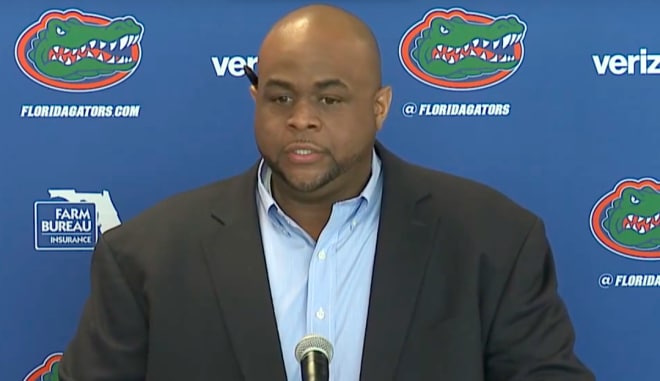 If you consider an introductory press conference as a first test, then new Florida offensive line coach Brad Davis passed it with flying colors.

As Florida's offensive line looks to become more physical this offseason and searches for a boost, Davis displayed his intelligence, insight and enthusiasm during his introductory press conference Thursday afternoon. Although Davis' resume isn't the most expansive, with his most recent stops coming at ECU in 2015 and North Texas in 2016, plenty of Florida fans felt excited about the future of the offensive line under his guidance after watching him speak at the podium Thursday.
"This opportunity that I have right here, there's no leeway to come here and be average," Davis said. "Coach Mac didn't bring me here to be average, or to try and figure it out on the fly. I know what expectations of Gator fans are. I have to be great at my job. So there isn't a day that I've been here, or a day that I'm going to be here, that I'm going to take being here lightly. So I expect the same from my players as well."
The 37-year-old Davis said his biggest goal for the Gators at this point is to buy into what he's teaching and implementing, so he'll be able to push his linemen harder.
"For me to get the best out of these guys, they have to 100 percent believe in me, buy in to me and really understand what my expectations are of them," explained Davis. "Right now, my biggest challenge has been getting as close to my players as I possibly can. I've been investing time within the parameters that are allowed. Calling. Texting. Having them come by the office. Position meetings. Talking to them after workouts. Things of that nature. Really, really trying to get those guys to understand my passion for success. That's the biggest thing right now."
"Well, the biggest thing for me I'm hard coach to play and I don't say that in terms of bragging or any of that kind of stuff. I have a process, and I believe in that process - I think it works. First of all, they have to know how much I care about them. They have to know that their success is the most important thing to me, and not just in football. Their success in their personal lives, in the classroom. … Day 1 spring ball my expectation is show them the standard and if they don't meet the standard, there'll be consequences for not meeting the standard. And then every day just enhancing it and making it better."
So far, Davis said he has spent a lot of time investing in junior offensive lineman Martez Ivey, whom he envisions as a potential leader for his unit in 2017. He's had some conversations with his position group up to this point, and he's made his message known with an interesting analogy.
"The analogy I've used with the guys the last few days, it's pointless to have a Lamborghini with a bad transmission. It's worthless," Davis said. "So we have a bunch of tough, physical, athletic football players that really haven't maximized their football potential. My job and why I'm here is to get the best out of them every day."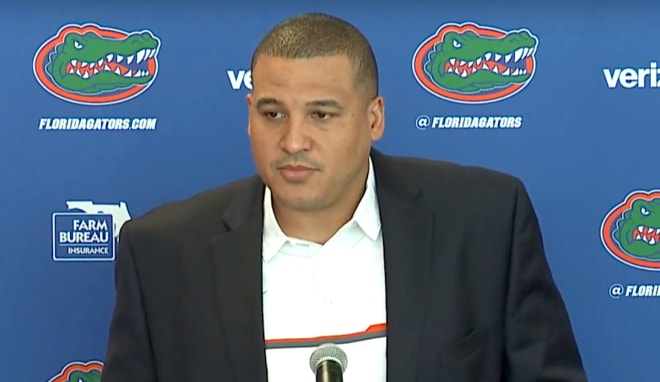 SEIDER FAMILIAR WITH FLORIDA'S RUNNING BACKS
So far, new running backs coach Ja'Juan Seider has spent much of his time bonding with his current running back group, as its former position coach, Tim Skipper, has now moved to coaching linebackers.
Seider is familiar with a number of members of the current group, especially last year's leading rusher, Jordan Scarlett.
"I've been watching and going through cut-ups," Seider said. "We talk just about every other day because I need them to trust me as well as I trust them. Jordan, I've been knowing him since the eighth grade, because he's from an area that I heavily recruit. Lamical (Perine), a funny story with him the other day when I got here. I had an email and it was still in my email from someone that sent me an email and his name was in it.
"It was the same with Mark (Thompson), I got an email about him from his school, but we were already done. So I kind of have an idea about these kids, but until you actually coach them and get around them... I'm a firm believer in forming my own opinion on kids. I watch film and Skipper may do some things different than I may do, but at the end of the day it's about not effecting those kids and slowing it down and let them push their development forward."
In addition, Seider has interacted with 2017 running back signees Adarius Lemons and Malik Davis, who both will arrive in the summer, on the recruiting trail in the past.
"Those two kids who I had interactions with on the recruiting trail, I kind of got a good idea about them," explained Seider. "I thought Adarius early in the process, he showed a little affection. I didn't think I had a chance, because he committed early in the flirtation period, so he started to pull the trigger. Malik was a kid that I recruited him. I had a lot of interaction with him.
"I think they're both tremendous football players. I think they're going to be ready to help us. They bring an element to this team that I think they can hit the home run. They're probably different structure-wise than some of the guys we've got right now, which ain't all bad. I'm always a firm believer as a coach, and I tell them all the time, the ball for 3 yards. I want that guy who can get the ball and go 80 and make me look like a good coach."
BELL LOOKING TO MEET LOFTY STANDARDS
Over the past few years, Florida has had one of the best secondaries in the country. In 2016, the Gators had the second best passing defense in the country and the best passing efficiency defense nationally against opposing quarterbacks.
"I actually busted his chops a little bit today about the fact that I think there's a bunch of first or second-rounders that have come out of here at that position, so he's got a heck of a tradition to uphold and yet has some great guys to work with," McElwain said. "I think his comfort level and Coach Shannon's comfort level with each other and what they're teaching that fits to our defense, I know I'm excited to see him work and I know our guys have been excited being around him."
Florida loses starting cornerbacks Jalen Tabor and Quincy Wilson to the NFL Draft, and Marcus Maye to graduation, but still returns plenty of talent in what will be a young secondary in 2017.
"With Teez and Quincy, those are guys that can't obviously be replaced. But you have some young guys you've got to develop in Chauncey and all those guys. So it's about developing young guys and putting them in positions to be successful," Bell said. "Some little things we just have to tweak, but for the most part, it's just putting those guys out there and letting them play within the scheme of things. And then having the young guys come along.
"You know, in that respect, it's a great situation that you have some guys with game experience but you also have some guys that don't have game experience that you've got to bring along. So, you know, it's just a catch-22 in terms of that situation. But it'll work itself out as we move forward."
---------
Thank you for reading this Inside the Gators article. To discuss it, please visit the Alligator Alley Forum.